Site Investigation Design and Implementation
Interim Final – August, 2016
Return to the Top of the Page
3.0 SITE INVESTIGATION DESIGN AND IMPLEMENTATION
This Section of the Technical Guidance Manual (TGM) provides an overview of the Site Investigation element of the site assessment process (Figure 3-1; refer also to Figure 2-1 in Section 2).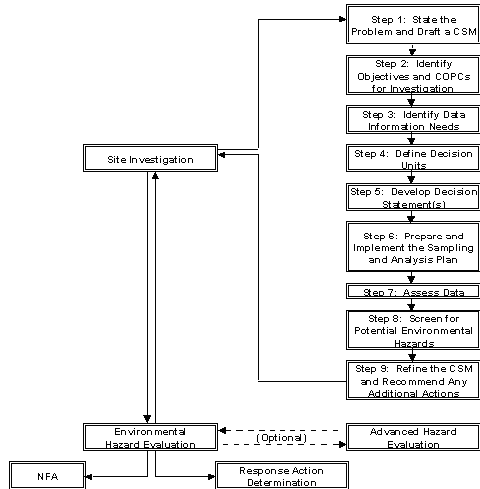 Figure 3-1. Expanded Overview of the Site Assessment Process No Further Action (NFA) letter recommended, which may be requested from HEER Office if site data passes the EHE. Coordination with the HEER Office and Response Action Determination required if site data fail the EHE.
The steps outlined above for implementation of a site investigation are discussed in Subsection 3.2. A site investigation is conducted in order to collect environmental data, evaluate the extent and magnitude of site contamination ("How bad is it?") and support decision-making ("What needs to be done?"). Site investigations can be carried out at different stages of the State Contingency Plan (SCP) process (refer to Subsection 2.1) in order to answer key questions, such as:
Has a hazardous substance release occurred at the site?
What is the extent and magnitude of contamination caused by the release?
Does the release pose an environmental hazard under current or potential future site conditions?
What method should be used to remediate this site?
Has the cleanup eliminated the environmental hazard?
The scope and detail of the site investigation will vary from site to site, depending on the questions the investigation is intended to answer and the site complexity. A systematic planning approach is recommended to ensure that the data collected during the site investigation are of the type and quality needed to meet the overall site assessment objectives. In addition, the Site Investigation and Environmental Hazard Evaluation (EHE, see Section 13) stages of the site assessment process are necessarily interlinked and iterative (refer to Figure 3-1). The EHE is continually updated as additional site investigation data are obtained. These updates are used to guide and support further site investigation as needed.
For example, detection of high levels of tetrachloroethylene in groundwater during a site investigation could suggest vapor intrusion as a potential environmental hazard (e.g., groundwater action level for vapor intrusion exceeded). This could trigger the collection of soil gas samples in the source area as well as beneath and nearby existing buildings. Under some circumstances the resulting data could trigger the need for indoor air data and/or a review of the building ventilation system. This could then lead to the need to seal floors in order to prevent the potential intrusion of vapors into the building.
Linking the Site Investigation and Environmental Hazard Evaluation stages of the process in this manner from the very beginning of the project improves the effectiveness and efficiency of the overall site assessment process. This in turn helps to expedite completion of the project, minimize disruptions in site use and delays in site redevelopment.
3.5.5 LARGE AREAS
3.5.8 STOCKPILE DECISION UNITS
3.6 SAMPLING AND ANALYSIS PLANS
The Sampling and Analysis Plan (SAP), developed during Step 6 of systematic planning, specifies the final design and configuration of the environmental measurement effort required to resolve issues and questions stated in the systematic planning steps (Steps 1-5). The SAP is a comprehensive document that would enable an experienced field sampling team unfamiliar with the site to come in and examine the site and collect the required samples and field information. The SAP designates the types and quantities of samples or monitoring information to be collected; where, when and under what conditions they should be collected; the variables to be measured; and the Quality Assurance/Quality Control (QA/QC) procedures to ensure that sampling design and measurement errors meet the tolerable decision error specified.
The QA/QC procedures are described within the Quality Assurance Project Plan (QAPP), which is included within the SAP. The site-specific Health and Safety Plan is also included as part of the overall SAP (alternately, the Health and Safety Plan can be presented with the SAP in a site Work Plan). The SAP must be flexible and dynamic to deal with unexpected discoveries or circumstances that may be encountered during the site investigation. To ensure appropriate characterization of the site and to minimize the need to perform additional sampling, it is recommended that SAPs be reviewed and approved by the HEER Office. In addition, it is important to consult with the laboratory while developing the SAP to ensure objectives are in alignment with chosen laboratory practices, and to provide contingencies for matrix problems that may occur. Important among such issues to discuss with the laboratory are expectations for storing remaining portions of MI samples that have been analyzed, until site sampling decisions are completed. Based on initial data analysis or new information, additional analyses may be conducted from stored bulk MI samples rather than having to mobilize and collect additional samples in the field.
The suggested outline for the SAP is as follows:
Introduction
Site Background

Site description
Site characteristics

Investigation History
Site Investigation Objectives
Scope of Work

Description of Sampling Activities
Analytical Methods
Quality Assurance Project Plan
Documentation and Reporting
Schedule
Health and Safety Plan
References
More detailed information regarding the outline, format, and required content of the SAP is presented in Section 18.
3.6.1 SAMPLE COLLECTION STRATEGY
A sampling strategy should reflect the approach that will best meet investigation objectives within acceptable uncertainty limits, with consideration taken for efficient use of time, money, and human resources. Section 4 discuses sample collection strategies for soil and sediment.
Sample collection for soils generally falls under two main categories: Multi Increment samples and discrete samples (see Section 4):
The HEER Office strongly encourages the use of Multi Increment/Decision Unit strategies to investigate contaminated soil. Multi Increment samples are collected using a probabilistic sampling theory and involve the collection of a large number of increments (30-100) from within the target DU. Each increment is made up of approximately 5 to 50 grams of soil. The increments are combined to form a single, Multi Increment sample for the DU. A detailed discussion of Multi Increment sampling approaches is provided in Section 4.
Discrete samples (i.e., samples typically consisting of only one increment) are collected using either random or biased sample point locations based on professional judgment. In some cases, groups of discrete samples are combined for analyses. A small number of discrete samples are typically not representative of average contaminant levels in a specific DU as are Multi Increment samples, and therefore not recommended in most cases. Discrete sample data can, however, prove useful at the early stages of a site investigation, especially when available from previous studies. This includes screening sites for the presence of large spill areas not obvious in the field, and providing data to help select DU boundaries for collection of more detailed Multi Increment samples (see Subsection 4.3).
See Section 6 for sample collection strategies for groundwater, and Section 13 for information and references regarding ecological risk evaluations.
Information regarding sampling design is also available in USEPA's Guidance on Choosing a Sampling Design for Environmental Data Collection (USEPA, 2002f), although the guidance focuses on the collection of discrete samples. Software is available to assist in designing a sampling strategy, although again, they are primarily applicable to discrete sampling approaches. One example is Visual Sample Plan [VSP] software available from Pacific Northwest National Laboratory (PNNL, 2005).
3.6.2 SAMPLING COLLECTION METHODS
After the sampling design is determined, sampling methods are selected to facilitate the sampling design. Sampling methods are specific to the sampling design and the needs of the site and are selected to meet requirements of the site investigation objectives and associated DQO.
Sampling design approaches are discussed in Section 4.Sampling soil DUs at depth typically involves additional time and resources compared to DUs for surface soil (refer to Subsection 3.4.4 and Section 4). Several sampling approaches might be useful for a given site. Sampling method procedural guidance for soil and sediment, groundwater and surface water, and soil vapor and indoor air is presented in Sections 5, 6, and 7, respectively. The application of Decision Unit approaches is recommended for characterization of sediment and surface water as well as soil.
3.6.3 HEALTH AND SAFETY PLANS
Hawaiʻi hazardous substance release sites fall under the definition of "uncontrolled hazardous waste sites" pursuant to Occupational Safety and Health Administration (OSHA) Hazardous Waste Operations and Emergency Response (HAZWOPER) Title 29 Code of Federal Regulations (CFR) Section 1910.120(a)(1). A health and safety plan (HASP) is required under Title 29 of the Code of Federal Regulations, Section 1910.120 (Hazardous Waste Operations and Emergency Response), which includes a requirement for a hazard communication program meeting the requirements of 29 CFR 1910.1200. Like rules were adopted under Hawaiʻi Administrative Rules (HAR) Title 12, Chapters 60 and 203.1, Division of Occupational Safety and Health Standards. The Health and Safety plan is typically a part of the SAP (or alternately, part of the site Work Plan). The HEER Office recommends that an employer develop a written Health and Safety Plan, which includes the following elements:
An organizational structure
A comprehensive work plan
A site-specific health and safety plan
A health and safety training program
A medical surveillance program

Standard operating procedures for health and safety
Any necessary interface between general program and site-specific activities
The OSHA HAZWOPER Standard, Title 29 CFR 1910.120, requires that personnel working in and around hazardous waste have a site-specific HASP and competent safety officers to enforce health and safety rules. OSHA has determined that employees must be trained if they work in proximity to hazardous chemicals with a potential for release or substantial threats of release, without regard to the location of the hazard.
An OSHA-certified 40-hour class focusing on HAZWOPER training is required for those who are performing regular work on hazardous waste sites; an annual 8-hour refresher course is required to maintain the certification achieved through this training. An OSHA-certified 24-hour course is required for those who have occasional exposure to hazardous waste. In addition, an 8-hour course is required for supervisors and management personnel who oversee hazardous waste projects. The amount of training required is contingent upon an employee's responsibilities and involvement with hazardous materials; these must be clearly established by the employer and communicated to the employee(s). The HEER Office does not approve Health and Safety Plans, but does require that one be in place for field activities at hazardous chemical release (or suspect release) sites. Contact the Hawaiʻi Division of Occupational Safety and Health (HIOSH) for detailed information on HASPs and organizations offering HAZWOPER training.
3.7 QUALITY ASSURANCE PROJECT PLANS
Data acceptance criteria, developed during Step 5 of systematic planning, are presented in the Quality Assurance Project Plan (QAPP) which is the formal project document that specifies the operational procedures and QA/QC requirements for obtaining environmental data of sufficient quantity and quality to satisfy site investigation objectives. The QAPP is required for all data collection activities that generate data for use in decision-making. It contains information on project management, measurement and data acquisition, assessment and oversight, and data validation and usability. The QAPP integrates the DQO, the data collection design, and QA/QC procedures into a coherent plan to be used for collecting data that are of known quality and adequate for their intended use. The QAPP is typically presented as part of the SAP (Step 6 of systematic planning) and should include the following elements:
Quality assurance (QA) objectives for measurement
Sample chain of custody
Calibration procedures
Analytical methods
Data reduction, validation, and reporting
Internal quality control (field and laboratory checks)
Performance and system audits
Preventative maintenance
Data measurement assessment procedures (precision, accuracy, and completeness)
Corrective actions
Participation of the laboratory that will be utilized is important to ensure capabilities are agreed upon and not assumed. Other considerations such as potential changes to cleanup processes, lab filtration, etc. should be discussed ahead of time when potentially contaminated samples are collected.
More detailed information regarding the outline, format, and required content of the SAP, which includes the QAPP, is presented in Section 18.
Additional information regarding the development of a QAPP is available in the Uniform Federal Policy for Quality Assurance Project Plans (USEPA/DoD/DOE, 2005), Guidance for Conducting Remedial Investigation and Feasibility Studies under CERCLA (USEPA 1988), and Guidance for Quality Assurance Project Plans (USEPA, 2002g). In addition, Data Quality Assurance and Quality Control procedures are discussed in detail in Section 10.
3.8 DATA QUALITY ASSESSMENT
After the environmental data are collected, the data are validated in accordance with the QAPP. This data validation and assessment process establishes whether the type, quantity, and quality of sampling data are adequate to support the decision making process (Data Quality Assessment – DQA). Data Quality Assessment is performed during Step 8 of systematic planning. Given the quality of the data collected, the DQA process will verify if the estimated contaminant concentrations at the site meet the level of confidence specified in the SAP. Additional information regarding data validation and data quality assessment is available from USEPA in Guidance for Data Quality Assessment: Practical Methods for Data Analysis (USEPA, 2000d) and Data Quality Assessment: A Reviewer's Guide (USEPA, 2006).
3.8.1 DATA VALIDATION
Data validation is the process used to determine if the environmental data are accurate; specifically, it assures that methods specified in the SAP and QAPP were correctly specified on the chain of custody document(s) and carried out by the laboratory such that the data are useful for its intended purpose(s). The data validation process begins at the analytical laboratory. The laboratory analyst verifies instrumental data, calculations, transfers, and documentation, and corrects errors, if detected. The laboratory provides QA/QC information to assure data validity. Labs selected for conducting analyses should have well-documented QA/QC procedures. Participation in established lab certification programs such as the NELAC certified laboratory program can help to establish that a laboratory has well-documented QA/QC procedures that are periodically audited by the certifying body. Technical department managers, quality control specialists, or project managers should review the laboratory data reports and supporting documentation.
3.8.2 DATA QUALITY ASSESSMENT PROCESS
Data Quality Assessment (DQA) is a five step process with the goal of determining whether the type, quantity, and quality of sampling data are adequate to support the decision making process.
Step 1: Review the DQO and Sampling Design
Review the DQO and sampling design to ensure the issues at the site have been adequately addressed. If data are not sufficient to move forward with selection of a remedy or other next step, additional sampling may be required. For example, if sampling did not delineate the vertical or horizontal extent of contamination, or if groundwater was not encountered due to drilling refusal at a site where groundwater was believed to be impacted; then additional sampling would typically be required.
Step 2: Conduct a Preliminary Data Review
Conduct a preliminary data review. Start with a review of the data validation assessment. Look for data patterns, relationships, or potential anomalies.
Step 3: Select the Statistical Method
Select statistical methods to assess the data. During the DQO development process, limits on decision error tolerance are specified. Uncertainty limits are typically proposed by establishing performance goals of the analytical data for precision, accuracy, repetitiveness, completeness, and comparability parameters. In addition, uncertainty limits and performance data are developed in more detail in the QAPP (See Subsection 3.7). Examine uncertainty limits through statistical evaluation, which is an important tool used in the data assessment to determine:
Whether the data meet the assumptions under which the DQO and the data collection design were developed
Whether the total error in the data is small enough to indicate that the data are of sufficient quality to support decisions within the tolerable error rates expressed in the DQO
During field sampling, a triplicate sample is typically collected in one DU for each batch of up to 10 similar DUs to allow for statistical calculation of several important quantities including the standard deviation of the mean, the relative standard deviation (RSD) of the mean and/or the 95% UCL of the mean. These quantities are the statistical measures that are typically selected for evaluating the overall precision of the contaminant sampling. Use of field sampling replicates and laboratory subsampling/analysis replicates to evaluate MI sample precision allows consideration of total sampling error (a combination of field sampling/field processing error and laboratory subsampling and analysis error), as well as evaluation of the magnitude of field sampling error compared to the laboratory subsampling and analysis error. The latter is evaluated by subtracting the laboratory subsampling/analysis error (the laboratory replicate data) from the total error (the field replicate data) to determine the magnitude of the field sampling error.
Step 4: Verify the Assumptions of the Statistical Method
Evaluate whether the underlying assumptions of the statistical methods hold, or whether departures are acceptable, given the actual data.
Step 5: Draw Conclusions from the Data
Draw conclusions about the data collected. Discuss the validity of the data that do not meet the performance criteria established in the DQO.
Note: The HEER Office requires that an Environmental Hazard Evaluation be prepared and submitted with a site investigation report. Representative COPC concentrations developed as part of this evaluation may involve further statistical evaluation, including, for example, the assessment of non-detect data. A detailed discussion of Environmental Hazard Evaluations is presented in Section 13.
3.9 SITE INVESTIGATION REPORTS
Accurate and thorough documentation of the sample plan design, sample collection and handling procedures, laboratory analyses, data assessment, and a summary of the data collected are crucial to the site investigation. The laboratory selected should adhere to a comprehensive Quality Assurance Plan and SOPs for sample analyses. The HEER Office strongly encourages active communication, including draft report reviews and subsequent meetings or conference calls, to prevent costly remobilizations to collect additional data. The following reports (and major elements) are typically prepared and submitted to the HEER Office for review.
Sampling and Analysis Plan

Sampling design
Preliminary Conceptual Site Model
Preliminary site investigation objectives and DQO
QAPP
Safety and Health Plan

Site Investigation Report

Site history
Site investigation objectives (including DQO)
Selection of Decision Units, including replicates
Figures displaying all DU locations on site
Identification of information needs
Sample collection and analysis methods
Summary of analytical results
Data assessment
Summary of extent and magnitude of contamination
Preliminary Environmental Hazard Evaluation
Conclusions and recommendations
Additional guidance on report formats and content is presented in detail in Section 18. The HEER Office requires that the lateral and, as needed, vertical extent of soil and groundwater (and in some cases soil gas) contamination be clearly depicted on to-scale maps and cross sections of the site. Shading or other graphics should be used to depict DUs suspected to be contaminated above levels of potential concern. This information is then used in the Environmental Hazard Evaluation to identify specific environmental hazards posed by the identified contamination as well as the specific areas of the site where these hazards are present (see Section 13). The results of the preliminary Environmental Hazard Evaluation may require that additional data be collected at the site (e.g., soil gas data to evaluate potential vapor intrusion concerns) or that additional tests be carried out on existing samples. After all environmental hazards are adequately identified, delineated and evaluated, the final Site Investigation and Environmental Hazard Evaluation reports are used to support and assist in the development of appropriate response actions.
Not all projects will require that formal sampling plans and related reports be submitted prior to initiating site investigation activities; this will vary from site to site and should be discussed with the overseeing project manager in the HEER Office.
3.10 ENVIRONMENTAL HAZARD EVALUATION
An Environmental Hazard Evaluation is the link between site investigation activities and response actions, if needed (refer to Figure 3-1). A detailed discussion of Environmental Hazard Evaluation, including EALs, is provided in the HDOH document Evaluation of Environmental Hazards at Sites with Contaminated Soil and Groundwater (HDOH, 2016). An overview of the document is provided in Section 13.
As noted previously, the collection of site data and the identification of potential environmental hazards are iterative processes. Environmental Hazard Evaluations as well as CSMs should stress fate and transport of COCs. As initial site data indicate potential environmental hazards, the need for additional data to fully define and evaluate the hazards and develop appropriate response actions must be evaluated. The identification of potential hazards early on during site investigation activities, even at a cursory level, can help guide the progression of fieldwork and reduce the need for continual remobilization and collection of additional data.
Screening field data for the presence of potential environmental hazards as soon it arrives from the laboratory is a critical step in the site investigation process and should not be delayed pending the completion of a formal site investigation report. In the absence of obvious conditions in the field (e.g., explosive levels of soil vapors), the most expeditious approach to identifying potential environmental hazards associated with contaminated soil or groundwater is a direct comparison of site data to the HDOH Tier 1 EALs (see Section 13).
The presence or absence of potential environmental hazards can be quickly identified by direct comparison of site data to HDOH Tier 1 EALs. If the reported concentration of a COPC exceeds the Tier 1 EAL in the subject media (e.g., soil, soil gas, or groundwater) then the specific environmental hazard(s) potentially posed by the chemical should be identified (see Subsection 3.3.2). Exceeding the Tier 1 EAL does not necessarily indicate that environmental hazards are present, only that further evaluation is warranted. Perhaps most importantly, use of the Tier 1 EALs allows site owners/operators, consultants, and regulators to quickly screen out contaminants that do not pose potential concerns and negate the presence of environmental hazards at sites with minimal contamination. This is most easily done using the HDOH EAL Surfer available for download from the HDOH Environmental Hazard Evaluation web page).
As potential environmental hazards are identified, the CSM for the site should be updated and the need for additional sample data evaluated. For example, the identification of elevated levels of lead in soil samples from one area of the site may indicate a need for additional soil samples from that area to better define the extent of contamination. The identification of potential leaching hazards associated with a COPC suggests that batch testing and/or groundwater data may be needed. The identification of potential vapor intrusion concerns suggests that soil gas data are needed.
Applying this type of dynamic and iterative approach to the site investigation process will expedite completion of the investigation and approval by the HEER Office. Screening preliminary data up front allows for a more complete site investigation to be prepared and submitted. This reduces the need for remobilizing months (or even years) after the initial sampling event and the need for multiple and time consuming reviews of site investigation reports by the HEER Office. Informal meetings with a HEER Office project manager or technical support staff person to discuss preliminary data and propose additional actions as the site investigation is being carried out are highly encouraged.