Climate Change & Health
Climate change will impact Hawaiʻi. The islands are particularly vulnerable to the effects of climate change due to our location in the middle of the Pacific Ocean. Expected impacts include higher temperatures, rising sea levels, changes in rainfall patterns, more frequent and intense storms, wildfires, increased coastal erosion, biodiversity loss, and ocean acidification.  
These changes endanger our food and water sources, our marine ecosystems, our air quality, our coastal communities, our ability to respond to disasters, our cultural connections to the land, our agriculture and tourism industries, and our overall health and well-being. Health threats from climate change are widespread but may affect some areas and populations more than others. Please see the resources below to learn more about how Hawaiʻi's public health is threatened by the climate crisis and what the State is doing to protect our communities.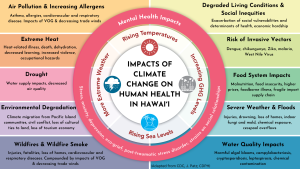 Graphic: Impacts of Climate Change on Human Health in Hawaiʻi (Adapted from California Department of Public Health and CDC)
On December 21, 2022, HEER Office Toxicologist Dr. Diana Felton and JABSOM professor Dr. Elizabeth Kiefer gave an informational briefing on the health impacts of climate change in Hawaiʻi to the House of Representatives Committee on Energy and Environmental Protection. Please see the recording above, as it is a clear introduction to this public health issue for Hawaiʻi.
Frequently Asked Questions (FAQs)
Timeline of Progress in Hawaiʻi