TGM
Welcome to the HEER Office Technical Guidance Manual Homepage!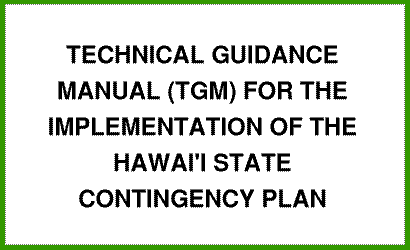 The HEER Office Technical Guidance Manual (TGM), also called the Hawaiʻi HEER TGM, provides in-depth guidance on environmental assessment and cleanup under Hawaiʻi Revised Statutes, 128D. The Technical Guidance Manual is an evolving compilation of the collective experience of State and private sector environmental scientists, engineers and other stakeholders. Edits and suggestions for future updates are always welcome and should be sent to Roger Brewer with the HEER Office ([email protected]).
The HEER Office TGM has been updated and moved to a new web address maintaining its electronic format. See the Log of TGM Updates for details of when each section of the TGM was posted or updated for use. In addition to the materials in the TGM sections, see the page of Additional Guidance Documents. Also visit HEER Additional Guidance Documents on the main HEER website. See PDF Download for PDF versions of the web pages; the full TGM Document is a PDF Portfolio of the individual Sections. Refer also to the separate web page on Decision Unit and Multi Increment Sample (DU-MIS) investigation methods as this page provides information and links to other webpages related to TGM sections on investigations of contaminated soil, sediment, water and air.
The TGM contains recommended technical approaches and procedure, but is considered guidance only, not regulation. Property owners or environmental consultants can propose alternate technical strategies or methods to the HEER Office, as long as they can be demonstrated to adequately address the site investigation and/or site cleanup objectives.
Please contact the HEER Office to report releases of hazardous substances or to discuss technical questions related to reporting, release responses, or other requirements.
Office of Hazard Evaluation and Emergency Response
Hawaiʻi State Department of Health
2385 Waimano Home Road
Pearl City, Hawaiʻi 96782
Telephone: (808) 586-4249
Fax: (808) 586-7537
After Hours to report releases: (808) 236-8200