Diamond Head Health Center STI/HIV Clinic
The STI/HIV Clinic has modified its clinic experience to protect patients and staff from COVID-19 while continuing to provide excellent sexual health care.
New safety measures have been implemented to ensure patient and staff safety:
Patients and staff must wear face coverings at all times
Patients must perform hand-washing with soap and water or alcohol-based hand rub when they enter the Clinic
Physical distancing of six feet between patients and staff will be maintained
Disinfection of high-touch surfaces will be conducted
Due to high patient demand, seeking care in the Clinic will require a phone appointment

All patients will be screened for COVID-19 and STI and HIV risks
Temperature checks will be conducted upon entry into the Clinic
Results of the screens will determine a patient's eligibility to enter the Clinic and the type of medical services provided

Only the patient is allowed to enter the Clinic at their appointment time
For more information about COVID-19 and/or to locate a testing site, call 2-1-1 or visit https://health.hawaii.gov/docd/contact-us/
Phone Appointments
(808) 733-9849
Call between 8:00 AM – 9:45 AM, Monday through Friday (closed on state holidays), to schedule/reschedule or cancel a same-day or next-day appointment
Services
Testing, diagnosis and treatment of STIs
STI and HIV partner services
The Clinic tests for:

Chlamydia
Gonorrhea
Syphilis
HIV (fingerstick rapid HIV Test)

The Clinic does not test for:

Herpes
HPV
Syphilis for work-related screening
COVID-19

The Clinic does not offer family planning services
The Clinic does not provide testing for pregnant women; pregnant women are referred to their health care provider
The Clinic provides services to patients 14 years of age or older, regardless of insurance
Important Information
Bring a picture identification (e.g., Driver's License, State ID, US or International Passport)
Do not urinate one hour before testing
Plan to arrive 10 minutes before your appointment time
Late arrival may mean loss of your appointment
Children are not allowed in the clinic
Pets are not allowed in the clinic
Reasons Why Patients Seek Care at the Clinic
In the COVID-19 phased reopening, the STI/HIV Clinic is currently focused on providing the following urgent sexual health services:

Presence of signs and symptoms (e.g., discharge from the penis, vagina, rectum; painful urination; an ulcer to the genitals; generalized body rash; lower abdominal pain (in women); rectal pain; and testicular pain);
Contact with a partner who is diagnosed with an STI or HIV;
Referral by a staff from the Hawaii State Department of Health;
Treatment for a positive laboratory test for an STI (chlamydia, gonorrhea, and/or syphilis);
Newly diagnosed HIV patient seeking care management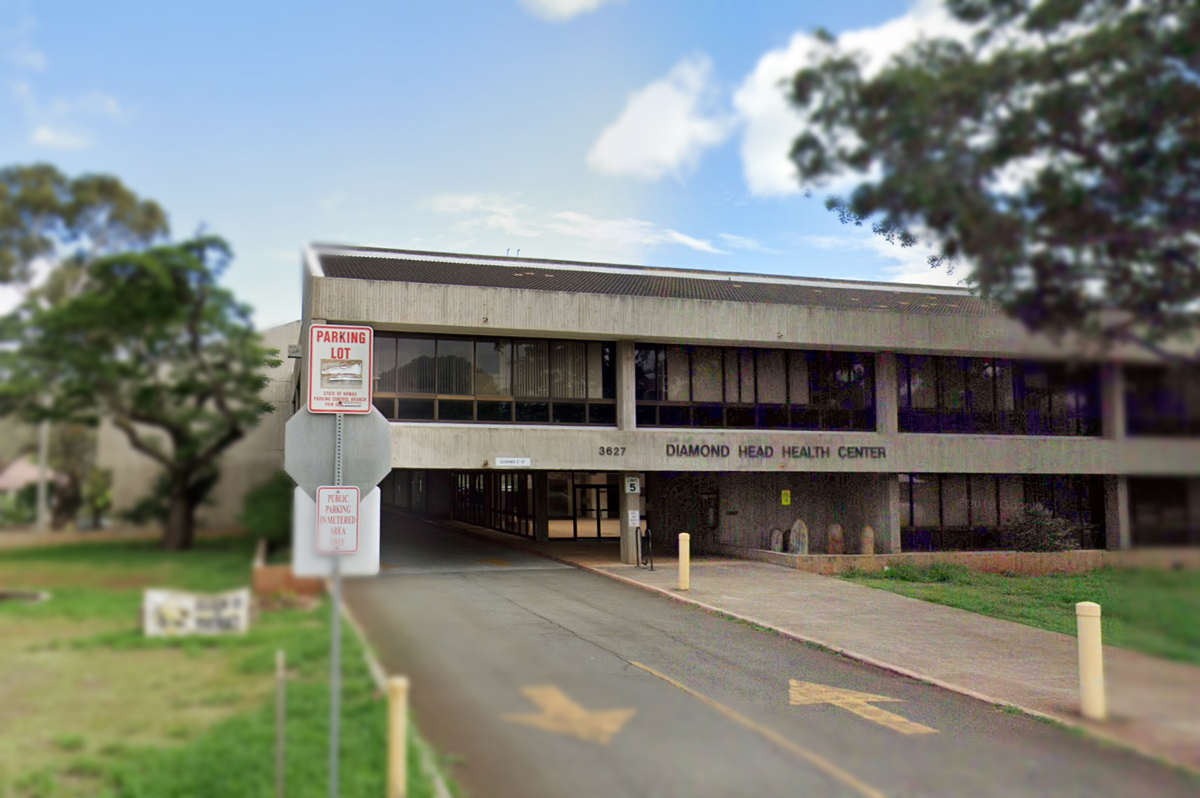 Patient Service Hours
By appointment only
Call (808) 733-9849
8 AM–3 PM (M-F)
to make an appointment

Monday through Friday, 11am–4pm.
Closed on state holidays.

3627 Kilauea Avenue, Room 305
Honolulu, HI 96816
Contact
General Information
(808) 733-9281
Directions
By car: The public parking entrance is located off of Kilauea Avenue. Metered parking is available, quarters only (no change is available). Street parking is also an option.
By public transportation: Diamond Head Health Center is located north of Diamond Head, near Kapiolani Community College, and is on the #3 busline. Check with The Bus at 848-5555 or www.thebus.org
---
Confidentiality
Your records at the Diamond Head Health Clinic are always kept confidential. This means that information regarding testing, diagnosis and treatment services provided at the Clinic is privileged. It will only be released to you or your referring physician upon your written request unless otherwise required by law.
Clinic medical records are protected from release by:
The Health Insurance Portability and Accountability Act (HIPAA) of 1996
Hawai'i Administrative Rules title 11, chapter 156
Hawai'i Revised Statutes (H.R.S.) §325-101
All staff sign a confidentiality oath to keep confidential any and all information having to do with our patients. The oath specifically states that staff will not divulge any information regarding patients to unauthorized persons even after termination of their employment. Our staff understands that the unauthorized release of information will result in disciplinary action or termination of their employment.