Syringe Service Programs (SSPs)
Brief History of Syringe Exchange in Hawai'i
Since 1989, the Hawaiʻi State Department of Health (HDOH) has supported syringe service programs (SSP) to reduce the spread of HIV among people who inject drugs (PWID) and their partners. In 1992, the state legislature passed Act 152, codified as Chapter 325, Part VII of Hawaiʻi Revised Statues (HRS §325-111 through §325-117), allowing HDOH to operate one-for-one syringe exchanges statewide to prevent transmission of HIV, hepatitis B, hepatitis C, and other blood-borne infections, and to refer PWID to appropriate health and social services.
Access to sterile syringes reduces the risk of contracting and transmitting blood borne infections, especially among PWID and their partners. SSPs also protect the public and first responders by promoting the safe disposal of used needles and syringes. Over 25 years of research have shown that SSPs are safe, effective, and cost-saving, do not increase drug use or crime, and reduce the transmission of viral hepatitis, HIV and other infections. Learn more about the effectiveness of SSPs
The current SSP provider is Hawaii Health and Harm Reduction Center (HHHRC), which exchanged In 2018, 1,177,421 syringes statewide, a 3229% increase since 1993 when it exchanged 35,365 syringes. See 2019 report.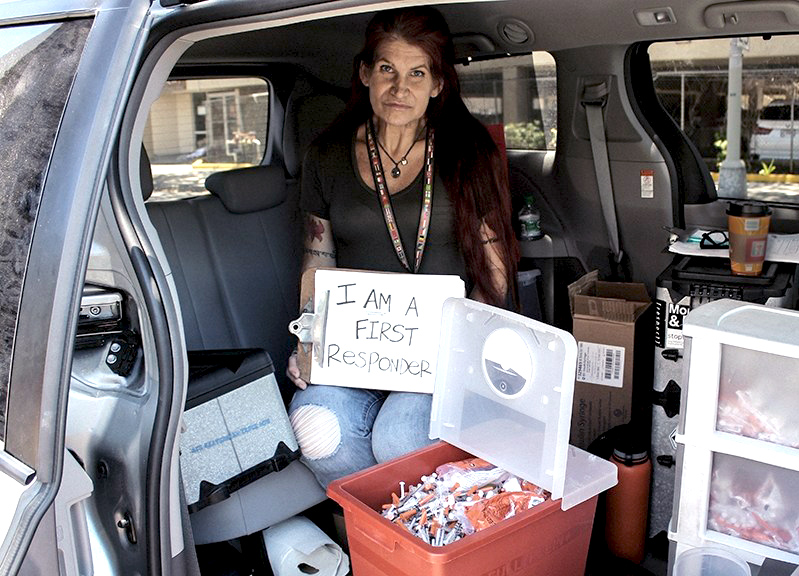 Current Services
HHHRC operates five mobile vans which cover each of Hawaiʻi's four counties. Outreach workers establish contact and trust with SSP participants to encourage safer practices that reduce risks related to injection and sexual behaviors. Depending on availability, outreach workers provide:
one-for-one syringe exchange;
health education;
rapid HIV and HCV testing;
linkages to housing navigation and other services;
street-based wound care;
overdose prevention (including naloxone training and distribution); and
harm reduction supplies, such as condoms, hygiene kits, and pipe covers.
For more information, go to Hawaii Health and Harm Reduction Center (HHHRC)