About Us
The Adult Mental Health Division is one of four Divisions within the Behavioral Health Administration of the Hawaii State Department of Health.
The Mission of the Department of Health is to protect and improve health and the environment for all people in Hawaii.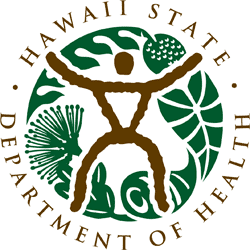 Healthy Communities, Healthy Islands, Healthy People
AMHD services are provided in state operated facilities (Community Mental Health Centers) located statewide, at the Hawaii State Hospital on Oahu, and through purchase-of-service contracts with private and non-profit service providers.
Branches and Sections
AMHD includes the following seven branches and respective sections:
Hawaii State Hospital
Kauai Community Mental Health Center Branch

Treatment Service Section
Rehabilitation Service Section

Friendship House Clubhouse

Oahu Community Mental Health Center Branch

Forensic Service Section
Treatment Service Sections and Clinics

Central/Leeward Oahu (Leeward Health Center building)
Wahiawa Unit
Makaha Unit
East Honolulu (Lanakila Health Center building)
West Honolulu
Windward

Rehabilitation Service Sections

Waipahu Aloha Clubhouse
Kauhale Lahilahi, The Makaha Clubhouse
Diamond Head Clubhouse
Hale O Honolulu Clubhouse
Ko'olau Clubhouse

Maui Community Mental Health Center Branch (includes Molokai and Lanai)

Treatment Service Sections and Clinics

Maui Clinic Section
Lanai Service Section
Molokai Service Section

Rehabilitation Service Section

Hawaii Island Community Mental Health Center Branch

Forensic Service Section
Treatment Service Sections and Clinics

East Hawaii Clinic Section
Puna Unit
North Hawaii Unit (Honokaa)
North Hawaii Unit (Kamuela/Waimea)
West Hawaii Clinic Section
Ka'u Unit

Rehabilitation Service Sections

Hale 'Oluea Clubhouse
Kona Paradise Club

Court Evaluation Branch
Performance, Information, Evaluation and Research Branch

Communications, Consumer Affairs and Training
Community Programs
Financial Resource Management
Performance Improvement/Utilization Management
Planning and Evaluation
Strategic Plan
Our Strategic Planning Executive Group (SPEG) identified four priority themes to guide the AMHD 2021 – 2025 Strategic Plan for the future, including:
Telehealth
Integrated services (primary and behavioral health
Evidence-based practices using data-driven decision making
Special populations