Clubhouses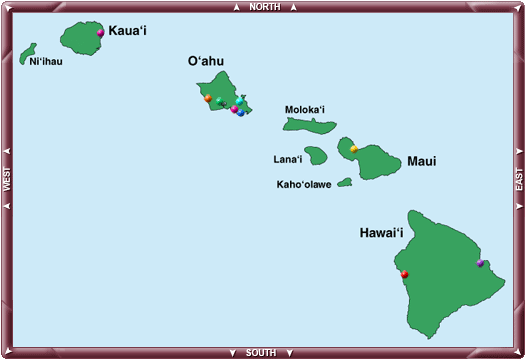 A Clubhouse is a unique, voluntary, member-driven psychosocial rehabilitation program for adults who experience the challenges of mental illness.  Within a supportive environment, program participants (members) are offered a multitude of services to improve the quality of their lives through meaningful work, positive relationships, and gainful employment.  Members can build on their strengths and abilities to acquire or improve skills needed to reach their individual goals and aspirations.  Currently, there are more than 300 Clubhouses worldwide (see Clubhouse International), and in Hawaii there are nine active Clubhouses (CLICK HERE for a printer friendly Hawaii Clubhouse Directory).
To get directions from your location to the Clubhouse, click on its Directions.
If you would like to catch The Bus, you may visit The Bus website for current bus routes and schedules.
To become a member of a Clubhouse, please print and fill out a Membership Application.
Hawaii
HALE 'OLUEA
1045B Kilauea Avenue
Hilo, HI 96720
Coordinator: Chanelle Matsuda
Phone: (808) 974-4320 / Fax: (808) 933-0533
E-mail: [email protected]
Directions to Hale O'luea
KONA PARADISE CLUB
77-6435 Kuakini Highway, Suite #101
Kailua Kona, Hawaii 96740
Coordinator: Heather Rosehill
Phone: (808) 327-9530 / Fax: (808) 327-9534
E-mail: [email protected]
Directions to Kona Paradise Club
Kauai
FRIENDSHIP HOUSE
4-1751 Kuhio Highway
Kapaa, HI 96746
Coordinator: Terry-Ann Moses
Phone: (808) 821-4480 / Fax: (808) 821-4483
E-mail: [email protected]
Directions to Friendship House
Maui
HALE O LANAKILA
1977 Main Street
Wailuku, Maui, HI 96793
Coordinator: Lisa Yanagida
Phone: (808) 984-2156 / Fax: (808) 984-2159
E-mail: [email protected]
Directions to Hale O Lanakila
Oahu
DIAMOND HEAD CLUBHOUSE
3627 Kilauea Ave., Bldg. #410
Honolulu, HI 96816
Coordinator: Paul Newell
Phone: (808) 733-9188 Fax: (808)733-9099
E-mail: [email protected]
Directions to Diamond Head Clubhouse
HALE O HONOLULU
1700 Lanakila Avenue
Honolulu, HI 96817
Coordinator: Jeffrey Kaplan
Phone: (808) 832-5142 / Fax: (808) 832-5145
E-mail: [email protected]
Directions to Hale O Honolulu
KAUHALE LAHILAHI, THE MAKAHA CLUBHOUSE
84-1150 Farrington Highway, Suite B
Waianae, HI 96792
Coordinator: Uthpala Waipola
Phone: (808) 695-7920 / Fax: (808) 695-7923
E-mail: [email protected]
Directions to Kauhale Lahilahi
KO'OLAU CLUBHOUSE
46-016 Alaloa Street
Kaneohe, HI 96744
Coordinator: Michelle Chow
Phone: (808) 233-3778 / Fax: (808) 233-3790
E-mail: [email protected]
Directions to Koolau Clubhouse
WAIPAHU ALOHA CLUBHOUSE
94-091 Waipio Point Access Road
Waipahu, HI 96797
Phone: (808) 675-0093 / Fax: (808) 675-0071

**NOTICE – Effective 8/31/23, Waipahu Aloha Clubhouse will temporarily close its physical location for approx. 7 months to undergo facility renovations.  Starting 9/5/23, Waipahu Aloha Clubhouse will operate out of the Leeward Health Center Annex (portable building) next to the Ewa court parking lot**
860 Fourth Street – Annex
Pearl City, HI  96782
Coordinator: Maria Curley
Phone: (808) 679-6428 / Fax: (808) 453-5966
E-mail: [email protected]
Directions to Waipahu Aloha Clubhouse