KAUAI DISTRICT HEALTH OFFICE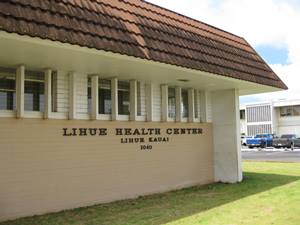 ---
The Kauai DHO serves the community with proficiencies in emergency preparedness, family health services, public health nursing, services for the developmentally delayed, environmental health services (vector control, clean air, clean water, and sanitation programs), vital statistics (births, marriages, and deaths), communicable disease control, and mental health services.
3040 Umi Street
Lihue, HI 96766
(808) 241-3495
KAUAI DISTRICT HEALTH OFFICER:
The Kauai District Health Office (KDHO) is headed by the District Health Officer, Janet Berreman, MD, MPH. In coordination with the State Director of Health and DOH leadership, the District Health Officer oversees the operations of all KDHO programs. She participates in local community initiatives and partners with health care, education, and other agencies in the County. She provides consultation on issues of public health concern in the community.
ADMINISTRATION:
The Administration section serves as the central headquarters for the KDHO and provides direct support to the Kauai District Health Officer. The KDHO includes nine program Sections: Administration, Family Health Services (FHS), Chronic Disease Prevention and Health Promotion (CDPHP), Communicable Disease and Public Health Nursing Services (CDPHN), Disease Investigation, Laboratory, Public Health Emergency Preparedness, Environmental Health, and Developmental Disabilities programs.
As the front line to customers of the Kauai District Health Office, the administrative staff is made up of employees who exemplify excellent customer service skills as they are frequently called upon to assist with both external and internal customer needs.
VITAL RECORDS:
Vital records is a prime customer service function of the Administration section. The staff at KDHO registers home births and issues permits for burials and cremations.
The staff provides support and guidance for completing vital records requests (birth, death, civil union, marriage, and divorce certificates, and voluntary establishment of paternity) for events that occurred in Hawaii. The KDHO does not issue certificates. Certificates are issued by the Office of Health Status Monitoring, which is a unit of the Department of Health located on Oahu. The KDHO has Request Forms" readily available for pick up in our Lihue office. Request forms need to be mailed directly to the Office of Health Status Monitoring on Oahu. You may also order birth and marriage certificates online at: Order Vital Records
For more information, please click on this Vital Records link: Vital Records
Kauai 2019 CASPER Final Report
Kauai 2019 CASPER Preliminary Report
Kauai 2018 CASPER Final Report
Kauai 2018 CASPER Preliminary Report
Kauai 2017 CASPER Preliminary Report
KAUAI'S COMMUNITY HEALTH NEEDS ASSESSMENT: Our Keiki, Our Kupuna, Our `Ohana
KAUAI'S COMMUNITY HEALTH NEEDS ASSESSMENT: APPENDIX A – C

BREAKING NEWS: The Kapaa Neighborhood Center is currently closed for renovations; estimated to reopen March – May 2020. Services are being offered at other locations. For more information, please call 241-3495.
KDHO Sections (Click each, for more info):