KAUAI DISTRICT HEALTH OFFICE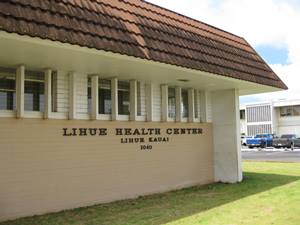 ---
The Kauai DHO serves the community with proficiencies in emergency preparedness, family health services, public health nursing, services for the developmentally delayed, environmental health services (vector control, clean air, clean water, and sanitation programs), vital statistics (births, marriages, and deaths), communicable disease control, and mental health services.
3040 Umi Street
Lihue, HI 96766
(808) 241-3495
BREAKING NEWS:
The Hanapepe Health Center will soon be undergoing renovations! Construction is anticipated to begin sometime this Fall, so stay tuned for updates.
Many folks are still getting sick with COVID-19. To protect our island, don't forget to wear a mask and test if you feel sick or have recently been exposed. For the most up to date COVID 19 data, visit Latest COVID-19 Data.
KAUAI DISTRICT HEALTH OFFICER:
The Kauai District Health Office (KDHO) is headed by the District Health Officer, Janet Berreman, MD, MPH (She/Her). In coordination with the State Director of Health and DOH leadership, the District Health Officer oversees the operations of all KDHO programs. Dr. Berreman participates in local community initiatives and partners with health care, education, and other agencies in the County. Dr. Berreman provides consultation on issues of public health concern in the community.
ADMINISTRATION:
The Administration section serves as the central headquarters for the KDHO and provides direct support to the Kauai District Health Officer. The KDHO includes nine program Sections: Administration, Family Health Services (FHS), Chronic Disease Prevention and Health Promotion (CDPHP), Communicable Disease and Public Health Nursing Services (CDPHN), Disease Investigation, Laboratory, Public Health Emergency Preparedness, Environmental Health, and Developmental Disabilities programs.
As the front line to customers of the Kauai District Health Office, the administrative staff is made up of employees who exemplify excellent customer service skills as they are frequently called upon to assist with both external and internal customer needs.
Looking for a birth, death or marriage certificate? Visit Vital Records.
Looking for a Tuberculosis (TB) test? Visit Public Health Nursing
Looking for a job? View job opportunities at the Department of Health
KDHO Sections (Click each, for more info):
Select a language to request an interpreter for help in another language:
廣東話/广东话: Chinese: Cantonese
國語/普通话: Chinese: Mandarin
Kapasen Chuuk: Chuukese
ʻŌlelo Hawaiʻi: Hawaiian
Ilokano: Ilocano
日本語: Japanese
한국어: Korean
Kajin Majôl: Marshallese
Gagana Samoa: Samoan
Español: Spanish
Tagalog: Tagalog
ภาษาไทย:Thai
Tiếng Việt: Vietnamese
Cebuano:Visayan
KAUAI'S COMMUNITY HEALTH NEEDS ASSESSMENT: Our Keiki, Our Kupuna, Our `Ohana
KAUAI'S COMMUNITY HEALTH NEEDS ASSESSMENT: APPENDIX A – C

The Hawai'i Department of Health is committed to maintaining an environment free from discrimination, retaliation, or harassment on the basis of race, color, sex, national origin, age, or disability, or any other class as protected under federal or state law, with respect to any program or activity.
For more information, including language accessibility and filing a complaint, please contact Acting Non-Discrimination Coordinator Valerie Kato at (808) 586-4400, [email protected], or visit HDOH's website at http://health.hawaii.gov and https://health.hawaii.gov/news/submenu/doh-non-discrimination-policy-procedures/