HAWAII EARLY INTERVENTION COORDINATING COUNCIL (HEICC)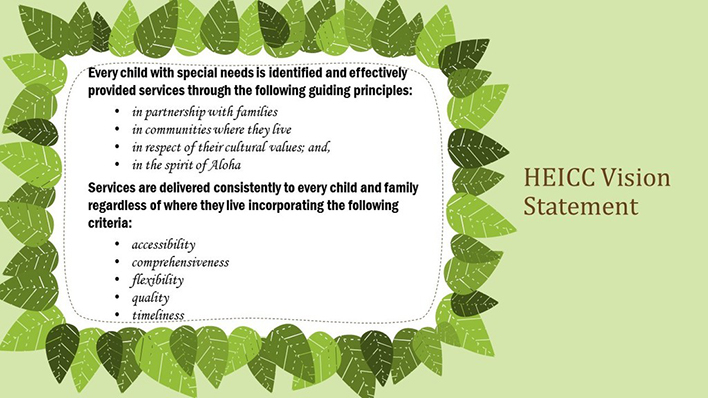 Click here for pdf version
The Early Intervention Section is advised by the Hawaii Early Intervention Coordinating Council (HEICC).  The HEICC is established as required by state law (Hawaii Revised Statues §321-353) and Part C of the Individuals with Disabilities Education Act (IDEA).
HEICC Orientation: This powerpoint presentation is an orientation for new HEICC members.  It provides information about Part C of IDEA and Hawaii Early Intervention services.
HEICC Quarterly Meetings are open to the public.  Meeting notices are available on the State of Hawaii, Calendar of Events – under Department of Health, Hawaii Early Intervention Coordinating Council.

HEICC 2020 Meeting Schedule
HEICC 2021 Meeting Schedule
Minutes from past meetings:
Minutes 2015: April 29, September 30, December 9
Minutes 2016: March 30, June 29, August 31, November 30
Minutes 2017: February 22, May 31, August 30, November 29
Minutes 2018: February 28, May 30, August 29, November 28
Minutes 2019: February 27, May 29, August 28, November 20
Minutes 2020: February 26, May 27, August 26 (Draft), November 2, November 18
Minutes 2021: February 24 (Draft), May 26 (Draft)
For further information, please contact Charlene Robles, EIS Supervisor, or Aya Aoki, HEICC Coordinator.
Early Intervention Section
Hawaii State Department of Health
1010 Richards Street, Suite 811
Honolulu, HI 96813
Ph. 808-594-0000
Fax 808-586-0015
[email protected]