[button link="https://health.hawaii.gov/injuryprevention/story-bank/" color="blue"] Story Bank[/button] [button link="https://health.hawaii.gov/injuryprevention/share-your-story/" color="silver"] Share Your Story![/button] [button link="https://health.hawaii.gov/injuryprevention/move-your-mission-forward/" color="blue"] Move Your Mission![/button]
 Share Your Story
Finding, shaping and sharing your story can empower you to deliver meaningful anecdotes, that elevate health statistics, reveal the importance of your mission, and inspire people to action.
Download the Handbook to

Write your Story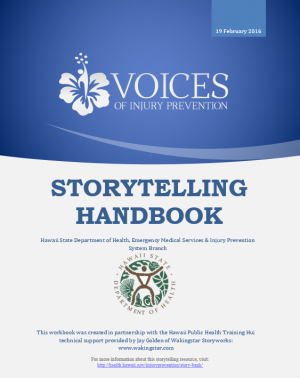 This Storytelling Handbook is intended to help you find, shape, and share your injury prevention, safety, or wellness story. You can use this this self-paced tutorial/ handbook to write your story. The handbook provides tips, techniques, and templates as support to the story you would like to tell. It will take a little bit of reading, some development, testing, and refinement to get it right. Once you develop your story, we hope your intended audiences (i.e., public heath leaders, professional funders, co-workers, community members, family, and friends) will benefit from the very valuable asset and resource you contributed.
At a later time, you can choose to contribute your story to the online Story Bank. This Story Bank is an ongoing resource directory and educational bank of inspiring and impactful stories in Hawaii that are used to promote injury prevention, safety, and wellness throughout the life-span and in all areas of safe living. These stories are housed on the Department of Health (DOH), Emergency Medical Services & Injury Prevention System Branch (EMSIPSB) website for ease of access to the public. Once completed, please upload your completed Handbook (PDF) using the electronic form below.  For convenience, you may also complete and upload the Storytelling Worksheet (word file)!
Shape your Suicide-Related Story with Safe Messaging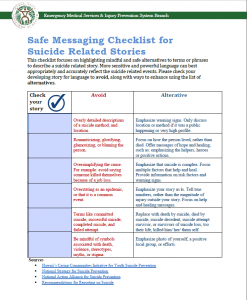 This checklist focuses on highlighting mindful and safe alternatives to terms or phrases for describing a suicide related story. This resource includes language to avoid, along with ways to enhance using the list of alternatives.
Upload the Handbook to

Promote your Story



Nicholas Lee Hines, MPH
Core VIPP Grant Coordinator