Interactive Fall Prevention Guide – Map of Resources Near You
Click on a symbol to get more information on that fall prevention resource.Use the search box to find an address or place statewide.

Click here for a larger version of this map.

General Resources – General interventions are usually classes or workshops that provide information on many different aspects of fall prevention. This often includes a combination of medication reviews, vision, physical activity, and home safety education. Click for General Resources map

Home Safety – Home Safety assessments and interventions make homes safer for kupuna by reducing hazards such as clutter, dim lighting, and other tripping hazards. Several organizations will also help order or install grab bars for clients. Click for Home Safety resources map

Medication Management – Medication management programs are completed by trained professionals who review clients' medications to see if there are any side effects (such as dizziness) or interactions that may increase fall-risk. Please talk to your primary care provider or pharmacist to review your medications. Click for Medication Management resources map

Vision – Vision checks are crucial in fall prevention. This resource guide provides several organizations that will provide vision checks or vision education. It is important to contact your primary care provider or optometrist to have your vision checked and glasses updated annually. Click for Vision resources map

Physical Activity – Physical activity has been shown to reduce the risk of falling by improving strength, balance, coordination and flexibility. Programs that emphasize physical activity can help reduce the risk of falling. Click for Physical Activity resources map

Other Resources – Other organizations do not fall into the three above categories but are still vital in fall prevention. These programs include lifeline and referral services. Click for Other Resources map
Statewide and General Resources
[tabs slidertype="left tabs"] [tabcontainer] [tabtext]Statewide Resources[/tabtext] [tabtext]General Resources[/tabtext] [/tabcontainer] [tabcontent] [tab]
Statewide Fall Prevention Resources
[/tab] [tab]
General Fall Prevention Resources
[/tab] [/tabcontent] [/tabs]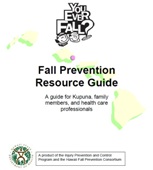 Download the complete Hawaii State Fall Prevention Resource Guide (PDF, 993 kB)
Hawaii Fall Prevention Resources mapping data is available as an Open Data REST service.