Preventing Prescription Drug Overdose in Hawai`i
What is the Hawai`i Prescription Monitoring Program?
The Hawai`i Prescription Monitoring Program (PMP) is an online system that allows medical providers — both prescribers and pharmacists — to monitor patients' prescriptions for Schedule II-IV controlled substances, to help prevent prescription drug misuse, and improve quality of care. While PMPs alone are not enough to reduce overdose rates or deaths, they are among the most promising clinical tools available to address prescription drug abuse (DHHS 2013). They have been shown to improve clinical decision-making, reduce doctor shopping and diversion of controlled substances, and help curb the prescription drug abuse epidemic.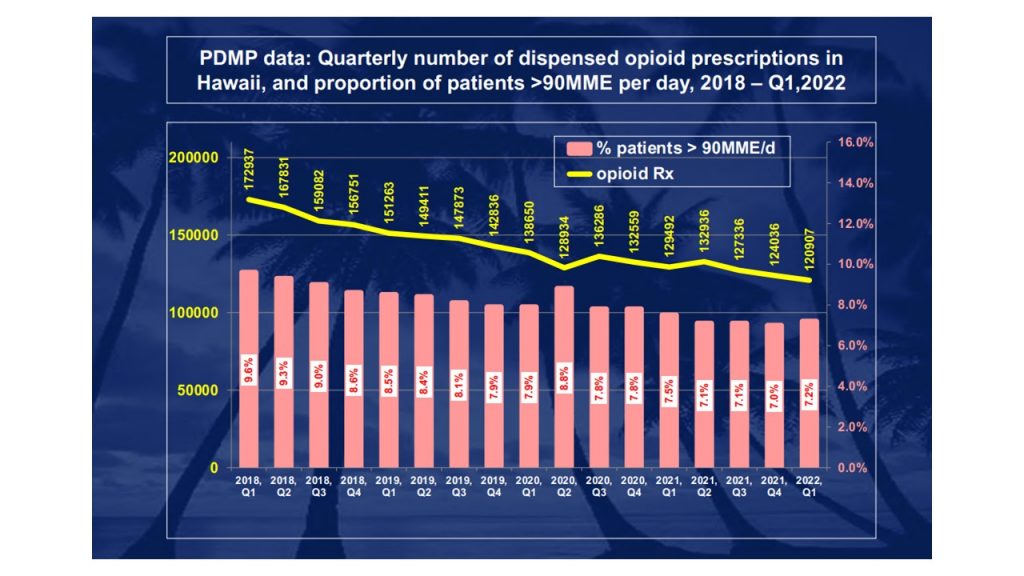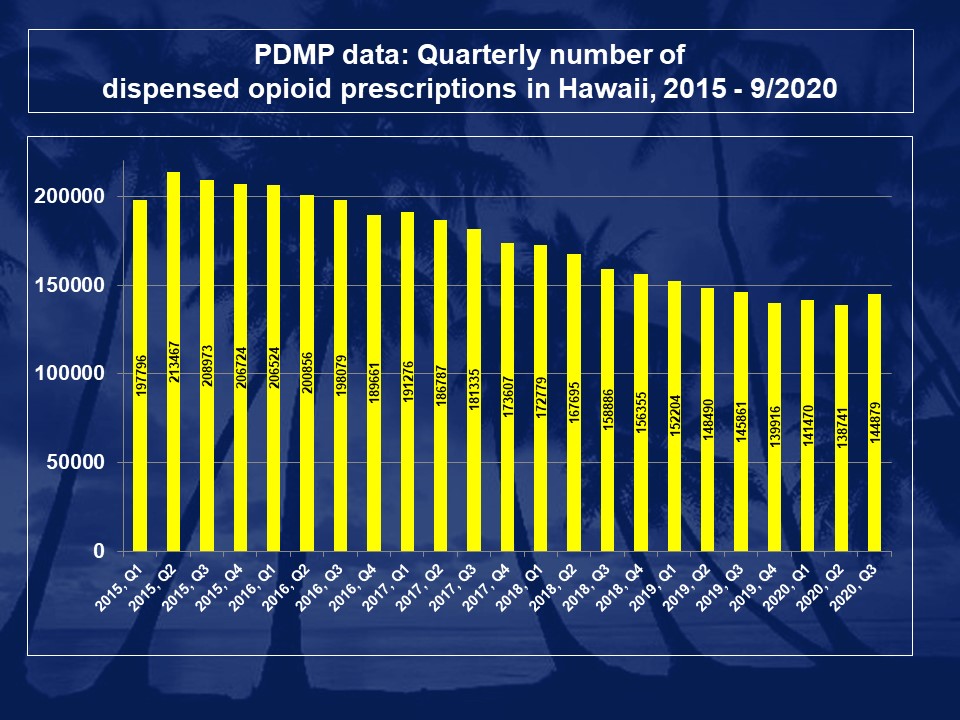 Who is required to register with the Hawaii Prescription Drug Monitoring
Program?
Any registrant of the Narcotics Enforcement Division (NED) that holds a controlled
substance license (except pharmacies and veterinarians) must register as a data
requestor through the AWARxE website. Registrants who dispense controlled
substances will need to register through the Clearinghouse website as a data submitter
(except veterinarians). (HRS Chapter 329-101)
 Why Should Prescribers Use the PMP?
Improve patients' quality of care, particularly when patients are being treated by more than one provider
Support access to legitimate medical use of controlled substances
Prevent drug abuse and diversion
Identify patients who may be addicted to prescription drugs and help them get treatment
Increase confidence in prescribing or denying controlled substances
What is the Concern for Hawai`i?
In recent years, drug poisonings have surpassed motor vehicle crashes as the leading mechanism of injury death in Hawaii.
Each year in our state, drug poisonings are responsible for an average of 155 deaths and 4,500 hospital treatments.
Pharmaceutical opiates are involved in at least 41% of fatal drug poisonings and 12%-20% of nonfatal drug poisonings.
More Information About this Public Health Problem and Your Role as a Medical Provider
CDC's Injury Center, Prescription Drug Overdose — Surveillance data, guidelines for prescribing opioids, policy impact, state laws, prevention activities, related publications
Centers of Excellence for Physician Information (NIH) — Course materials on a diverse set of topics, including prescription drug abuse, created through a partnership between the National Institute on Drug Abuse (NIDA) and eight medical universities.
2018 and 2019 NEW & CHANGES TO THE LAW
Medline Plus (NIH) — Facts, tools, resources, and references that address the problem, diagnosis/symptoms of addiction, treatment, prevention/screening.
Facing Addiction – The Surgeon Generals Spotlight on Opioids September 2018 The Spotlight on Opioids assembles opioid-related information from the Surgeon General's Report on Alcohol, Drugs, and Health

into one document to better inform the general public, especially family and friends of people with an elevated risk of opioid overdose, opioid misuse, and/or opioid use disorder.

Opioid Overdose Prevention Toolkit – 2018 (Substance Abuse and Mental Health Services Administration) — Aimed at communities and local governments, this kit includes materials to develop policies and practices to help prevent opioid-related overdoses and deaths. Addresses issues for first responders, treatment providers, and those recovering from opioid overdose.
TakeAsDirected (Washington State Department of Health) — resources, course materials, assessment tools, and guidelines for healthcare providers and subpopulations

More Information About the Effectiveness of Prescription Drug Monitoring Programs
For more information on how Hawaii is Preventing Prescription Drug Overdose go to the Strategy, Projects and Community Collaborations  section in the Information On Poisoning Prevention tab
Contact:
Tammie Healani Hoapili Smith MPH – Data Driven Prevention Initiative Coordinator