COVID-19 UPDATE
Your wellness and safety is important to us. The Alcohol and Drug Abuse Division (ADAD ) is part of the Behavioral Health Administration (BHA) and we recognize the challenges posted by the current COVID-19 situation. ADAD is working to provide you the latest updates as it becomes available. Please visit our website regularly to get new updated information.
                   

CARES             

     
Do you or know someone suffering from substance use or behavioral health services please contact : Coordinated  Access Resource Entry System (CARES) at 832-3100 or toll free at 1-800-753-6879.
BEHAVIORAL HEALTH AND HOMELESSNESS STATE UNIFIED RESPONSE GROUP (BHHSURG)
The Hawaiʻi Department of Health's Behavioral Health Administration (DOH/BHA) in partnership with the Governor's Coordinator on Homelessness and the Department of Human Services' Homeless Programs Office (DHS/HPO) has prioritized the control of the spread of coronavirus disease (COVID-19) in Hawaiʻi among behavioral health and homeless populations while ensuring continuity of coverage of essential services including behavioral health and homelessness services. Visit BHHSURG website for more tips and guidance around COVID-19 and BHH service: https://health.hawaii.gov/bhhsurg/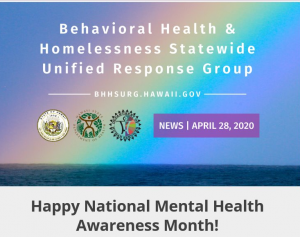 To subscribe to the BHHSURG news letter: https://health.hawaii.gov/bhhsurg/news/
WORKFORCE

SURVEY
With the impact of COVID-19 on our workforce, ADAD would like to gather information on gap areas within our field. Please take a few seconds to answer the survey. ADAD will provide updated data. Thank you in advice for your time and services.
https://www.surveymonkey.com/r/WHT2TS6
RESOURCE FOR PROVIDERS/CONSUMERS
Taking Care of Your Behavioral Health: Tips From SAMHSA
New Exemptions for Take-Home Doses/Dispensing: Please read the Governors Sixth Supplemental Proclamation  (Section 329-32(e) and Section 329-40 (b)(7)–2004144-ATG_Sixth Supplementary Proclamation for COVID-19 (distribution) – signed
Substance Abuse and Mental Health Services Administration (SAMHSA) : https://www.samhsa.gov/
Telehealth Learning Series for SUD TX and Recovery Support Providers: https://telehealthlearning.org/telehealth/