Aloha from the Office of Language Access!
The Office of Language Access (OLA) provides oversight and central coordination to state agencies,  (the executive, legislative and judicial branches of Hawai'i's state government) as well as technical assistance to state and covered entities, in developing and implementing their Language Access Plan as required by law.  It also monitors and reviews state agencies for compliance and provides language access complaint resolution.
Language Access Advisory Council meeting on Wednesday, December 11, 2019 at Nā Kūpuna Makamae Center, 653 Ala Moana Boulevard, Honolulu, HI, 96813, from 12:30 p.m. to 2:00 p.m. Meeting Agenda 12.11.2019
Language Access Advisory Council meeting on Wednesday, November 06, 2019 at Hawaii Civil Rights Commission conference room 411,  Department of Labor & Industrial Relations, 830 Punchbowl Street, Honolulu, HI, 96813.  From 9:30 a.m. to 11:00 a.m. Meeting Agenda 11.06.2019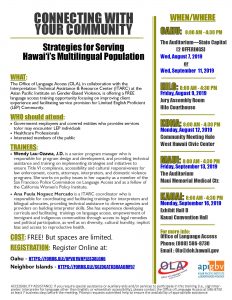 CONNECTING WITH YOUR COMMUNITY – Strategies for Serving Hawaiʻi's Multilingual Population
The Office of Language Access (OLA), in collaboration with the Interpretation Technical Assistance & Resource Center (ITARC) at the Asian Pacific Institute on Gender-Based Violence, is offering a FREE language access training opportunity focusing on improving client experience and facilitating service provision for Limited English Proficient (LEP) Community.
PowerPoint Handout – Connecting with Your Community
Who Should Attend
• Government employees and covered entities who provides services to/or may encounter LEP individuals
• Healthcare Professionals
• Interested members of the public
TRAINERS
• Wendy Lau-Ozawa, J.D. is a senior program manager who is responsible for program design and development, and providing technical assistance and training on implementing strategies and initiatives to ensure Title VI compliance, accessibility and cultural responsiveness for law enforcement, courts, attorneys, interpreters, and domestic violence programs. She works on policy issues in her capacity as a member of the San Francisco Police Commission on Language Access and as a fellow of the California Women's Policy Institute.
• Ana Paula Noguez Mercado is a ITARC coordinator who is responsible for coordinating and facilitating trainings for interpreters and bilingual advocates, providing technical assistance to diverse agencies and providers on building interpreter skills. She has experience developing curricula and facilitating trainings on language access, empowerment of immigrant and indigenous communities through access to legal remedies and political participation, as well as on diversity, cultural humility, implicit bias and access to reproductive health.
REGISTRATION – Online
Oahu https://forms.gle/qPVQ1whPLeS38LgN6
Neighbor Islands https://forms.gle/SGzQGatkduAA6MF57
IF YOU NEED ASSISTANCE WITH YOUR REGISTRATION PLEASE DIRECT QUESTIONS TO:
Nicki Neimy, University of Hawai'i at Mānoa, Conference & Event Services
[email protected]
Phone: 808-956-8204
---
Language Access Advisory Council meeting on Wednesday, July 10, 2019 at UI Administration conference room 325,  Department of Labor & Industrial Relations, 830 Punchbowl Street, Honolulu, HI, 96813.  From 9:30 a.m. to 11:00 a.m Meeting Agenda 07.10.2019
 Language Access Advisory Council meeting on Wednesday, May 22, 2019 at Office of Planning, Policy, and Program Development (OPPPD) conference room 119, Kinau Hale, Department of Health, 1250 Punchbowl Street, Honolulu, HI, 96813.  From 9:30 a.m. to 11:00 a.m  This meeting has been canceled due to lack of quorum. Meeting Agenda 05.22.2019 
Language Access Advisory Council meeting on Wednesday, March 13, 2019 at Director's conference room 320, Department of Labor & Industrial Relations, DLIR, 830 Punchbowl Street, Honolulu, HI, 96813.  From 9:30 a.m. to 11:00 a.m  Meeting Agenda 03.13.2019 LAAC Meeting Minutes 1.09.2019
"Non-English Speaking Population in Hawaiʻi "(DBEDT Report – April 2016)
---
"Detailed Languages Spoken At Home in the State Of Hawaiʻi" (DBEDT Report – March 2016)
---
Read More OLA Posts
[/one_half_last]