Training and Conferences
[spoiler title="Training Announcements" open="no" style="default" icon="plus" anchor_in_url="no"]
[/spoiler] [spoiler title="Online Training" open="no" style="default" icon="plus" anchor_in_url="no"]
[/spoiler] [spoiler title="OLA Sponsored Events" open="no" style="default" icon="plus" anchor_in_url="no"]
3rd Roadmap Symposium on Building a Multilingal Workforce for Hawaii (2017)
[/spoiler] [spoiler title="Hawaii Annual Conferences on Language Access" open="no" style="default" icon="plus" anchor_in_url="no"]
| | |
| --- | --- |
| 9th Annual Hawaii Conference | Access here |
| 8th Annual Hawaii Conference | Access here |
| 7th Annual Hawaii Conference | Access here |
| 6th Annual Hawaii Conference | Access here |
| 5th Annual Hawaii Conference | Access here |
| 4th Annual Hawaii Conference | Access here |
| 3rd Annual Hawaii Conference | Access here |
| 2nd Annual Hawaii Conference | Access here |
| 1st Hawaii Conference | Access here |
[/spoiler] [spoiler title="Training Archives" open="no" style="default" icon="plus" anchor_in_url="no"]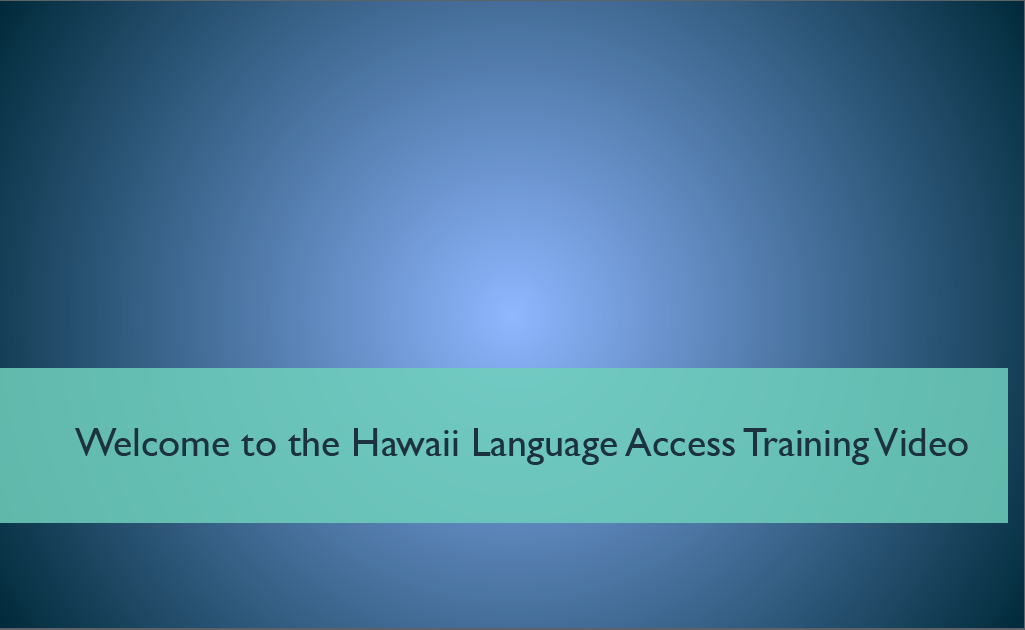 Hawaii Office of Language Access:  Language Access Training (Video and Review Questions)  [WILL BE UP SOON!]
This is an online presentation training file that departments/organization/individuals can utilize to learn about how to communicate with Limited English Proficient (LEP) individuals.  The training (Zip) file will need to be downloaded and viewed on your own computer.
How to download the Zip file:
Double click on the Icon, to download the zip file
Right click on the zip file, choose "Extract All" option to unzip the files to your computer drive location.
Double click on the "index_scorm" file to start the training.
Summer Intensive Interpreting Training (SIIT)  July 3 – August 11, 2017
SIIT is a rare oppotunity to receive short-term professional training in simultaneous and consecutive interpreting.
Apply now at cits.hawaii.edu
Languages offered:
Japanese, Mandarin, Spanish, French, Korean, & Vietnamese
by Center for Interpretation & Translation Studies (CITS), University of Hawaiʻi an Mānoa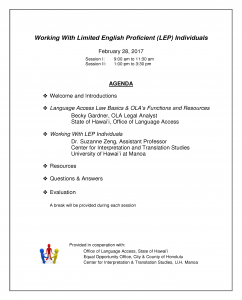 Working with Limited English Proficient (LEP) Individuals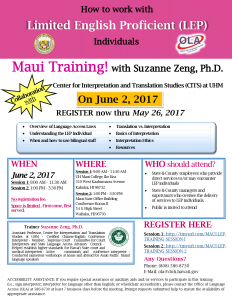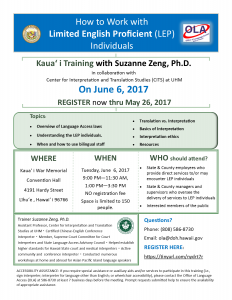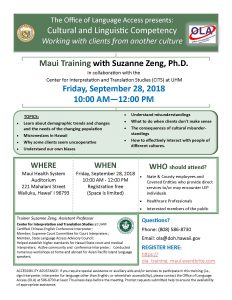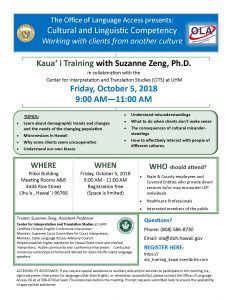 [/spoiler]