LifeCourse Framework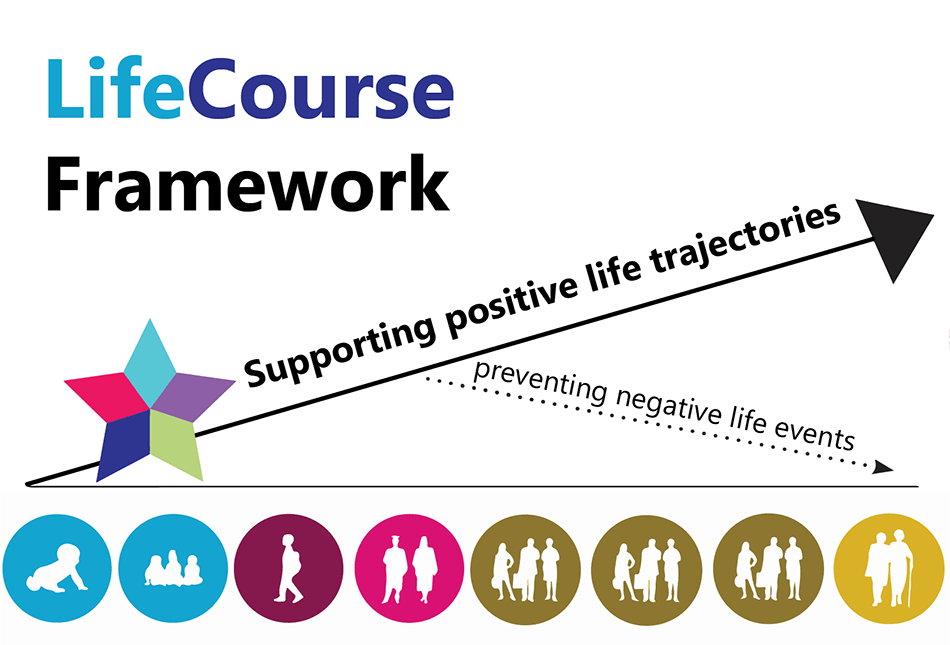 The Developmental Disabilities Division (DDD) is committed to providing quality family-focused services and supports. DDD believes families should be supported so they can nurture and facilitate opportunities for the family members to have a meaningful life.
Hawaii joined the National Community of Practice (CoP) for Supporting Families of Individuals with I/DD in 2016. The CoP is supported by the National Association of State Directors of Developmental Disabilities Services, and the University of Missouri Kansas City Institute for Human Development. They partner with states to provide tools and strategies so they can better assist and support families throughout the person's life.
The Charting the LifeCourse framework was developed to help individuals and families develop a vision for a good life. The framework helps individuals and families focus on their current situation and stage of life and identify how to find or develop the supports they need. It helps families to look ahead at the life experiences that will help move them toward an inclusive, productive life in the future. Although the Charting the LifeCourse framework was originally developed for individuals with I/DD, it can be used by any family at any ability level, any age, or any stage of life.
DDD, along with other agency partners, are incorporating the framework and tools into the planning process to support individuals to achieve their visions for a good life.
SPIN Video Transcript – PDF Format
The Hawaii State CoP Team agency partners include:  Department of Health Children with Special Health Needs Branch, Executive Office on Aging, Hawaii State Council on Developmental Disabilities, Self-Advocate Advisory Council, Center on Disability Studies, and Hilopa'a – Family to Family Health Information Center.
Timeline of DDD's participation in the National Community of Practice for Supporting Families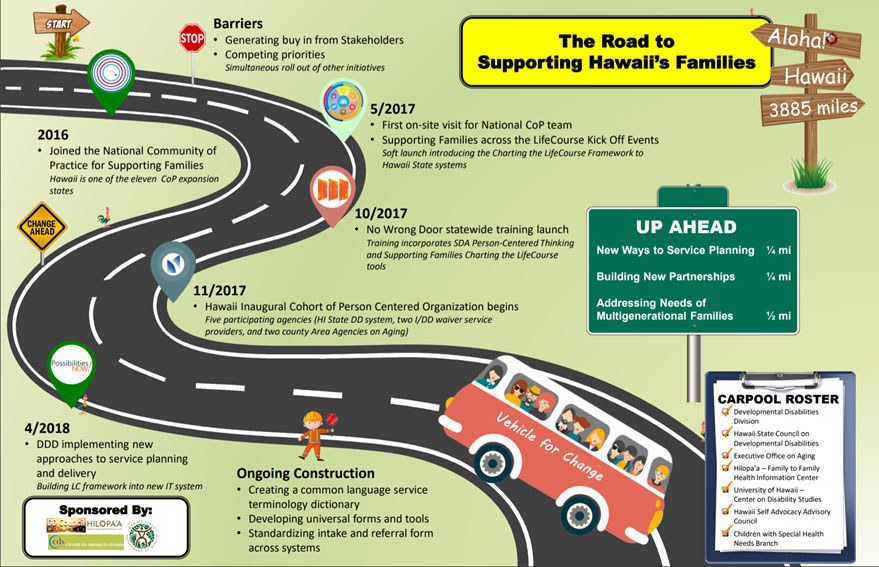 Road to Supporting Hawaii's Families Long Description
For more information about the National Community of Practice for Supporting Families, please visit: https://www.supportstofamilies.org
For more information about the Charting the LifeCourse Framework, please visit: https://www.lifecoursetools.com/