Participants and Families
The Department of Health, Developmental Disabilities Division (DDD) is committed to fostering partnerships and providing services that are:
Person-Centered: Where people are valued and have positive control over their lives.
Family-Focused: Where the relationship with the family is necessary for success.
Our goal is to ensure people with intellectual and/or developmental (I/DD) disabilities have a life that is: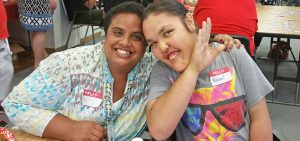 DDD's approach is to develop a path for each participant to live a full and satisfying life in the community. This involves working together with participants, their families and their communities.
To make this happen we must look at and use the skills, strengths, and life experiences of the participant and family when it comes to planning and carrying out their vision of a good life.
Possibilities Now! is DDD's initiative is to provide supports that help participants have the life they want throughout the course of their lives.
A part of Possibilities Now! is to look at supports in a person's life which include relationship-based supports, technology, community resources, and eligibility-specific supports. Eligibility-specific supports means supports that people may qualify for such as Medicaid 1915(c) Home and Community-Based Services (HCBS) Waiver for individuals with intellectual and developmental disabilities (Medicaid I/DD Waiver).
Individuals can apply for the Medicaid I/DD Waiver if they:
Receive DDD services;
Are Medicaid eligible; and
Meet the required Level of Care
Case Managers work with the individual and people in their life to figure out which services and supports will guide them towards the goals and life they want.
Case managers then plan with individuals in accessing waiver services from qualified providers or through the Consumer-Directed (CD) Option.