Aloha from the Office of Language Access!
The Office of Language Access (OLA) provides oversight and central coordination to state agencies,  (the executive, legislative and judicial branches of Hawai'i's state government) as well as technical assistance to state and covered entities, in developing and implementing their Language Access Plan as required by law.  It also monitors and reviews state agencies for compliance and provides language access complaint resolution.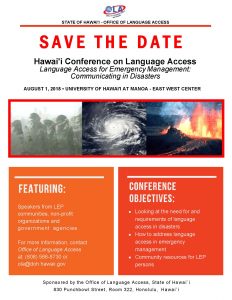 What's New!
SAVE THE DATE: Hawaiʻi Conference on Language Access, "Language Access for Emergency Management: Communicating in Disasters" to be held August 1, 2018 at Jefferson Hall on the University of Mānoa campus, East-West Center.  This is an all day event.  More registration information to follow. Save the Date!
Language Access Advisory Council Meeting, Wednesday, April  25, 2018 @ 9:30 a.m. to 11:00 a.m. in the Director's Conference room 320, Department of Labor and Industrial Relations, 830 Punchbowl Street, Honolulu, HI, 96813.  Meeting cancelled – no quorum.   Meeting Agenda 04.25.18
"Non-English Speaking Population in Hawaiʻi "(DBEDT Report – April 2016)
---
"Detailed Languages Spoken At Home in the State Of Hawaiʻi" (DBEDT Report – March 2016)
---