Aloha from the Office of Language Access!
The Office of Language Access (OLA) provides oversight and central coordination to state agencies,  (the executive, legislative and judicial branches of Hawai'i's state government) as well as technical assistance to state and covered entities, in developing and implementing their Language Access Plan as required by law.  It also monitors and reviews state agencies for compliance and provides language access complaint resolution.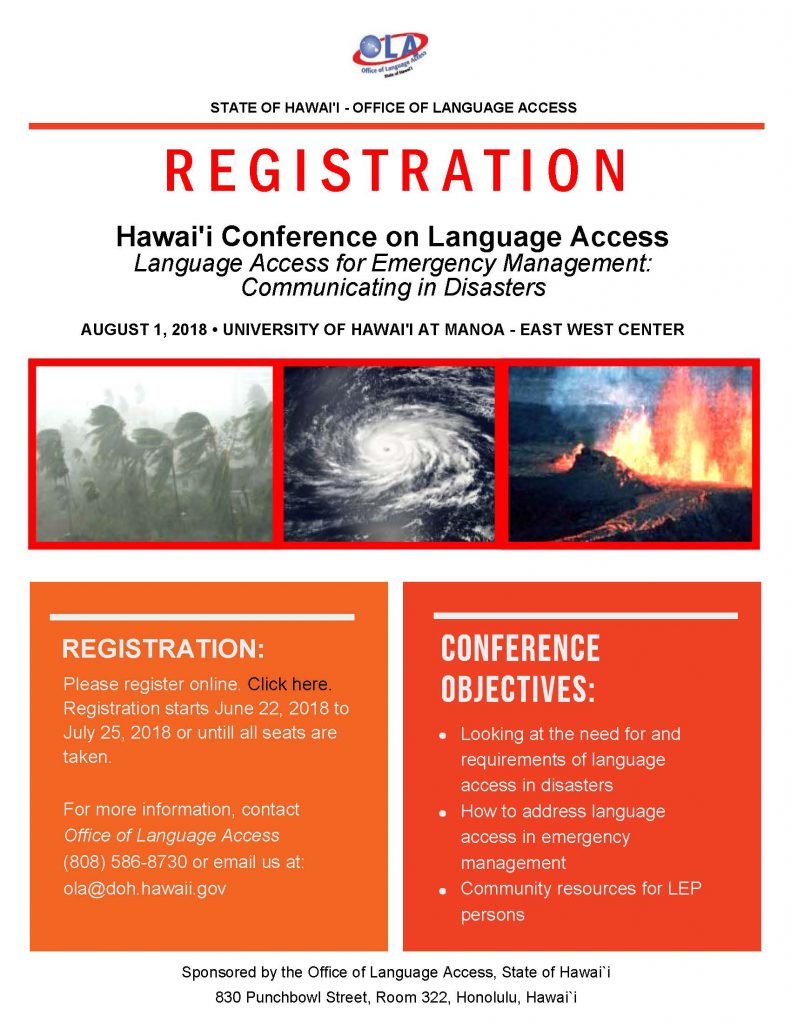 What's New!
Hawaiʻi Conference on Language Access "Language Access for Emergency Management: Communicating in Disasters" to be held on Wednesday, August 1, 2018 at Keoni Auditorium, East-West Center, University of Hawaiʻi Mānoa campus .  This is an all day event.  Starts at 7:45 AM – 4:30 PM.  You must register to attend.  Registration starts online June 22, 2018 to July 25, 2018 or until all seats are filled. 
Please register online – click here (Registration is now closed.)
Conference Program – click here
Parking at University of Hawaiʻi Mānoa Campus – Visitor Parking at the Lower Campus Parking Structure and the Dole Street Parking Structure (past the Hawaiian Studies building) is $5.00 flat rate all day.  Be prepared for a 10-15 minute walk to get on campus to Jefferson Hall, East West Center.
Visitor Parking on campus is hourly, Pay-to-Park, $2.00 per half-hour.  Machines accept credit cards (Mastercard and Visa) and cash.  For Visitor Parking Map – click here
For more on Visitor Parking at UH Mānoa please follow this link http://manoa.hawaii.edu/commuter/visitor.php
LANGUAGE ACCESS ADVISORY COUNCIL MEETING  The Language Access Advisory Council will meet on Friday, July 06, 2018 in the Director's Conference room 320, at the Department of Labor and Industrial Relations (DLIR), 830 Punchbowl Street, Honolulu, Hawaii 96813.  The meeting will start at 9:30 a.m. and end at 11:00 a.m. pending quorum.  Meeting Agenda 07.06.18
"Non-English Speaking Population in Hawaiʻi "(DBEDT Report – April 2016)
---
"Detailed Languages Spoken At Home in the State Of Hawaiʻi" (DBEDT Report – March 2016)
---