Public Notices and Updates
UPDATE: Hawaii Beach Monitoring Program
In March 2020, the Hawaii Department of Health proposed a modification to its current beach monitoring notification and advisory procedure. The Department solicited public comments during a public comment period that ended on May 1, 2020 and responded to public comments. The revised BEACH Monitoring Program and the Response to Public Comments documents may both be found at our Library page.
UPDATE: 2020 STATE OF HAWAII WATER QUALITY MONITORING AND ASSESSMENT REPORT
The Clean Water Branch (CWB) has responded to public comments on its 2020 State of Hawaii Water Quality Monitoring and Assessment Report. Both documents can be accessed by clicking on the following names: 2020 IR report, and Responses to Public Comments. The report has been submitted to EPA and the CWB is awaiting approval. The posted report is subject to change based on EPA action.
Public Notice NPDES Permits, Section 401 WQCs, and Supporting Documents
Pursuant to HAR 11-55-09 and HAR 11-54-9.1.03, the Department of Health notifies all interested persons of a proposed NPDES permit or Section 401 WQC. All current public notice NPDES permits, Section 401 WQCs, and supporting documents are available at: NPDES permits and/or Section WQC public notices.
Hawaii Department of Health and U.S. EPA Advise Public to Take Precautions at Keehi LagoonWarning Signs Posted 8/4/2016 HONOLULU – The Hawaii State Department of Health (DOH) is providing public notification of the potential health risk associated with recreating in and on Keehi Lagoon, Oahu by posting caution signs on August 4, 2016.The signs posted at both areas notify the public to use caution before recreating on or in the water, due to high bacteria levels. Children, the elderly and people with weakened immune systems or open wounds are the most likely populations to develop illnesses or infections after coming into contact with polluted water, usually while swimming. DOH is not closing the area for recreational use, but advising people to take precautionary measures.DOH and the U.S. Environmental Protection Agency (EPA) are concerned about elevated counts of bacteria in Keehi Lagoon in the aftermath of Tropical Storm Darby. Bacteria levels found exceed water quality standards and may pose a potential health risk to recreational users of these waters.A specific type of bacteria (Enterococcus sp.) is used as the indicator of the potential presence of pathogens which are harmful to humans. The posting of caution signs is based on the test results for this indicator bacteria.DOH and EPA will continue to work together to improve the monitoring of Hawaii's recreational waters, including specific standard protocols for public notification and posting of recreational waters with caution signs when bacteria levels exceed standards established to protect public health.Keehi Lagoon sign locations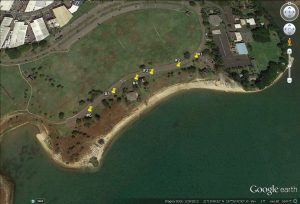 New
NOTICE OF PUBLIC HEARING ON
PROPOSED HAWAII ADMINISTRATIVE RULES (HAR)
CHAPTERS 11-53, 11-54, 11-55, AND 11-56
DEPARTMENT OF HEALTH
STATE OF HAWAII
DOCKET NO. CWB-1-21
The Department of Health (DOH), Clean Water Branch (CWB) will receive written comments and hold a public hearing on proposed new HAR Chapter 11-53 (Section 401 Water Quality Certification), proposed amendments to HAR Chapter 11-54 (Water Quality Standards), proposed amendments to HAR Chapter 11-55 (Water Pollution Control), and proposed new HAR Chapter 11-56 (Nonpoint Source Pollution Control). Below are copies of the proposed new rules and rule amendments:
If you have any issues opening the above PDF files, please try using a different browser. If you continue to experience any difficulties, please contact the Clean Water Branch at [email protected] for assistance. The files can also be accessed here.
Written comments will be accepted until 4:30 p.m. on Monday, February 1, 2021, through e-mail at: [email protected] or through postal mail at P.O. Box 3378, Honolulu, HI 96801-3378.
The DOH will hold a virtual public hearing so that interested parties may orally convey their comments or summary of written comments. Although not required, the DOH strongly encourages and requests comments to be submitted in writing. The DOH will limit oral comments to three (3) minutes per commenter so each commenter has an opportunity to present their views. The virtual public hearing will be held at 9:00 a.m. on Monday, February 1, 2021.
Please register to participate or listen to this virtual public hearing: https://zoom.us/webinar/register/WN_XtdoRegdTkW7IBQmtnLwyQ. After registering, you will receive a confirmation email containing information about joining the virtual public hearing. During the virtual public hearing, you will be informed when to provide your oral comments.
For more information or if you have special needs due to disability, please contact Mr. Darryl Lum of the CWB at the above e-mail address or at (808) 586‑4309 (voice), at least seven (7) business days before the scheduled hearing. For those who use a TTY/TDD, please call through Verizon Hawaii Telephone Relay Service, at 1 711 or 1-877-447‑5991.
New
Proposed Blanket Section 401 Water Quality Certification (WQC1092)
The Clean Water Branch is providing public notice of a proposed Blanket Section 401 Water Quality Certification (WQC1092) for the renewed 2020 United States Army Corps of Engineers (USACE) Nationwide Permits (NWPs). A public notice was posted in the Maui News on September 23, 2020 and in the Star Advertiser, Garden Island, West Hawaii Today, and Hawaii Tribune Herald on September 24, 2020. The Department of Health, Clean Water Branch is soliciting comments on the proposed WQC1092 for a period of 30 calendar days from September 24, 2020. Persons wishing to comment on the proposed WQC1092 or to request a public hearing, should submit their comments or requests in writing no later than 30 calendar days after the date of the notice, either through e-mail at: [email protected] or mailed to our office at 2827 Waimano Home Road #225, Pearl City, Hawaii 96782.
All written comments and request received on time will be considered. If DOH determines that there is significant public interest, a public hearing may be held after at least 30 calendar days of public notice. If DOH's position is substantially unchanged after considering all timely written comments and all comments at any public hearing that may be held, then the DOH will issue the proposed WQC1092 and this action will be final. Please notify anyone you know who would be interested in this matter.
Please view the proposed WQC1092 and a copy of the public notice by clicking here.
U.S. EPA is soliciting public comments on the addition of Kamilo Beach and Tern Island waterbodies as impaired by trash to Hawai'i's 2018 List of Impaired Waters under Clean Water Act, Section 303(d).
EPA's public notice is
here
.  The public comment period closes on August 19, 2020
TMT Response to June 25, 2019 Public Hearing Comments
The Department of Health's response to the June 25, 2019 public hearing comments on the National Pollutant Discharge Elimination System (NPDES) permit renewal for the Thirty Meter Telescope International Observatory is available at: Response to Public Hearing Comments – TMT International Observatory – HIS000431.
TMT Request for Contested Case Hearing
Any interested party who submitted comments during the public notice period or submitted testimony during the public hearing may request a contested case hearing. Requests may be mailed to the Director of Health, 1250 Punchbowl Street, Honolulu, Hawaii 96813. The requirements for requesting a contested case are found in Hawaii Administrative Rules, Chapter 11-1. A copy of these rules is available at https://health.hawaii.gov/opppd/files/2015/06/11-1.pdf. Requests must include the requester's first and last name, mailing address, email, and phone number. The Director of Health will accept requests for a contested case hearing no later than August 9, 2019, by the close of business at 4:30 p.m.
NPDES Permit No. HI S000431 Public Notices and Documents for the Thirty Meter Telescope (TMT) International Observatory Project
Renewal Permit Documents
Public Hearing Notice – TMT International Observatory – HI S000431
Public Notice, Draft Renewal Permit and Rationale – TMT International Observatory – HI S000431
Renewal Application – TMT International Observatory – HI S000431
Response to Public Hearing Comments – TMT International Observatory – HIS000431
Original Permit Documents
NPDES Permit – TMT International Observatory – HI S000431
Original 2014 Application – TMT International Observatory – HI S000431
June 25, 2019 Public Hearing
Video of Public Hearing for TMT International Observatory NPDES Permit Renewal HI S000431
NOTICE OF PUBLIC HEARING ON HAWAII ANTIDEGRADATION IMPLEMENTATION PROCEDURES FOR NPDES PERMITS AND SECTION 401 WQCsHawaii Antidegradation Implementation Procedures
Water Pollution Control (WPC) Viewer for Public Access to Government Documents
The WPC Viewer offers quick and easy access to NPDES permits/WQC/documents, inspections, and enforcement actions.  All non-confidential NPDES and Section 401 WQC documents, applications, correspondence, fact sheets, rationales, final permits/certifications, completed inspections, and enforcement actions can be viewed and downloaded through the WPC Viewer website.  You can search for records by typing the permit number, facility name, or facility location in the search field; clicking on the link to the record; and pressing the Permit Information button.  Alternatively, you can zoom into the map and locate the facility you are interested in.  Note: Once you've found your desired facility/project, an easy way to locate documents in the WPC Viewer is to press "CTRL+F" and type a keyword.  For example, if you are looking for an issued NPDES permit, press "CTRL+F" and type "fnl".  If you are looking for the fact sheets or rationales, press "CTRL+F" and type "fact sheet" or "rationale".
CLEAN WATER BRANCH STANDARD COMMENTS

For agencies or project owners requiring comments for one or more of the following documents (Pre-consultation, Early Consultation, Preparation Notice, Draft, Final, Addendums, and/or Supplements):
Environmental Impact Statements (EIS)
Environmental Assessments (EA)
Stream Channel Alteration Permits (SCAP)
Stream Diversion Works Permits (SDWP)
Well Construction/Pump Installation Permits
Conservation District Use Applications (CDUA)
Special Management Area Permits (SMAP)
Shoreline Setback Areas (SSA)
Please download the CWB Standard Comments Memo for our standard comments regarding your project's responsibilities to maintain water quality and any necessary permitting. The CWB will not provide direct responses to these requests. Agencies and/or project coordinators may download and use this memo as the CWB's official comments.

MINIMUM WATER QUALITY AND POLLUTION CONTROL SPECIFICATIONS FOR CONSTRUCTION PROJECTS

Updated BMP procedures regarding General Permits
Authorizing the discharge of storm water associated with construction activities.