Public Notices and Updates
Water Pollution Control (WPC) Viewer for Public Access to Government Documents
The WPC Viewer offers quick and easy access to NPDES permits/WQC/documents, inspections, and enforcement actions.  All non-confidential NPDES and Section 401 WQC documents, applications, correspondence, fact sheets, rationales, final permits/certifications, completed inspections, and enforcement actions can be viewed and downloaded through the WPC Viewer website.  You can search for records by typing the permit number, facility name, or facility location in the search field; clicking on the link to the record; and pressing the Permit Information button.  Alternatively, you can zoom into the map and locate the facility you are interested in.  Note: Once you've found your desired facility/project, an easy way to locate documents in the WPC Viewer is to press "CTRL+F" and type a keyword.  For example, if you are looking for an issued NPDES permit, press "CTRL+F" and type "fnl".  If you are looking for the fact sheets or rationales, press "CTRL+F" and type "fact sheet" or "rationale".
CLEAN WATER BRANCH STANDARD COMMENTS

For agencies or project owners requiring comments for one or more of the following documents (Pre-consultation, Early Consultation, Preparation Notice, Draft, Final, Addendums, and/or Supplements):
Environmental Impact Statements (EIS)
Environmental Assessments (EA)
Stream Channel Alteration Permits (SCAP)
Stream Diversion Works Permits (SDWP)
Well Construction/Pump Installation Permits
Conservation District Use Applications (CDUA)
Special Management Area Permits (SMAP)
Shoreline Setback Areas (SSA)
Please download the CWB Standard Comments Memo for our standard comments regarding your project's responsibilities to maintain water quality and any necessary permitting. The CWB will not provide direct responses to these requests. Agencies and/or project coordinators may download and use this memo as the CWB's official comments.

MINIMUM WATER QUALITY AND POLLUTION CONTROL SPECIFICATIONS FOR CONSTRUCTION PROJECTS

Updated BMP procedures regarding General Permits
Authorizing the discharge of storm water associated with construction activities.
Hawaii Department of Health and U.S. EPA Advise Public to Take Precautions at Keehi Lagoon and Waiopili Stream, Kauai
Warning Signs Posted 8/4/2016 at Both Areas on Oahu and Kauai
 HONOLULU – The Hawaii State Department of Health (DOH) is providing public notification of the potential health risk associated with recreating in and on Keehi Lagoon, Oahu and Waiopili Stream, Kauai by posting caution signs in these areas on August 4, 2016.
The signs posted at both areas notify the public to use caution before recreating on or in the water, due to high bacteria levels. Children, the elderly and people with weakened immune systems or open wounds are the most likely populations to develop illnesses or infections after coming into contact with polluted water, usually while swimming. DOH is not closing the areas for recreational use, but advising people to take precautionary measures.
DOH and the U.S. Environmental Protection Agency (EPA) are concerned about elevated counts of bacteria in Keehi Lagoon in the aftermath of Tropical Storm Darby, and at Waiopili Stream near Gillin's Beach. Bacteria levels found at both areas exceed water quality standards and may pose a potential health risk to recreational users of these waters.
A specific type of bacteria (Enterococcus sp.) is used as the indicator of the potential presence of pathogens which are harmful to humans. The posting of caution signs is based on the test results for this indicator bacteria.
DOH and EPA will continue to work together to improve the monitoring of Hawaii's recreational waters, including specific standard protocols for public notification and posting of recreational waters with caution signs when bacteria levels exceed standards established to protect public health.
Keehi Lagoon sign locations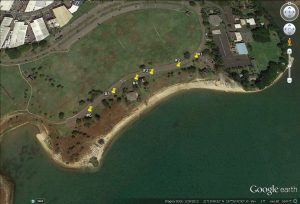 Gillin's Beach sign locations