Dexster
---
Living the Dream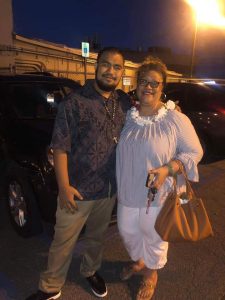 Once upon a time there was a "Dare Child" with a big heart, a lot of dreams and a lot of energy. Dare Child Dexster graduated June 2nd from high school where he was recognized as an outstanding football running back. In the village of Faagalu where his aunty, my #3 sister lived, Dexster also played on a community rugby team.  He was just very athletic and now as a graduate was looking forward to building a future by joining the Army. Dexster's dad was an Infantry First Sargent in command over the troops. Dexster held great respect for his dad and his dad's work.
About May 2013 Dexster paid a visit to the Army recruiting office. The recruiter told Dexster he needed him to lose 50 lbs. before he would be accepted into the Army. Dexster had 2 months to lose the weight if he wanted to make the next class going to basic training. Driven to meet his goal, Dexster undertook a rigorous schedule of daily exercise and limiting his dietary intake.  He worked out with weights, went running, engaged in fautasi (rowing), ate very little and started taking a dietary supplement. Towards the end of June Dexster weighed in and found he had dropped more than the required 50 lbs. He exceeded his goal and was ready to join the Army!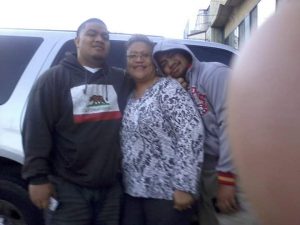 Before leaving American Samoa to embark on his career path, Dexster was making the most of time with family.  He and his brothers were at #3 sister's home. This aunty's house was like his second home.  He expressed his love and appreciation for his family by making dinner for everyone.  He cooked up fried chicken and fa'alifu, a coconut-banana dish. Dexster wanted to be sure I knew he was thinking about me and asked his aunt to bring some food to his mom's house. #3 sister agreed, and Dexster went off with his brothers to go play rugby.
25 minutes away from #3 sister's home, I had woken up with a headache. It was a cool breezy rainy day and I had things to do. I was determined not to let this headache get in my way. I went and got a glass of water and dropped the glass shattering it completely. A thought flashed across my mind "what is going to happen today"? I put it out of my mind and went about my day.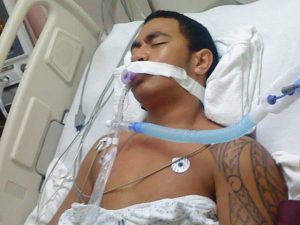 Early evening and I've finished my household chores. I step onto the porch to enjoy the sound of small waves on a rainy day. No sooner had I sat down when #2 sister who lives behind me comes rushing over. "Get dressed, Dexster is at the hospital"!
Although Faagalu was rainy, Dexster was out playing rugby with his friends. Suddenly, one of Dexster's friends noticed him lying face down on the grass in a puddle of water. His friend yelled over to Dexster's brother, Dayton. "Dexster is facing down in a puddle of water and not moving!" Dayton ran over to where Dexster was and found him face down, he repeatedly called out Dexster's name, turned Dexster over shaking him to wake up.  Then Dayton noticed Dexster's face turning purple/blue so one of the coaches started giving DexsterCPR just to get him breathing. Within minutes they got a pulse and started carrying and rushing Dexster on to the truck to take him to the LBJ Hospital just around the corner from the Faagalu Park. One of the other players, Tamafai, ran to #3 sister's home to tell her what had happened, and she called #2 sister. I grabbed my sweater and we were off.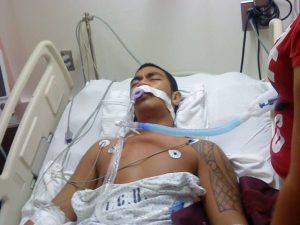 In the 25-minute drive to the hospital the breezy rainy day turned into a stormy evening. The dark enveloped us as the rain came down unceasingly. We arrived at the hospital and found Dexster on the gurney. At the urging of my brother in law, (#3 sister's husband), the doctor had resuscitated Dexster 4 times but was now ready to call Dexster's time of death for a 2ndtime. I felt Dexster's life force and I told the doctor "1 more time". The doctor changed out the paddles, placed them on Dexster's body and gave the signal. Dexster's whole body rose up and the heart monitor blinked. Dexster was back!
From his collapse on the field to his most recent resuscitation, Dexster had suffered a lack of oxygen to the brain, anoxia. The prolonged periods of anoxia resulted in brain damage. He spent the next 7 days in a coma. It was during this time that I learned Dexster had been taking the dietary supplement, Hydroxy to speed his weight loss and this led to a heart problem that caused his collapse.
Dexster needed immediate assistance and we couldn't wait for a Medevac, so he was transported to O'ahu on a commercial flight. Tripler Hospital was able to treat his immediate needs and stabilize his condition, but Dexster needed more. Tripler helped Dexster with his heart but now he needed help to repair his brain. The Tripler case worker gave us 3 choices of where Dexster could get "brain help".  We chose California because we had family there. We were set to go when suddenly the Federal government shut down.  All non-essential transports were cancelled.
Everyone we knew would check in with us, ask about Dexster and how things were going.  I told one friend of the military flight cancellation and how I needed options to get Dexster to California.  This friend called her cousin and in turn, the Tripler nursing staff received a call from Tulsi Gabbard's office requesting Dexster's medical records for review.  The following day a representative from the Air Force met with us and made arrangements to fly us to California the very next day.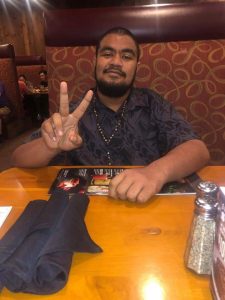 We spent two months in California getting treated and overcoming numerous challenges.  Upon returning to Oʻahu ongoing care meant regular appointments with an OT, PT, neurologist, cardiologist and finding a Personal Assistant Habilitation(PAB) worker. Life has become doctor appointments, home visits, and daily medical provider reports. In the first 4 years of his injury, Dexster changed PAB workers 3 times. In 2017 we reconnected Dexster with his baby brother, Dextrick, who went on to become his care giver. The familiarity of family, someone who treated him as brother, not a patient was exactly what Dexster needed. To Dextrick, Dexster feels free to express his true feelings about things. Things that make him happy, sad, frustrated, excited.  Everyday Dexster gets to do worthwhile things. He goes to the gym, maintains a garden plot at Foster Garden, and regularly visits the library.
Dexster was faced with a challenge to pursue his career. When he began his workout regimen and diet, I thought to myself, that's my Dare Child, doing what he does best. I could see how committed he was and the progress he was making. I did not expect events to unfold as they did, I was unaware of the measures he had taken to reach his goal. It has been 6 years now from July 31, 2013. Dexster's life has changed dramatically emotionally, mentally and physically. Every day that we are able to meet new challenges and pursue our dreams with our Dare Child is a fight and a celebration. Everyday I dare to dream of a better life for my Dare Child, and everyday my dream comes true.