Hawaii Tele-Stroke Program
---
Hawaii Tele-Stroke Program
Project Funded by the Neurotrauma Special Fund:
Hawaii Tele-Stroke Program (2011 – present)
Project Goals:
Goal 1: Improve statewide access to timely, expert stroke care evaluation and treatment with Tissue Plasminogen Activator (tPA) and educate providers on stroke evaluation and treatment.
Goal 2: Educate the public about stroke signs, symptoms, and what to do if someone may be experiencing a stroke.
What is tPA?
The only drug approved by the Food and Drug Administration (1996) for acute treatment of ischemic stroke – breaks up or dissolves blood clots.
For every 100 patients given tPA within 4.5 hours of onset of stroke symptoms, 28 patients will suffer less long-term disabilities than if they had not received the medication.
Goal 1:
Funding was used to purchase telemedicine equipment for Queen's Medical Center (QMC) Punchbowl (the "hub") and the eight statewide "spoke" sites (see diagram below).
Emergency Department doctors and nurses, hospitalists, and administrators of the hub and spoke hospitals were educated on stroke care protocols and use of the telemedicine technology.
QMC Punchbowl serves as the hub and has a neurologist on-call 24/7/365, available to the other 8 hospitals to evaluate stroke patients via the telemedicine equipment and make recommendations regarding whether or not to treat with tPA.
The program allows more hospitals to have the capacity to care for stroke patients, meaning that patients living in rural areas of the state can go to a closer hospital and receive treatment sooner, which is imperative to improving patients' outcomes.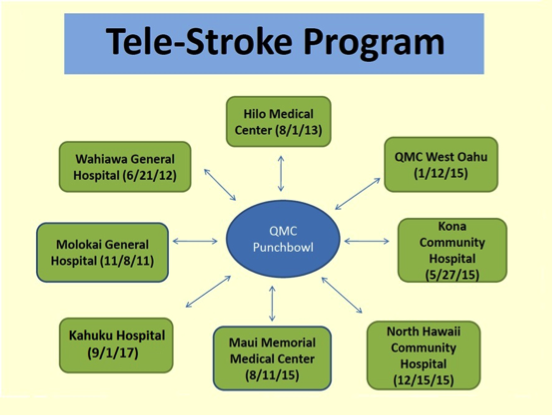 Goal 2: Educate the public about stroke signs, symptoms, and what to do if someone may be experiencing a stroke
Funding is also provided to educate the public on:

Signs and symptoms of stroke
Stroke risk factors
Importance of calling 9-1-1 immediately after the onset of stroke symptoms
The availability of effective treatment with tPA

Education is provided through:

Attendance at health/wellness/senior/resource fairs
Presentations at elementary, middle, and high schools
Appearances on local radio and television shows
Articles in community newsletters and local newspapers
Presentations to local clubs, professional organizations, places of employment, and senior living centers
FAST School Stroke Education Program (June 2017)

Educated nine public elementary, intermediate, and high schools on the signs and symptoms of stroke and what to do if someone is having a stroke
Students were asked to review what they learned with family members and those who returned with a parent signature received a rubber duck key chain.
A total of 11,454 individuals received the FAST stroke education message