Communication Access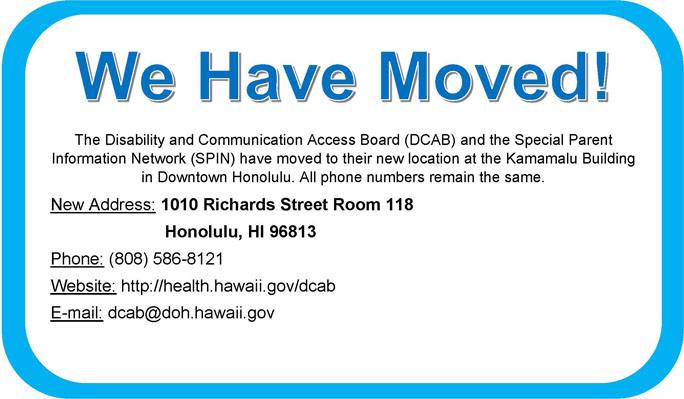 Hawaii Administrative Rules
Communication Access, Title 11, Chapter 218 (Accessible Version)
Communication Access, Title 11, Chapter 218 (PDF Version)
Hawaii Quality Assurance System (HQAS)
HQAS Test: TBA
Deadline to register: TBA
Hawaii Quality Assurance System (HQAS)
Continuing Education Program (CEP)
The Disability and Communication Access Board announces a new online system for sign language interpreters enrolled in the HQAS CEP. The new system is designed to reduce paper consumption and errors by automatically calculating CEU totals. To learn more about the HQAS CEP, please visit the website at www.hqas.org.
NOTE TO HQAS INTERPRETERS: To participate in the CEU program, you must first sign up online and submit the program fee by mail to DCAB by check or money order. Credit card payments and cash are not acceptable. After confirmation of your online application and fee, CEUs must be earned and submitted within your two-year renewal period. CEUs earned prior to confirmation will not be counted.
Communication Access Providers
Please click on  Sign Language Interpreters for the current list. This list is updated monthly.
Should you have questions about the list, please contact our office by phone (808) 586-8121 (V/TTY) or email, dcab@doh.hawaii.gov
ADA rights for American Sign Language
DCAB proudly presents a series of American Sign Language (ASL) videos about the ADA Title III Effective Communication.
Audio Description for ADA Effective Communication, Title III:
ADA Effective Communication, Title III (ASL):
Understanding the ADA, Title III (ASL):
Understanding the ADA, Title II (ASL):
The Aloha State Association of the Deaf (ASAD) has also made these videos available on its website.
Communication Access Fact Sheets
How To Caption Your Videos or Live Shows (as of 8/25/15)
How to Obtain a Sign Language Interpreter
Access to HealthCare: Your Right to a Sign Language Interpreter
Guidance for HealthCare Providers in Ensuring Effective Communication
Communication Access Provisions Title II of the Americans with Disabilities Act for State & Local Agencies
Communication Access Provisions Title III of the Americans with Disabilities Act for Public Accommodations
Communication Access Provisions for Telecommunications Relay Services (TRS)
For more information
Kirby Shaw
Program and Policy Development Coordinator
(808) 586-8121
Kirby.shaw@doh.hawaii.gov
Kamaile Hopfe
Program Support Technician
(808) 586-8121
Kamaile.Hopfe@doh.hawaii.gov