Aloha!
Due to COVID-19 the submittal process for obtaining a Disability Parking Permit has changed. Click here, or click the tab labeled "Disability Parking Permits" to view the updated submittal process, or for more information on the new Disabled Paid Parking Exemption Permit (DPPEP).
Pursuant to Hawaii Revised Statutes §291.51-7, disability parking permits that have been issued by authorities of other states and countries may be used for the purpose of parking in reserved accessible parking spaces. All parking fees will apply.
NEW FROM DCAB:
Approved Programs and Services Reference Manual for Persons with Disabilities – (posted 8/23/23)
Plan of Action FY 2023-2024 – (posted 8/2/23)
New videos in American Sign Language for deaf, hard-of-hearing, and deaf-blind persons in Hawai'i aids understanding of civil rights.
A series of basic civil rights videos in American Sign Language (ASL) for people who are deaf, hard-of-hearing, or deaf-blind is now available statewide. Collaboratively produced by the Hawai'i Civil Rights Commission (HCRC) and the Hawai'i State Disability and Communication Access Board (DCAB), the new videos provide direct information to individuals who rely on ASL to communicate: (posted 7/31/23)
What Are My Rights?
What Are My Rights? (Audio Description)
Communication Access Discrimination
Communication Access Discrimination (Audio Description)
Filing a Complaint with the HCRC
Filing a Complaint with the HCRC (Audio Description)
Employment Discrimination
Employment Discrimination (Audio Description)
Housing Discrimination
Housing Discrimination (Audio Description)
Job Announcement:
Program Support Technician I – (posted 7/21/23)
Planner and ADA Coordinator – (posted 7/17/23)
Communication Access Specialist – (revised 3/22/2023)
Guidance on the Provision of Auxiliary Aids/Services of Accommodations Due to a Disability at Public Meetings of Events – (revised 7/28/2023)
Van Accessible Sign Artwork (Park with Aloha)12″w x 18″h (posted 3/10/2023)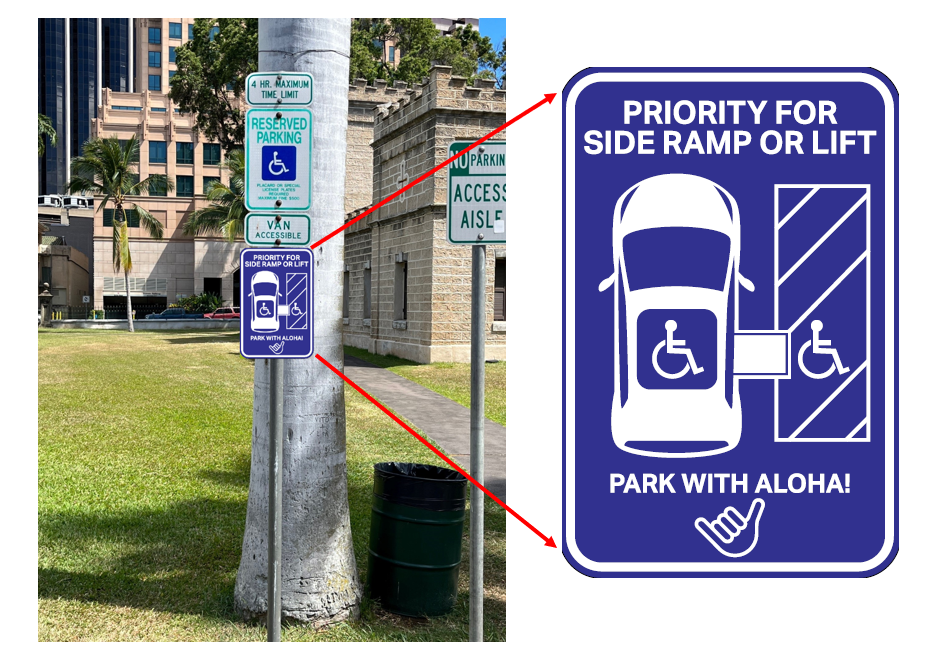 Annual Facility Access Report of Activities FY 2021-2022  – PDF • Word (posted 2/8/2023)
Annual Parking Report of Activities FY 2021-2022 – PDF • Word (posted 2/8/2023)
---
DCAB Facility Access Unit Document Reviews [4/1/23 – 6/30/23] (posted 7/28/2023
Annual DCAB Report FY 2021-2022 – PDF • Accessible Version (posted 12/7/2022)
Annual Accomplishments Parking Program Report 2020-2021 – PDF • Word (posted 5/5/2022)
Hawaii State Legislature Measures 2021 – (posted 6/9/2021)
VRI Guidelines: These guidelines were created by the National Association of the Deaf and Deaf Seniors of America to assist healthcare providers in operating Video Remote Interpreting (VRI). – (posted 3/31/2020)
DCAB Legislative Position Statements 2020 – (posted 2/11/2020)
Assistance Animal Flyer – (posted 12/31/2019)
How to Obtain Communication Access Services or Providers – (updated 11/4/2019)
Service Animal Flyer – (posted 10/18/2019)
Service Animal Card – (posted 10/18/2019)
DCAB Guiding Principles on the Mobility and Safety of Pedestrians with Disabilities – (posted 9/23/2019)
DCAB Guiding Principles on Public Transit Fixed Route Bus and Paratransit Services – (posted 9/23/2019)
DCAB HRS Updates – (posted 7/8/2019)
---
LEADERSHIP
Josh Green, M.D.
Governor of Hawaii
Kenneth S. Fink, MD, MGA, MPH
Director, Department of Health
Violet A. Horvath, PhD
Chairperson, DCAB
Kirby L. Shaw. Esq, MPA
Executive Director, DCAB