Service and Assistance Animals
Table of Contents
State of Hawaii Laws that directly reference Service (or Related) Animals
DCAB Technical Assistance and Information
Hawaii Civil Rights Commission (HCRC) Fact Sheet
Information on Service Animals in Restaurants
Service and Assistance Animal Organizations in Hawaii
Service Animals and Quarantine in the State of Hawaii
National and Federal Resources
State of Hawaii Laws that directly reference Service (or Related) Animals
DCAB Technical Assistance and Information
DCAB provides technical assistance and information on service and assistance animals to individuals with disabilities, state and local government entities, places of public accommodation and commercial facilities, residential managers and owners, and policy makers.  For information contact [email protected] or 808-586-8121.
DCAB's technical assistance and information DOES NOT INCLUDE providing any certification, licensure, or animal documentation.  DCAB also DOES NOT SELL ITEMS (vests, leashes, etc.) that may be used by handlers.
DCAB has developed two flyers that may be downloaded and printed on 8-1/2" x 11" paper and used for informational purposes at various locations.  The two flyers are "Service Animals in Places of Public Accommodation or State/Local Government Programs" and "Assistance Animals in a Housing Accommodation (Residential Settings)" and are shown below.  To print, click on the PDF Links: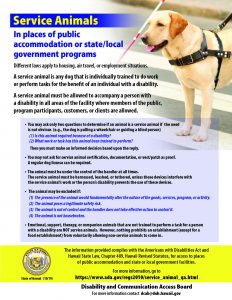 In addition, DCAB has developed a 5 1/2″ x 4 1/4″ card on firm cardstock with the exact same information that is contained in the Service Animal flyer noted above.  This card is suitable for individual staff, especially security or other similar personnel.  If your organization would like multiple copies, please contact DCAB at [email protected]. You may also download and print your own copy by clicking on the link below.
As a reminder, DCAB is also able to provide presentations on the subject by contacting us at the same email address.
Hawaii Civil Rights Commission (HCRC) Fact Sheet
The HCRC enforces §515-3 Hawaii Revised Statutes relating to non-discrimination in housing.  Non-discrimination on the basis of failure to provide reasonable accommodation for a service animal is specifically referenced.  The HCRC has a Fact Sheet entitled "Assistance Animals as a Reasonable Accommodation in Housing" that provides guidance on accommodating an assistance animal for a person with a disability, including reasonable restrictions and responsibilities of a resident with an approved animal.
The HCRC enforces other laws in the area of public accommodations, employment in addition to housing.  There are no fact sheets related to service or other assistance animals available.  Individuals may contact the HCRC directly at https://labor.hawaii.gov/hcrc/ for more information.
Information on Service Animals in Restaurants
DCAB and the Department of Health have issued a guidance entitled Service Animals and Food Establishments with frequently asked questions.
Service and Assistance Animal Organizations in Hawaii
 There is no legal requirement for licensure or certification.  Service or assistance animals may be individually trained by their handler to perform functions.  However, there are several organizations that provide such training (note: only no-profit agencies and organizations, not individuals are listed).
Hawaii Fi-Do is a non-profit organization on O'ahu that trains service dogs for individuals with disabilities.
Assistance Dogs of Hawaii  is a non-profit organization on Maui that trains service and other assistance animals for individuals with disabilities
Guide Dogs of Hawai'i is a non- profit organization on O'ahu that trains guide dogs for people who are blind or visually impaired.
Service Animals and Quarantine in the State of Hawaii
Hawaii is the only state with a quarantine law that has been enacted to maintain its rabies-free status.  Animal quarantine impacts animals that are brought in to the state from a locale that is not rabies-free (i.e., Australia is rabies-free and hence service animals from Australia are not subject to quarantine with the proper documentation.
The Department of Agriculture provides information on bringing service animals into the State of Hawaii.  Click the link for the Department of Agriculture's webpage on service animals. Click the link to the Department of Agriculture's Administrative Rules on Animal Quarantine with a section on service animals.  Note that quarantine rules are applicable only to Service Animals, not other Assistance Animals.
NATIONAL AND FEDERAL RESOURCES
 National ADA Center Network
The federally funded, national network of ADA Centers (of which DCAB is a state affiliate) hosts a Service Animal resource hub with updated national and federal resources relating to service and assistance animals.  All of the information provided is specific to the Americans with Disabilities Act (ADA), Fair Housing Act (FHA), Air Carrier Access Act (ACAA) or other federal laws.
The Service Animal resource hub provides information in the following categories by clicking on the links below:
Service Animal Basics:  Basic information about the definition of a service animal, where they can go, and what questions you can ask a handler? FAQs, Service Animal Videos, Service Animal Booklet.  Links to U.S. Department of Justice Fact Sheets are provided
Taking a Service Animal to Work:  Information about service animals in the workplace.
Traveling with a Service Animal:  Information about traveling with a service animal or emotional support animal – flying with an animal, using ground transportation systems, and accessing hotels. Links to U.S. Department of Transportation documents are provided.
Living with a Service Animal:  Information about reasonable accommodations for service animals and emotional support animals in housing. Information on Federal Fair Housing Laws is provided. Links to U.S. Department of Housing and Urban Development documents are provided.
Taking a Service Animal to School:  Information about taking a service animal to school, including K-12 schools and post-secondary institutions. Information on Section 504 of the Rehabilitation Act, the ADA, and the Individuals with Disabilities Education Act is provided.
Service Animals in Emergency Situations: Information about service animals in emergency shelters and disaster preparation.
Service Animal or Emotional Support Animal? Information about the differences between working animals.
Service Animals and Small Business: Information about service animals for small business owners, their staff, and customers.
Service Animal Misconceptions: A list of common misperceptions about service animals.
ADA Network Service Animal Portal: National information on service animal issues
National entities offering a registry, certification, or selling products
The internet provides links to entities that offer either (1) certification of an animal as a service or other assistance animal; (2) ability to register an animal on a national registry or database with or without certification; or (3) the sale of various products such as vests, ID cards, and other items to identify an animal as a service or assistance animal.  All of the above are usually available for an on-line fee.
DCAB reminds individuals and the public that no certification or identifying card, etc. is required by state or federal law.
DCAB does not endorse any of those entities, nor does any state or federal agency.  Hence, they are not listed.
Other State Laws on Service and Assistance Animals
Michigan State University's Animal Legal and Historical Center has compiled comprehensive state-by-state information on the different state laws related to service animals, including the fraudulent representation of a service animal.