Out-of-State Patient Application

COVID-19: SAFE TRAVELS HAWAII FAQs
General Information
The application process is completed online
OSP's may apply for no more than two, 60-day terms in a calendar year
May request a "start date" for the term to begin
May apply 60 days prior to the requested "start date"
Application fee is $49.50 and is non-refundable
Electronic access to the Hawaii 329 Registration card will be provided upon approval
*IF you would like to switch from an OSP application to an in-state patient (ISP) application, you will need to "create an account" using a different and valid email address.
OSP Requirements
Valid medical cannabis registration card issued by another U.S. state or territorial or District of Columbia government 

If your home state's medical cannabis card does not have the expiration date on it (i.e. New York), please upload additional documents that state the expiration date of your registration in the "other documents" section in the Hawaii online application.
Physician certifications or recommendations are not accepted in lieu of state government-issued medical cannabis cards.

Valid government-issued state ID or driver's license from the same U.S. state or territory or District of Columbia* with the same name on the medical cannabis registration card.
Certified in your "home" state as having one or more debilitating medical conditions identified in Hawaii State Law
*Passports, military ID cards, or any other ID are not accepted and the application will be denied if submitted. 
OSP Minor ID types
Birth Certificate with a unique ID number usually found on the top-right corner**.

Valid state/territory ID

Valid driver's license

Valid passport book (not passport card)
**Please visit Social Security Administration for details.
OSP Minor's Caregiver – Additional Requirements
Must be the parent, guardian, or legal custodian of the minor applicant
Valid government-issued ID or driver's license from the same US. state/territory or District of Columbia as the minor's valid medical cannabis registration card***
***Passports, military ID cards, or any other ID are not accepted as valid government issued ID's for caregivers and the application will be denied if submitted.
We do not accept international medical cannabis registration cards at this time.
Adult applicant cannot apply for a caregiver through the out-of-state application process.
***California Applicants – Please note that we only accept a government-issued Medical Cannabis Registration Card as the official document to approve your Hawaii 329 card.  The acceptable  card is issued by the county government in the state of California.  For more information about your state's program please visit the website at https://www.cdph.ca.gov/Programs/CHSI/Pages/MMICP.aspx
This is a sample of the California government-issued card, which has 9-digit identification number.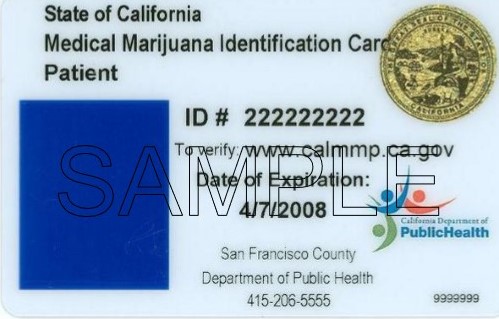 OSP Checklist and FAQ's to help get you started.
How to Access Your 329 Card Online
Medical Cannabis Use and Restrictions
For technical/computer related issues with the application process, please call 808-695-4620, Monday through Friday, 8:00 A.M. to 4:00 P.M.
Please make sure there is a dispensary on the island that you are travelling to and there is an adequate supply and availability of products to meet your medical needs prior submitting your application (application fees are non-refundable).
Traveling
Please be advised that according to federal law, possession of cannabis and cannabis infused products is illegal.
Travel by any means, inter-island, to and from the mainland USA, and internationally means passing through federal airspace or jurisdiction. This may put medical cannabis patient or caregivers travelling with cannabis and/or cannabis infused products of any kind in jeopardy with the possibility of delay or arrest.