---
---
Defining Success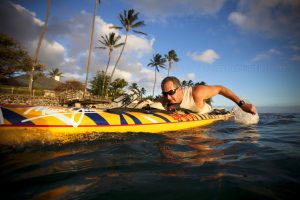 In the early 90's while training for marathons I would run from my house in Kailua over to Lanikai and run the side hills for conditioning.
When I moved back to Hawaii in 2003, I started back into that same routine and course pushing my wheelchair.  It was helpful that they put in the bike path behind Kalapawai.
In 2006 while doing a lap a woman flagged me down at the boat ramp.  She lived in Lanikai and had seen me getting my exercise.  She wanted to tell me about a group called Project Purelight that would take people with disabilities out in 6-man canoes.
I decided to attend one of their sessions and was interested to learn a little about the technique.  I enjoyed it more when we were out on the water since I hadn't really been in the ocean much since my accident.
While there I met a volunteer, Mark Marble, that started talking to me about a non-profit he was starting up to get people with disabilities back in the water surfing. I was a little skeptical.  I ran into him a couple of times while doing my lap and he still had the same enthusiasm and updated me on their progress.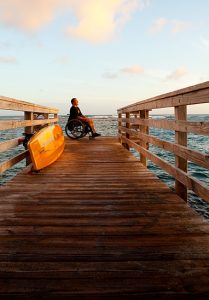 Eventually I went to their Day At The Beach event where they had some adaptive chairs to go into the water and some surfboards.  I got in the water and onto a surfboard. They didn't have any padding to raise the chest or chin, so I ended up paddling with my head to the side or on my chin.  Not an ideal way to paddle and there was limited visibility.  They spotted me on a wave and I actually tried to pop up and stand on the first two waves I took.  It was purely reflex from my years of surfing, but it scared the hell out of me because I didn't have a plan after that.
Over the next several months we worked on paddling and prone surfing.  I liked cardio so would take the board outside and paddle back and forth.  I was able to participate in their first adaptive surf contest at Bowls with the Surf Into Summer event.  Also participated in the first two Duke's Oceanfests.  It just so happened the Hawaii Paddleboard Championship race finished right in front of the AccesSurf tent and beach mat.  I approached one of the finishers and asked about the boards and then made some silly comment like "I'd like to try this Molokai race".  Chris Owens immediately jumped on the concept and said we could get a large board made and paddle tandem across the channel.  Fast forward to the second Duke's and the paddle board finish.  I was talking to a couple of guys and they said they lived in Lanikai and would be happy to let me try a paddle board.  So, I met them at Lanikai with horrible conditions and they managed to get me in the water and loaded on the board.  I started paddling this unlimited board that just knifed through the chop compared to my experience on a long board. I was hooked.
They connected me with Joe Bark in Torrance CA to custom make me an adapted paddle board.
I eventually connected with a group that trained in Wailupe and they took me under their wing.  We figured I could reduce the size and weight of the board.  I decided I would enter the Molokai race and trained accordingly.  I did sprints with the guys on weekdays and did long endurance paddles on the weekends.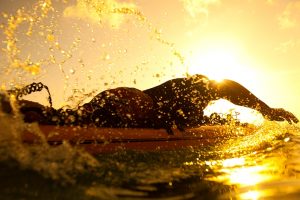 Then came race day where I was in awe of the support from fellow paddlers, the bay filled up with escort boats, and the pule.  It was quite an amazing feeling to be part of such an awesome event with the best waterman/woman in the world.  The Molokai race is filled with highs and lows as you cross.  My escort boat started developing mechanical issues so occasionally lagged behind when picking up my escort swimmers.  When we were just off Sandy's the boat finally broke down for real.  I was just at 6 hours.  My team on the boat and at the finish line were trying anything to get another boat to finish escorting me.  I considered going it alone but didn't want to get blackballed for paddling without an escort and I hadn't ever really paddled that section.  Eventually they made me get in the boat.  Me and my time were in tears and completely devastated that we had made it so far and were so close to the finish.  I also get sea sick so the last thing I wanted to do was get in the boat.  Eventually we got a tow and I did a symbolic paddle from inside the channel to the finish line.
In retrospect it was a blessing in disguise. I think that if I had finished that first race in what looked like it could have been a decent time, I probably wouldn't have done the race again.  But the anguish of that experience only fueled my desire to compete again.  While most folks take the Fall months off, I continued paddling with a vengeance.  I also arranged to have two escort boats the next year.  One of those boats was the company boat "Maui Jim" which was start of a year's long sponsorship by Maui Jim sunglasses.  In 2013 I had to scratch one hour before the race.  I had been having some fevers and went to the Molokai Hospital ER and got an IV which seemed to help.  The night before the race I spiked a fever again but managed to cool off outside and drink some Sprite.  I got up at my usual early time race morning and managed to feel like eating light as usual. I got most of my gear on so I would be ready when we got to the parking lot at Kaluakoi.  On the 40-minute drive from town to the start I began to question how I felt.  When we parked, I just sat in the car contemplating.  I finally decided I wouldn't even do a training paddle feeling this way so there was no way I could paddle the channel.  I asked my team to dig out my street clothes so I could change and not change my mind about paddling.  It was incredibly disappointing to have trained all year and scratch at the last minute.  However, you know when you make the right call.  I went on to successfully complete the Molokai to Oahu race in 2014 and 2015.
My goal for 2015 was to circumnavigate Oahu on the paddle board over the course of 4-5 days.  I trained with endurance paddles on Saturday and Sunday working up to 10 hours on Saturday and 6 hours on Sunday.  We never had a favorable weather window open up, which is how I ended up doing Molokai one more time.  It was probably my best paddle with mellow conditions allowing me to paddle more than worrying about falling off the board.  I thought I was on track to beat 9 hours for sure until I hit the worst of the tide change and the big south swell undercutting any push from the east swell.  Turned out it took me 11 hours and 23 minutes to finish. There were pretty nasty conditions along the wall at Haunauma Bay and rounding Portlock I could see 8-10-foot waves closing out across the entire channel.  I managed to sneak through in a lull.
The goals all along have been to start the race, have fun, finish the race, and finish under 8 hours.  Don Jackson, the former COO of Easter Seals National told me that the definition of success in a quest like this is just making it to the starting line.  His advice has helped keep things in perspective.  I still keep thinking about the Oahu paddle but will need to see how the body holds up.  I still have random thoughts about other endurance paddles just to keep me thinking.
None of my paddling accomplishments would have been possible if I hadn't met Mark Marble.  It all began with him talking about starting AccesSurf and me showing up to Day At The Beach, the starting line.