My Patients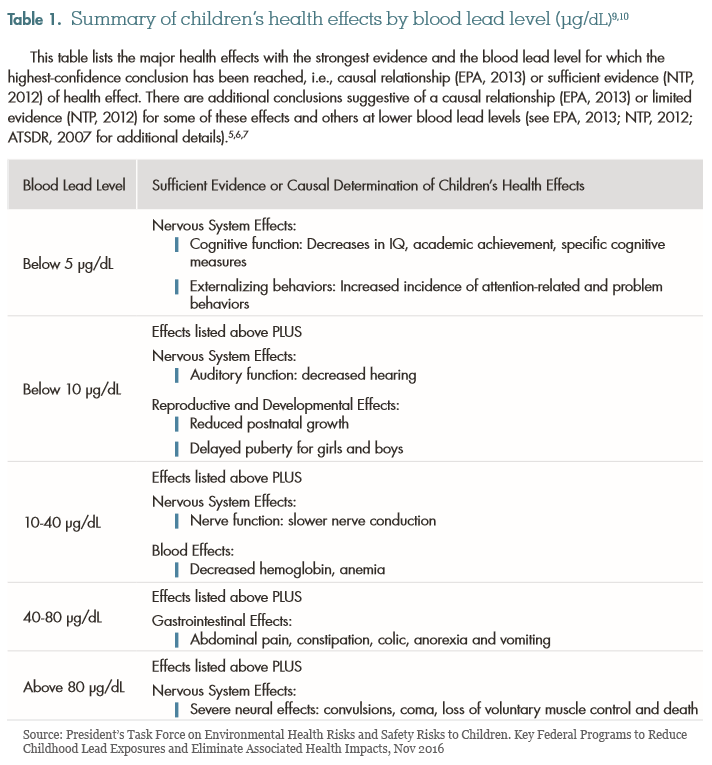 The Hawaii Childhood Lead Poisoning Prevention Program is here to partner with pediatricians and healthcare providers to keep our keiki lead-free.
Lead can be dangerous if ingested or inhaled, particularly for young children.
Recent studies have demonstrated that even low-level lead exposure can cause harmful long-term effects to the brain's learning systems, affecting intellectual functioning, executive functions, speech and language, hearing, attention, and social behavior. Lead poisoning symptoms can be easily mistaken for other illness, which may cause lead poisoning to go unrecognized in many cases. Not all children will show signs of lead poisoning right away, but the damage caused by lead exposure is permanent.

Hawaii Lead Data
From 2016 to 2019, 761 Hawaii children under the age of six were identified with elevated blood lead levels (BLL) ≥ 5 mcg/dL, the reference level for initiating follow-up. These 761 children included 615 children with BLL 5-9 mcg/dL, 96 children with BLL 10-14 mcg/dL, and 50 children with BLL ≥ 15 mcg/dL.
It is a federal requirement that ALL children with QUEST / Medicaid receive a blood lead test at ages 9-12 months and 2 years.

Guidelines for Childhood Lead Poisoning Prevention
The Department of Health has guidelines for screening and testing young children for lead exposure. Hawaii's guidelines are based on testing requirements and recommendations from:
Medicaid / QUEST
American Academy of Pediatrics / Bright Futures
Centers for Disease Control and Prevention
Analysis and mapping of data to identify high risk zip codes in Hawaii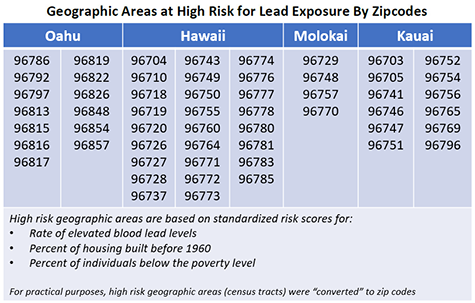 The guidelines include:
1. Lead risk screening questionnaire for:
All children 6 months to 6 years of age
2. Blood lead level testing:
Test at 9-12 months and 2 years when child:

Has QUEST / Medicaid health insurance

(

required)

;

or
Lives in a high risk zip code for lead exposure; or
Answers YES or DO NOT KNOW to one or more lead risk screening questions.

Other ages: Test if risk changes, based on lead risk screening questions.
Immigrants (including international adoptions): Test for blood lead upon arrival to the United States, then as above for Well Child Visits.
Refugee children age 6 months to 16 years: Test for blood lead at entry to United States, then as above for Well Child Visits. For those age 6 months to 6 years old, repeat blood lead testing 3 to 6 months after children are placed in permanent residences.
3. Follow-up for BLL ≥ 5 mcg/dL:
Subsequent blood lead testing should be done with venous samples.
Identify possible lead sources and counsel on ways to reduce lead exposure
Refer children with BLL ≥ 15 mcg/dL to a Public Health Nurse for a home visit and further public health follow-up
The guidelines will be reviewed and updated periodically based on Hawaii data. Your testing and screening contribute to updating these local guidelines. Please screen and test young children in your practice for lead exposure. Help support our effort to ensure that Hawaii's young children are healthy and lead-free.

Sources of Lead In Hawaii

See the Lead Sources Flyer for more information and easy steps families can take to protect children.

Resources for Health Care Providers

How is a Child Developing?
Hi'ilei Developmental Screening Program – A FREE resource to see how your child is developing
CDC Milestones – Information about how your child should be developing at each stage in their life
Hawai'i Early Learning and Development Standards – Developmental milestones for a child age 1 to 5
Learning to Grow – Ideas for fun ways to help your child develop

Find Resources for Families
Sharing Our 'Ulu – Resources for Families with Children Under 5
Parent Line – The Parent Line serves anyone with concerns about parenting
Low to No-Cost Early Childhood Development and Learning Programs – Executive Office on Early Learning

Additional Information for Families
Lead Poisoning Prevention – Centers for Disease Control and Prevention
Steps to Protect Your Family From Lead Exposure – American Academy of Pediatrics
Make Sure Lead Safety is a Part of Your Renovation Plans – Environmental Protection Agency
Booklet – Protect Your Family From Lead in Your Home – Environmental Protection Agency
Recalled Items with Lead – Consumer Product Safety Commission
Information About Lead in Catchment Water – Safe Drinking Water Branch
Lead Hotline – National Lead Information Center
Lead Poisoning Information – Hawaii Poison Center