Spinal Cord Injury Awareness Month

September is Spinal Cord Injury Awareness Month
In recognition of September as Spinal Cord Injury Awareness Month, Access Surf is partnering with the Department of Health Neurotrauma Supports and Pacific Disabilities Center for their Day at the Beach event. There will be an information and resources tent with giveaways and information about the Hawai'i Neurotrauma Registry and available community resources for individuals with spinal cord injuries.

 Day at the Beach
hosted by Access Surf
www.accessurf.org

When:
Saturday, September 9th
from 9am – 1pm
Where:
White Plains Beach Park
(located in Ewa)
---
Community Integration Tips
Return to Surfing

ENJOY THE RIDE: Surfing is one of the most extreme sports. Enjoy the aspect of riding waves in a dynamic and unpredictable environment.
LOVE CHALLENGE: Learn to enjoy the feeling of overcoming challenging situations and learning from ones that were thought to be impossible. It is a humbling experience, if you allow surfing to teach you lessons.
CHOICE OF STYLE: Determine what surfing style is most interesting and fitted for your individual needs (i.e. stand, kneel, sit with or without paddle, or prone styles)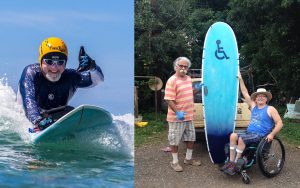 CHOICE OF EQUIPMENT: Determine proper medical and other equipment needed to surf and access the ocean (i.e. surf board, beach wheelchair, adaptive equipment, water gear and protective equipment).
CHOICE OF LOCATION: Determine where you would like to surf and scope out the patterns of the ocean, access to the ocean and potential risks.
LEARN HOW TO WIPEOUT: Fall into the wind and away from the board, fall shallow, roll or fall butt first, cover head for protection, stay calm, hold breath, catch your breath when at surface, get under the wave/low to the bottom, open eyes in the water, come out slowly protecting head, quickly get your board when you resurface.
CHOOSE TO PROGRESS EVERYDAY: Evaluate each surf session and location and determine 1-2 things you would like to work on during the next session. Keep improving on your skills and push yourself to the next level.
REMEMBER SELF-CARE: Getting back into the water or experiencing a new sport can be life consuming. Remember small health issues can become huge when ignored in the ocean waters. Treat small health issues immediately so they do not keep you out of the ocean for a longer period of time (i.e. bladder care, wound care and infections are accelerated in wet environments).
The effects of a spinal cord injury can be life-altering, but it is important to know that individuals can often overcome the challenges of their condition and go on to live a normal life and achieve great things. 
---
Spinal Cord Injury
An injury that stems from a sudden, traumatic blow to the spine that fractures, dislocates, crushes, or compresses one or more vertebrae. Additional damage can occur over the following days or weeks due to bleeding, swelling, inflammation and fluid accumulation in or around the spinal cord.
A non-traumatic spinal cord injury may be caused by arthritis, cancer, inflammation, infections or disk degeneration of the spine.
Leading Causes of Spinal Cord Injury in Hawai'i from 2009-2013:
Ocean activities
Falls
Motor Vehicle Accidents
Violence (struck by object or person)
Sports Injuries (non-aquatic)
Millions of people are drawn to Hawai'i beaches for sun, swim, and surf. Unfortunately, the ocean can pose a danger to residents and non-residents. In Hawai'i, ocean related activities are the leading cause of spinal cord injury. From 2009 to 2013, there were 208 spinal cord injuries that were caused by ocean related activities including:
Body surfing = 53
Body boarding = 46
"Tossed by wave" = 63
Diving into ocean = 31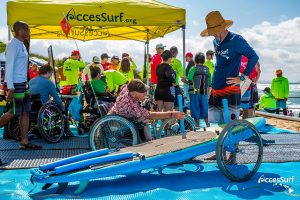 *Hawai'i data on ocean related injuries takenfrom, Drowning and Aquatic Injury Trends in Hawaii, a presentation by Dan Galanis, Department of Health EMS & Injury Prevention Branch Epidemiologist.
Symptoms of Spinal Cord Injury:
Partial or complete loss of sensory function or motor control of arms, legs, and or body
Pain and numbness, or burning sensation
Muscle spasms
Loss of bladder or bowel control
Difficulty breathing
Risk of developing secondary medical conditions
If Someone is Injured:
Call 9-1-1.
Advise the injured person to "Hold still. Don't move anything!" especially their head and neck.
If they are standing or sitting, help them to try to maintain that position without moving their head or neck until help arrives.
If they are in the water, do the best you can to keep the person still while maintaining an open airway.
---
Spinal Cord Injury Prevention Tips
By increasing awareness and taking precautions most spinal cord injuries can be prevented.
Here are some safety tips to lessen the likelihood of a spinal cord injury: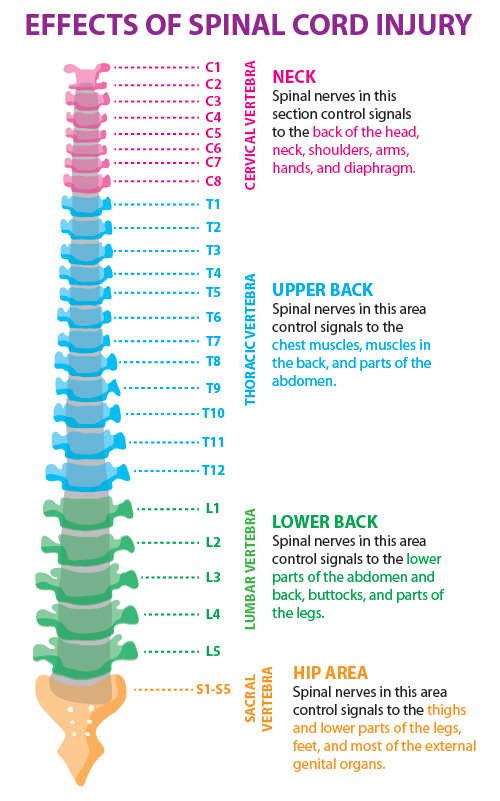 Water-Ocean Activities
Swim near a lifeguard and check with lifeguards on current conditions before swimming.
STOP, watch, and walk into the water.
DON'T dive headfirst into any unknown water.
DON'T jump or dive from a cliff, pier, jetty or bridge.
Avoid bodysurfing, bodyboarding or surfing straight "over the falls." Ride the shoulder.
In a "wipeout," land as flat as possible with your hands out in front of you.
While bodysurfing, keep an arm out in front of you to protect your head and neck.
When in doubt, DON'T DIVE, play it safe!
Falls
Exercise regularly to increase balance and flexibility
Have your doctor or pharmacist review your medications yearly
Get an annual eye exam
Make your home safer by removing throw rugs, clearing floors and hallways of clutter, and improving the lighting in your home and stairways.
Vehicles
Always wear a seatbelt
Avoid distractions, including texting, talking on the phone, eating, disruptive passengers or pets
Place children in seatbelts and/or age, height, and weight appropriate booster seats
Never drive after drinking alcohol
Sports
Always wear appropriate clothes, shoes, and safety gear when playing a sport
Learn proper techniques and movements used in different sports
Be sure there is proper supervision
---
Richard Julian – A Personal Story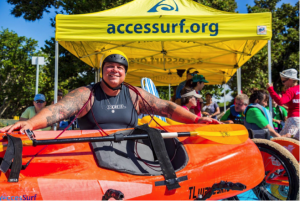 Richard Julian is no stranger to athletics, however, after sustaining life-altering injuries, it was his return to surfing in the healing waters of the ocean that led him to build a legacy—a pathway for others to do the same.
After being struck by a drunk driver in 1986, wherein his girlfriend was killed, he sustained injuries to his spine that left him with a T10 incomplete and T11 complete spinal cord injury, meaning he has no feeling or movement from his hips to his feet. Returning from the hospital, he realized his cultural identity as a surfer had been taken away from him. As he sat at home thinking of his former life, the memories of once being a surfer was painful and he decided to sell the surfboard that was given to him by his dad (a decision he regrets to this day).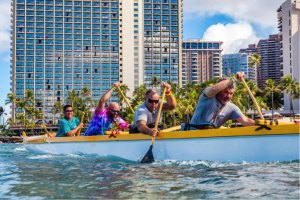 In his youth, Rich was similar to other local kids on Oahu, learning to surf at a young age and spending most of his days at Queen's beach where his father taught him to surf and love the sport, as well as respect the ocean around the island. Surfing was very much a part of his cultural identity and a legacy his father shared with him.
From 1986-2000, Rich felt he would never be able to get back into the ocean as a surfer. He found alternative ways of enjoying the water as a swimmer, jet skier, and boater, but at the time, he did not know of any programs for adaptive surfing, nor did he have proper equipment or access to the ocean in Hawaii that would allow him to get back to his cultural practices of being a surfer.
Trying to move along the road of recovery, Rich participated in other adaptive sport that were available in Hawaii, such as wheelchair basketball, wheelchair tennis, wheelchair racing, handcycling, and triathlons. In fact, he was on tour at the tennis US Open when he saw a flyer that read "Try adaptive surfing, call Steve Boehne." Needless to say, he immediately set up an appointment to get out in the ocean with Steve. In fact, the idea was so intriguing to him that he skipped his tennis tournament to get a chance to catch his first ride on a wave in over 15 years. That day, Rich bought a board and took it home so that he could begin surfing in his local waters again.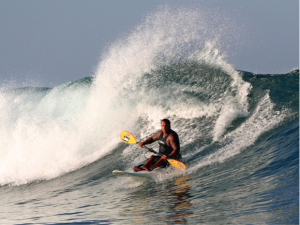 During an event with Purelight Racing, an adaptive paddling program,  Rich met Mark Marble, a certified recreation therapist in Kailua. Being new to the islands, Mark was curious what types of adaptive sports were available in Hawaii; in talking with Rich, they concluded that there were no adaptive surfing programs in the islands. They decided to partner together to build a nonprofit organization that would develop access and equipment to help people with disabilities to get into the ocean and surf. Their work together began in March 2005, which led to the official launch of their organization in 2006. Thus, AccesSurf was born.
The first "Day at the Beach" program was comprised of just a few adaptive athletes and a handful of surfers and medical professionals. Everyone got a chance to get out in the ocean and surf independently or in tandem with local surfers. The feedback from the athletes was akin to that of Rich; they felt free, amazing, healthy, and back to their normal. Rich describes the experience as a rebirth–his life was given back to him. He was able to return to his former identity as a surfer and connected to his life after feeling disconnected from his former identity due to his spinal cord injury.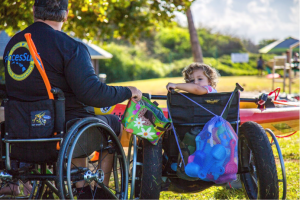 Rich explained that co-founding AccesSurf was one of the best things in his life. It was a platform for him to give to others in a dramatic way. It was also where he developed his relationship with his wife, Kate, the first secretary for AccesSurf. Meeting at the Rehab Hospital of the Pacific, AccesSurf became a project on which they worked together for over three years,  developing their relationship while at the same time giving back to the community. Together they saw the possibilities of the ocean in a person's life. Together they helped reintroduce water sports and activities to people, enabling them to return to surfing after feeling disconnected from this identity-forming practice. Together they saw people develop their own identity in the community as athletes and surfers. Together they repainted an image of a person with a disability to include a cultural practice of surfing the ocean waves.
Nowadays, you will find Rich enjoying not only surfing, but also canoeing in the ocean with his family. As a father of a son and daughter, the ocean plays an important role as he passes on to his children the traditions and culture that his father likewise passed on to him. He has worked to develop a legacy of knowing the ocean and riding the waves as an identity of health and sportsmanship.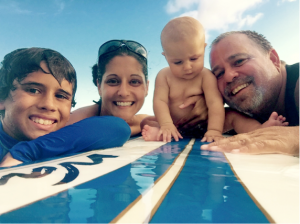 He does not want anyone to go through what he went through, where his identity was stripped away and the heartbreak that occurred when he came home from the hospital, looked at his surfboard and feared he would never use it again. But with the expansive programs now available through AccesSurf to all persons, irrespective of ability or disability, everyone can access the healing powers and invigoration of the ocean.
Advice Rich wants to share with people re-entering the ocean:
Safety first—know the ocean, respect the ocean, know your own limits, be careful, use the buddy system
Your body is different—some people float well while some people don't float at all
Wear proper clothing, cover soft skin, protect joints.
Be careful while entering and exiting the water.
Set up your support, know how to direct people to help you, ask for help when needed, call up friends and be open to relying on others for key roles.
---
Useful Resources