*Neurotrauma Home
To develop, implement, and monitor a comprehensive system of statewide supports to address the needs of people with neurotrauma injury and their families.
We provide leadership through community partnerships to promote neurotrauma injury prevention programs, education and public awareness.
In Hawai'i, neurotrauma injury is seen as a severe and chronic disability of a person that is attributable to an injury to the central nervous system, such as traumatic brain injury (TBI), spinal cord injury or stroke, and is likely to continue indefinitely.
We are Neurotrauma Supports of the State of Hawai'i Department of Health's Developmental Disabilities Division.

Spinal Cord Injury – Hospital Discharge Packet 15MB pdf

Neurotrauma Supports Strategic Plan 2018-2020



What is Traumatic Brain Injury?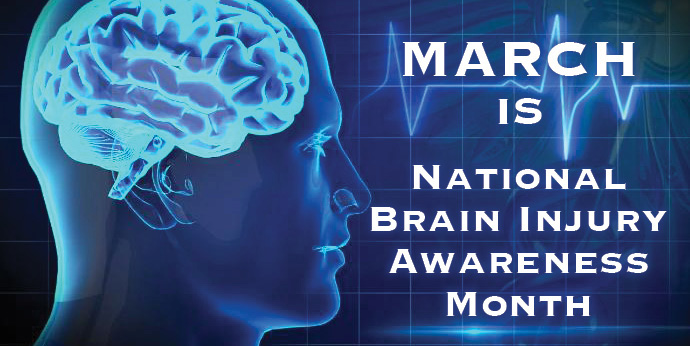 March is Brain Injury Awareness Month!  According to the Center for Disease Control and Injury Prevention 1.7 million people sustain a traumatic brain injury (TBI) each year.  In Hawai'i an estimated 12,500 people a year sustain a TBI, which can cause death or permanent disability.
To increase public awareness of the effects of TBIs, resources available to survivors, and ways to prevent these serious and life-changing injuries, the DOH Developmental Disabilities Division (DDD) Neurotrauma Supports program is teaming up with its partners in the community for events during National Brain Injury Awareness Month in March.
On March 2, a special exhibit of the "Unmasking Brain Injury Project" was opened to the public at the Rehabilitation Hospital of the Pacific (REHAB). The project was on display at REHAB through March 8th.
The Unmasking Brain Injury Project is a national initiative that allows survivors to tell their stories through the design of three-dimensional artistic masks that are reflective of their experience of having a TBI. The art works are beautiful and striking portrayals of the emotions and feelings survivors have experienced from their personal journeys. The goal of this project is to raise public awareness about the prevalence and impacts of TBI and to give survivors a voice and a creative outlet to educate others about what it's like to live with a TBI. Individuals living with a disability due to brain injury are like anyone else, deserving of respect, dignity, compassion, and the opportunity to prove their value in their communities.
"Brain injury is a hidden disability, often leaving no physical indication of injury but having a significant effect on survivors' daily activities and interactions with others," said Mary Brogan, DOH Developmental Disabilities Division administrator. "No two injuries are exactly the same, and the lifelong challenges that survivors face are unique. "Our hope is that this project will allow others to better understand the experiences of survivors of TBI, as well as the hope and resilience survivors demonstrate each day."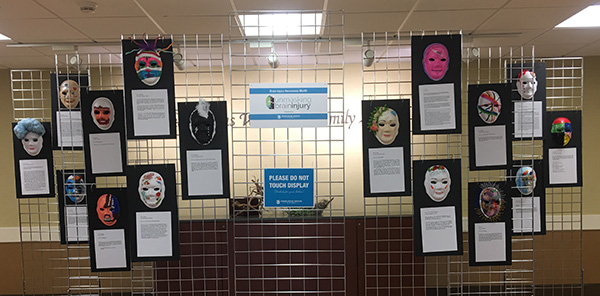 From March 10-15, the Unmasking Brain Injury Project exhibit will be on display at Pearlridge Center Downtown.
From March 16 – April 2, the artworks will be on display at the Hawai'i State Capitol Chamber level.
On Saturday, March 17 at 1 p.m., a free showing of a movie about concussions starring Will Smith will be presented at the John A. Burns School of Medicine Medical Education Building located at 651 Ilalo Street. The movie brings awareness of the need for prevention efforts surrounding brain injury and the long-term effects of TBI. Prior to the showing, health care providers from Queen's Medical Center will speak about concussions and traumatic brain injuries. There will also be free popcorn, a trivia contest and prizes. For more information, contact the Pacific Disabilities Center at (808) 692-1370 or http://pdc.jabsom.hawaii.edu.
Listen to a Hawaii Public Radio interview related to Brain Injury Awareness Month
On Wednesday, March 21, from 9 a.m. to 1 p.m., multi-sport helmets will be offered free to the first 300 students at the University of Hawai'i at Manoa Campus Center on a first-come, first-served basis. Students will also receive information on preventing traumatic brain injuries and tips on the proper use of helmets. Using a helmet can reduce the risk of serious brain injury and death due to a fall or collision because the helmet, rather than a person's head, will absorb most of the impact.
The DOH Neurotrauma Supports program addresses the needs of people with neurotrauma injury and their families. The program also encourages people to learn about brain injuries and how to prevent them. Simple prevention techniques to avoid traumatic brain injuries include:
Properly using helmets and other protective equipment, and safe playing techniques in sports and recreational activities;
Properly installing and using infant and child car seats and seat belts;
Eliminating trip hazards at home for seniors and the elderly by regularly reviewing medications and having annual eye exams. Regular exercise is also recommended to help older adults maintain and improve their balance and coordination to prevent falls.
For additional information on resources for individuals with traumatic brain injury, please call the Neurotrauma Helpline at (808) 733-2155 or visit the Neurotrauma Supports website at http://health.hawaii.gov/nt/.
Hawai'i Neurotrauma Registry Project

The Neurotrauma Registry is a voluntary database of Hawaii residents with neurotrauma injury (Traumatic Brain Injury, Spinal Cord Injury or Stroke). Funded by the Department of Health, the State of Hawaii currently has limited information about how many people are living with neurotrauma injury and what their needs are. A registry would provide lawmakers, medical providers and researchers the information they need to better serve these individuals.
ADVISORY BOARD MEETING
---

Ka Wai Ola Stroke Awareness Feature
For more information, visit www.StrokeAssociation.org/StrokeHero
Messaging and Campaign Activation Toolkit- Healthcare Professionals 
Thank you for supporting American Stroke Month in May. As a healthcare professional, you are the health influencers who make close connections with your community. You build relationships and promote lifestyle changes. You are stroke heroes and we need you to help us teach America that:
Most strokes are preventable. 
80% of strokes are preventable.
What's good for your heart is good for your brain.
Stroke is largely treatable. 
The faster you are treated, the more likely you are to recover without permanent disability.
Most patients must be evaluated and treated within 3 to 4.5 hours of symptom onset.
The American Heart Association/American Stroke Association humbly ask that you share the resources within this toolkit in your patient and staff networks in effort to support our mission building healthier lives, free of cardiovascular diseases and stroke. Together, we can end stroke!
Follow "Life's Simple 7" to Prevent Stroke 
5 Things to Know about Stroke Infographic 
Stroke Hero FAST Flyers – featuring survivors Stefan Reisch & Rachel Castro!
F.A.S.T. "Badge Buddy" Template
FULL Stroke Month Community Toolkit 
FULL World Hypertension Day Toolkit (5/17) 
Even MORE tools available at www.strokeassociation.org/strokehero and www.strokeassociation.org/resources. And check back on May 16 for the Acute Ischemic Stroke Toolkit especially for health care professionals! 
Our Office Location
Our Office is now located at Diamond Head Health Center:

Developmental Disabilities Division
Community Resources Branch
Neurotrauma Supports
3627 Kilauea Avenue
Honolulu, Hawaii 96816
Neurotrauma Helpline (Oahu): 733-2155
Send: Neurotrauma E-mail Messages