*Neurotrauma Home
Neurotrauma Supports is part of the Developmental Disabilities Division (DDD).
DDD serves people with intellectual and/or developmental disabilities (I/DD) to realize their POSSIBILITIES NOW! People with disabilities have a right to live and participate fully in the community throughout their lives, just like everyone. Support to families is an important part of the work we do.
In Hawai'i, neurotrauma injury is seen as a severe and chronic disability of a person that is attributable to an injury to the central nervous system, such as traumatic brain injury (TBI), spinal cord injury or stroke, and is likely to continue indefinitely.
STATE TRAUMATIC BRAIN INJURY ADVISORY BOARD (STBIAB)

DATE:
March 27, 2019
 TIME:  
1:30 – 4:00 pm
LOCATION:
Honolulu: Kalanimoku Bldg., 1151 Punchbowl Street, Basement
Hilo: State Office Building, 75 Aupuni St., Basement
Lihue: State Office Building, 3060 Eiwa St.
Wailuku: State Office Building, 54 South High St.
Click to view meeting agenda
Click to view last meeting's minutes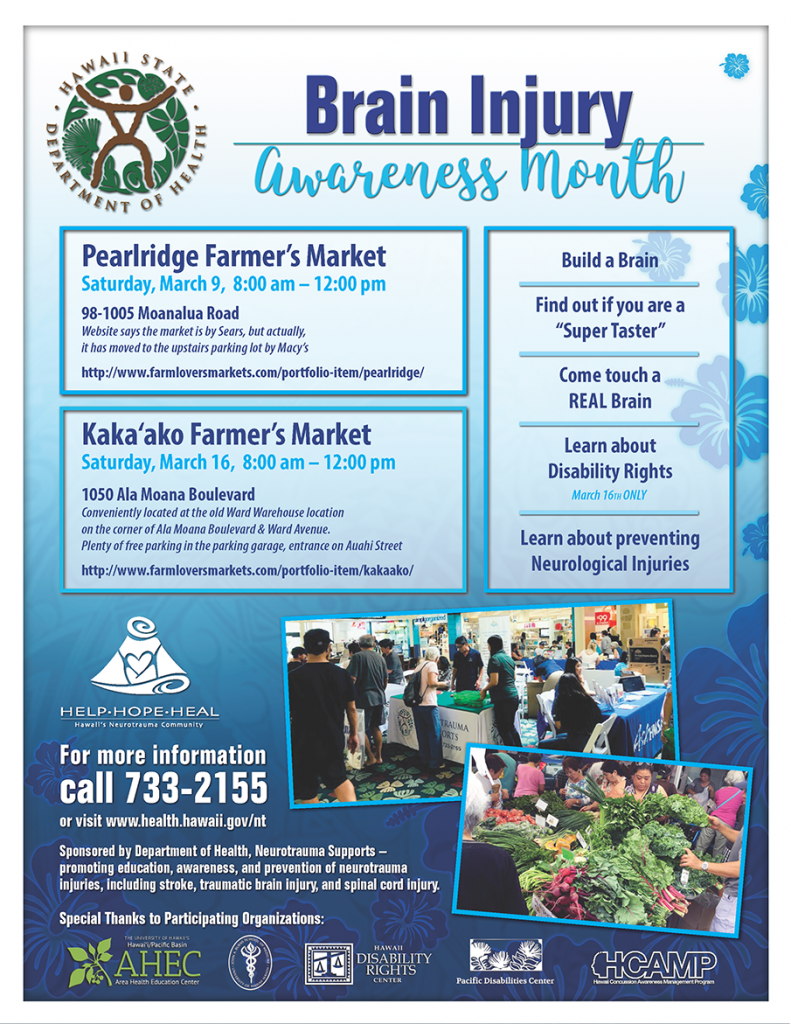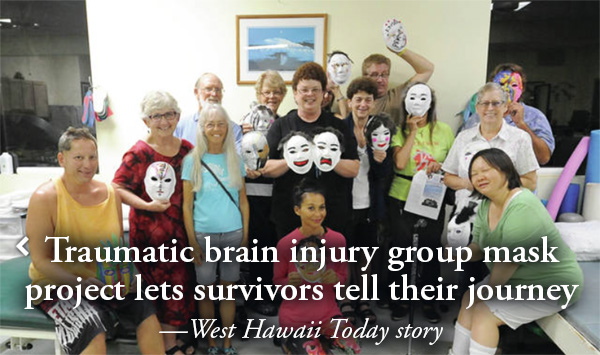 Click to view story on westhawaiitoday.com
---
Hawai'i Neurotrauma Registry Project

The Neurotrauma Registry is a voluntary database of Hawaii residents with neurotrauma injury (Traumatic Brain Injury, Spinal Cord Injury or Stroke). Funded by the Department of Health, the State of Hawaii currently has limited information about how many people are living with neurotrauma injury and what their needs are. A registry would provide lawmakers, medical providers and researchers the information they need to better serve these individuals.
ADVISORY BOARD MEETING
---

Ka Wai Ola Stroke Awareness Feature
For more information, visit www.StrokeAssociation.org/StrokeHero
Messaging and Campaign Activation Toolkit- Healthcare Professionals 
Thank you for supporting American Stroke Month in May. As a healthcare professional, you are the health influencers who make close connections with your community. You build relationships and promote lifestyle changes. You are stroke heroes and we need you to help us teach America that:
Most strokes are preventable. 
80% of strokes are preventable.
What's good for your heart is good for your brain.
Stroke is largely treatable. 
The faster you are treated, the more likely you are to recover without permanent disability.
Most patients must be evaluated and treated within 3 to 4.5 hours of symptom onset.
The American Heart Association/American Stroke Association humbly ask that you share the resources within this toolkit in your patient and staff networks in effort to support our mission building healthier lives, free of cardiovascular diseases and stroke. Together, we can end stroke!
Follow "Life's Simple 7" to Prevent Stroke 
5 Things to Know about Stroke Infographic 
Stroke Hero FAST Flyers – featuring survivors Stefan Reisch & Rachel Castro!
F.A.S.T. "Badge Buddy" Template
FULL Stroke Month Community Toolkit 
FULL World Hypertension Day Toolkit (5/17) 
Even MORE tools available at www.strokeassociation.org/strokehero and www.strokeassociation.org/resources. And check back on May 16 for the Acute Ischemic Stroke Toolkit especially for health care professionals! 
Our Office Location
Our Office is now located at Diamond Head Health Center:
Developmental Disabilities Division
Community Resources Branch
Neurotrauma Supports
3627 Kilauea Avenue
Honolulu, Hawaii 96816
Neurotrauma Helpline (Oahu): 733-2155
Send: Neurotrauma E-mail Messages
What We Do
We maintain a Statewide Telephone Helpline for information and referral.
Provide assistance to neurotrauma injury survivors and their families to identify and obtain access to services.
Maintain a Neurotrauma website providing information on frequently asked questions, resources on the various islands and a current calendar of events.
We provide educational and public awareness sessions and materials, through partnerships with other public and private organizations.
Provide administrative and technical support to the State TBI and Neurotrauama Advisory Boards.
Coordinate and monitor the Neurotrauma Special Fund. Assess the needs and concerns of neurotrauma injury survivors, their families, service providers, and other community stakeholders in order to develop the most responsive system of supports.