Worksite Wellness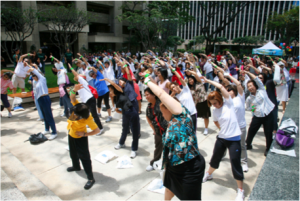 Employees spend approximately 36% of their total waking hours at work. This makes the worksite an ideal place to provide workers with the knowledge and skills needed to help improve attitudes and behaviors concerning health.
A worksite wellness program is any workplace health promotion activity or organizational policy designed to support healthy behavior in the workplace and to improve health outcomes.  Worksite wellness programs can be implemented through health insurance providers, the companies or businesses themselves, or with the help of a third party vendor. The goal is to build wellness and healthy living into the work day, by making positive changes in the workplace.
Government Agency Worksite Wellness Taskforce
In 2009, HHI organized a Government Agency Worksite Wellness (GAW) Task Force made up of state agencies, county government, government employee unions, health plans, and the Hawaii Employer-Union Health Benefits Trust Fund (EUTF). The task force provided opportunities to increase education and support of worksite wellness in state agencies.  The task force also developed the Hawaii Government Agency Worksite Wellness Plan 2010 (PDF).
The State of Worksite Health Survey – Hawaii Results
Hawaii was also chosen to take part in a nationwide research project, The State of Worksite Health. The State of Worksite Health Survey was conducted in Hawaii as well as in five other states/regions.  The survey explores the views of Hawaii business decision-makers on worksite wellness.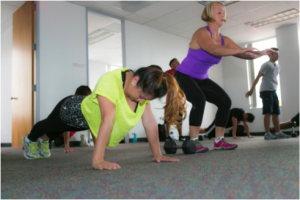 The Department is currently working on the development and implementation of a comprehensive worksite wellness pilot program for government agencies.  As the pilot program is developed and tested, the program and tools will also be offered to additional state and county agencies and private employers.
Why support wellness at work?
Potential benefits to employers:
Reduces cost for chronic diseases
Decreases absenteeism
Reduces employee turnover
Improves worker satisfaction
Demonstrates concern for your employees
Improves morale
Potential benefits to employees:
Ensures greater productivity
Reduces absenteeism
Improves fitness and health
Provides social opportunity and source of support within the workplace
For more information on how to begin a worksite wellness program, including an obesity cost calculator for employers, visit CDC's Healthy Worksite Program or LEANWorks!