3rd Roadmap Symposium on Building a Multilingual Workforce for Hawai'i (September 12, 2017)
The Multilingua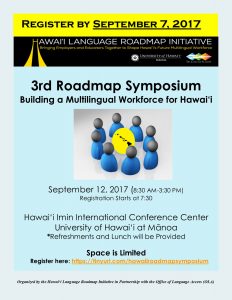 l Match: Meeting the Needs of Hawai'i's Workforce through Career-based Pathways to Linguistic Proficiency
The Office of Language Access (OLA) co-sponsored this event with the Hawaiʻi Language Roadmap Initiative which took place at the University of Hawaiʻi at Mānoa Imin Center, on September 12, 2017 . There was a combined session in the morning with an "Education Panel", an "Employer Panel", and a keynote speech done by Dr. Richard D. Brecht on "Building America's Multilingual Workforce: Why? How? Who? When?". 

After an hour-long lunch break which was held in the downstairs dining area, OLA split off and held their own afternoon solo session with a presentation by PhD candidate, Kendi Ho, on "Developing Multilingual Proficiency Through the Workforce Innovation and Opportunity Act (WIOA) and the Individualized Career Achievement Network (iCAN) ", as well as with a "Community Connections Panel" made up of speakers from both the public and private sectors of education.
Click the links below to access the Presentation:
Building America's Multilingual Workforce: Why? How? Who? When?
Richard D. Brecht – American Councils Research Center
"Are you fluent": Educators' perspectives on developing and assessing language proficiency (with Q&A)
Kauanoe Kamanā, Principal – Ke Kula 'o Nawahiokalani'opu'u Iki
Lisa Kobuke, Associate Professor – Kapi'olani Community College
Madeline K. Spring, Director – University of Hawaiʻi at Mānoa
Danicia Honda, Alumna – UHM-Chinese Flagship
Proficiency preferred: Employers expectations for employees proficient in an additional language in the hiring process and on the job (with Q&A)
Pohai Ryan, Executive Director – Native Hawaiian Hospitality Association
Danielle Muffat, HR Manager – Bloomingdale's Ala Moana Center
Stanley R. Olayan, Training & Recruiting Specialist – Mutual of Omaha-HI Division
Lena Young, Corporate Director of Operations & Human Resources – JTB Hawaii, Inc.
Developing Multilingual Proficiency Through the Workforce Innovation and Opportunity Act (WIOA) and the Individualized Career Achievement Network (iCAN)
Kendi Ho, PhD Student – Second Language Studies Department, University of Hawaii
Community Connections Panel – Current Efforts in Public and Private Sectors to Support and Develop Multilingual Proficiency – Across the Lifespan
Kim Golis – Robello, Director of Community Building Program – PACT
Jill Takasaki Canfield, Director of International Programs – Maryknoll School
Justin Jansen, Adult Literacy & ELL Program Manager – Hawai ' i Literacy
Hiromi Peterson, Japanese Language Curriculum – Punahou School
Kendi Ho, PhD Student – Second Language Studies Department, University of Hawai ˈ i
Chris Ferry, ELD Department Chair – Mid Pacific Institute