Diagnostic Evaluation Before Age 3 Months for Children Who Do Not Pass Hearing Screening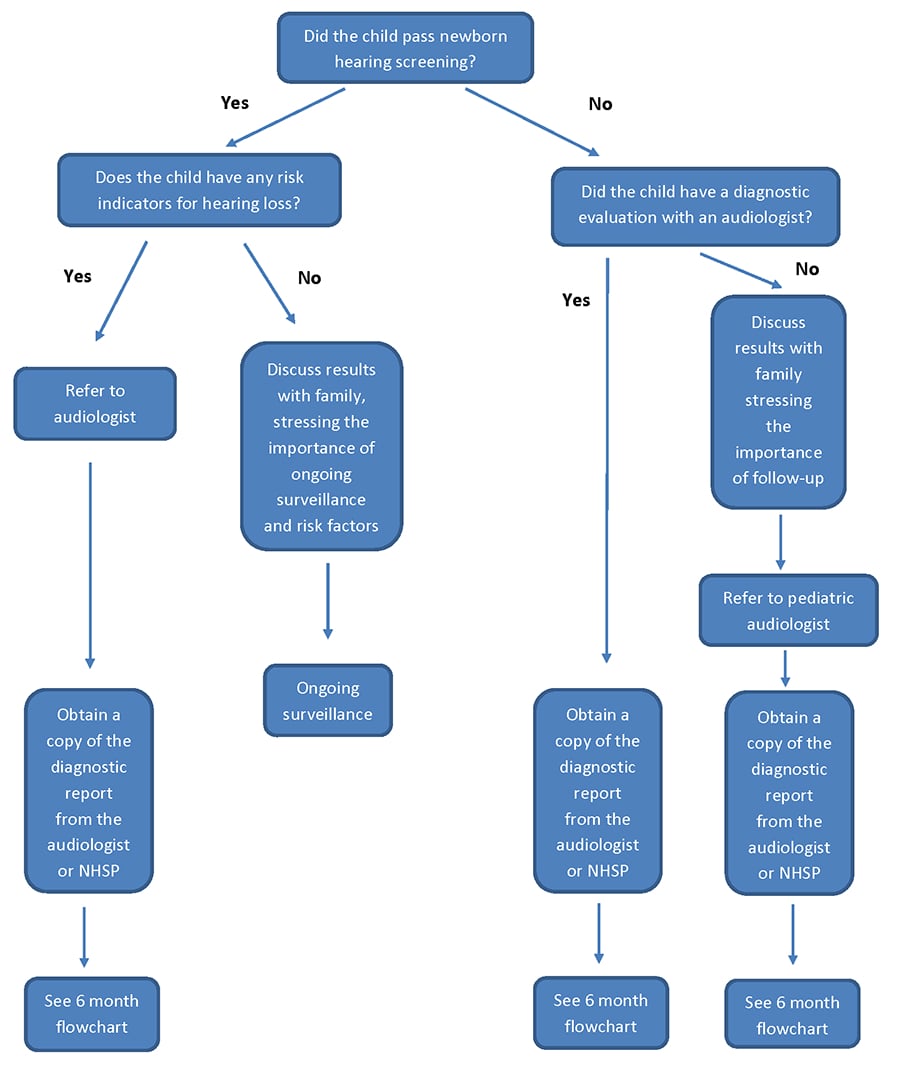 Download PDF Version of Flowchart
Practitioner Responsibilities
Review with families the hearing screening results of all children under your care

The "Can Your Baby Hear?" brochure may be useful for families of newborns who are found to have normal hearing after diagnostic evaluation

Ensure that all children who did not pass newborn hearing screening receive a diagnostic audiology evaluation before 3 months of age
If a child needs to be seen by an audiologist, assist by making the referral and confirming that an appointment has been scheduled and kept
Look for risk indicators for hearing loss in all patients
What NHSP Can Do For You (808-733-9052)
Assist with making a referral for a diagnostic audiology evaluation. A current list of pediatric audiologists is available through the Newborn Hearing Screening Program office.
Provide a copy of the diagnostic report from the audiologist.
Upon request, assist families in scheduling appointments for infants who need diagnostic evaluation to rule out permanent hearing loss
Issue Authorization for Services (AFS) for payment of testing services for infants who are referred for diagnostic hearing evaluation, regardless of family income.  If the child has health insurance, it is billed first. The Department of Health then covers any remaining cost. Families are not billed.
Refer income-eligible families of children with permanent hearing loss to the Department of Health Children and Youth with Special Health Needs Section (CYSHNS). The CYSHNS can assist families in obtaining ongoing evaluation, hearing aids and related services.
If you are unsure if a patient should be referred for further hearing screening or diagnostic testing, contact NHSP.
More information on diagnostic audiology can be found at the National Center for Hearing Assessment and Management (NCHAM) website.
---