Environmental Justice
The Environmental Planning Office (EPO) closed effective May 2, 2018.  Due to federal EPA funding reductions, the office is no longer providing services.  The information posted here will temporarily remain in place for public reference.  For Standard Comments, please see the EPO Land Use Planning Review webpage or contact the appropriate Environmental Health Administration branches and offices directly using DOHEHALandUseContactList_20221024.pdf.
~~~~~~~~~~~~~
The DOH strongly supports Environmental Justice, Health Equity, Executive Order 12898 and the EPA's EJ 2020 Action Agenda.
Environmental Justice is the fair treatment and meaningful involvement of all people, regardless of race, color, national origin, or income with respect to the development, implementation, and enforcement of environmental laws, regulations, and policies.
---

The Environmental Planning Office works to promote EJ procedures within DOH.  A Draft DOH EJ Plan 2015-2020 is currently available for review.  If you have any comments please submit them to: [email protected] using the subject line "Draft EJ Plan".
DOH has environmental justice as a goal for all communities and persons across the State.  Equity will be achieved when everyone enjoys the same degree of protection from environmental and health hazards. Equal access to the decision-making process must be provided to ensure a healthy environment in which to live, learn, and work.
---
EJSCREEN in Hawaii
When EPO hosted a geographic specialist from the EPA from September 9th-11th, 2015, EPO arranged for a series of six training and information sessions so that various stakeholders in Hawaii could learn about and how to use EJSCREEN, the Environmental Justice screening and mapping tool.  Sessions were held with the:
Hawaii State Legislature;
Department of Health (DOH), Environmental Health Administration (EHA);
Department of Land and Natural Resources (DLNR);
Office of Environmental Quality (DOH-OEQC) / the Department of Business, Economic Development and Tourism (DBEDT);
City & County of Honolulu, Department of Planning and Permitting (DPP); and
University of Hawaii, Department of Urban & Regional Planning (DURP) and planning consultants.
Over 60 people participated in the trainings.
Getting other government stakeholders to partner with DOH in environmental justice is essential to the draft DOH Environmental Justice Plan for 2015-2020.
---
U.S. EPA EJSCREEN
US EPA has committed itself to providing environmental information to everyone through the EJSCREEN online tool.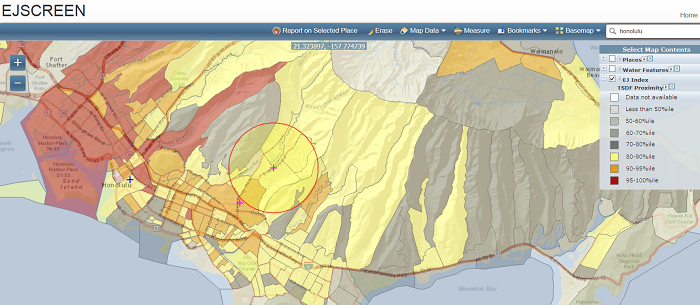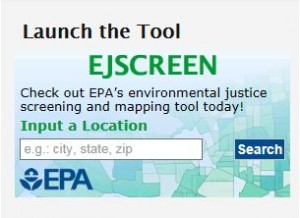 ---
Other Environmental Justice Initiatives

The Hawaii State Department of Health (DOH) with assistance from the state Department of Land and Natural Resources (DLNR) awarded six local non-profit, community groups grant funds to help address Japan Tsunami Marine Debris (JTMD) and keep Hawaii's shorelines clean.  The focus was on potential debris originating from the tsunami that devastated Japan in March 2011.
More Information
---
Other Resources
Resources and Information from US EPA:
Laws and Actions Relevant to Environmental Justice:
---
Last update: 10/24/2022 (first paragraph only)