If you are a healthcare provider and want to report a monkeypox case, please call our disease reporting line at 808-586-4586. Members of the public should email DOH at [email protected] and contact your healthcare provider. Please include your name and phone number in the email.
Report a Case
Disease Reporting Line:
(808) 586-4586
About This Disease
The current monkeypox situation is evolving quickly and is subject to change.
As of June 10, 2022, cases have been confirmed in 17 states. The U.S. Centers for Disease Control and Prevention (CDC) issued a health advisory on May 20, 2022 regarding a confirmed case of monkeypox virus infection in Massachusetts. As of June 24, 2022, 201 monkeypox or orthopoxvirus cases have been confirmed in 26 states. Monkeypox is a strain of orthopoxvirus.
Monkeypox virus can spread when a person comes into contact with the virus from an infected animal, infected person, or materials contaminated with the virus.
Common symptoms:  Flu-like symptoms; swelling of lymph nodes; rash or sores, often on the hands, feet, chest, face, or genitals.
Avoid skin-to-skin and prolonged close contact (touching sores, kissing, sex) with anyone who has an unusual rash or monkeypox symptoms.
Signs and Symptoms
Individuals exposed to monkeypox should contact their healthcare provider immediately. Options are available to prevent infection after high-risk close contact through vaccination.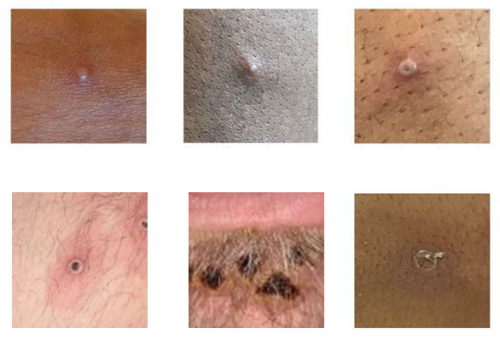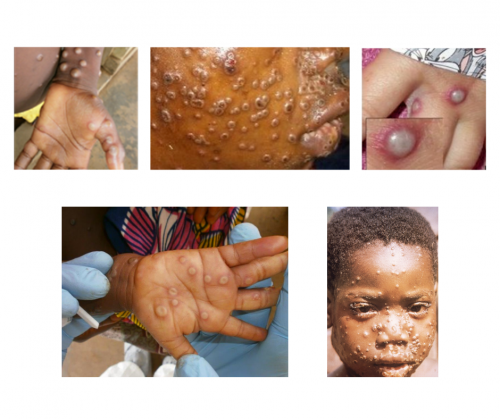 Examples of monkeypox lesions
Photo credit: CDC, UK Health Security Agency, World Health Organization
Infection begins with flu-like symptoms such as fever, headache, muscle aches, chills, exhaustion and swollen lymph nodes. Infection progresses to a rash or sores, often on the hands, feet, chest, face, or genitals. Individuals generally become ill within 21 days of exposure. Get the facts about monkeypox here.
Infections generally last two to four weeks. Individuals are infectious until all lesions are scabbed over and new skin has grown.
Transmission
Transmission can occur through direct contact with body fluids, lesion material, or items used by someone with monkeypox. Monkeypox can also be spread through large respiratory droplets. These droplets are spread when people breathe, cough, sneeze, or talk. These droplets generally cannot travel more than a few feet, so prolonged face-to-face contact is required.
Monkeypox can spread through close, prolonged contact with an infected person or animal. Monkeypox can spread during intimate contact between people, including during sex, as well as activities like kissing, cuddling, or touching parts of the body with monkeypox sores. At this time, it is not known if monkeypox can spread through semen or vaginal fluids.
Diagnosis
Monkeypox is diagnosed through laboratory testing. DOH's State Laboratories Division is part of the CDC's Laboratory Response Network and can test for orthopoxvirus. Confirmatory testing for monkeypox must be performed by the CDC.
Providers should refer to DOH's June 3 medical advisory for more information on diagnosing monkeypox.
Treatment
While monkeypox infection is generally not lethal, people can experience severe outcomes. Treatment for monkeypox is available, but must be coordinated through DOH and a physician.
Risk in Hawaii
Monkeypox is a rare, but serious disease caused by the monkeypox virus. DOH is closely monitoring monkeypox transmission in the United States and Hawaii. Based on the current information available, the risk to most Hawaiʻi residents remains low.
As of June 24, 2022, DOH identified five confirmed monkeypox cases and one probable case in Hawaii residents.
Prevention
Nationally, the CDC has reported that many cases have been among gay, bisexual, and other men who have sex with men or those with a history of recent travel abroad or to the continental United States. However, anyone who has been in close contact with someone with monkeypox is at higher risk of infection, regardless of a person's gender, sexual orientation, or travel history.
Individuals at increased risk for monkeypox should avoid anonymous sexual contact or events where individuals may have close bodily contact with others.
If individuals have symptoms consistent with monkeypox or have an unusual rash or sores, avoid close contact with others. Contact your healthcare provider and let them know ahead of an appointment that you may have been exposed to monkeypox.
Practice proper hand hygiene. Washing your hands with soap and water for at least 20 seconds prevents the spread of infection, including monkeypox infection.
Information for Clinicians