HEALTHY CHILD CARE HAWAII (HCCH)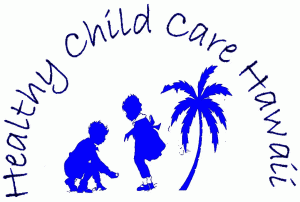 Promoting the health and safety of young children in child care
Healthy Child Care Hawaii (HCCH) is a collaborative partnership of the University of Hawaii (UH)/School of Medicine/Department of Pediatrics, American Academy of Pediatrics – Hawaii Chapter, Department of Health/Children with Special Health Needs Branch, Department of Health/Public Health Nursing Branch, and Department of Human Services.
HCCH provides information and resource materials to child care providers, health consultants, and other agencies/programs on national health and safety performance standards, medical home, and health insurance.
PROMOTING CHILD DEVELOPMENT

RESOURCES FOR FAMILIES – CHILD CARE, FOOD, HEALTH, OTHER SUPPORTS

EARLY CHILDHOOD HEALTH RECORD SUPPLEMENT (includes Special Care Plan example)
DHS 908 Early Childhood Pre-K Health Record Supplement.  Required for entry into the Group Child Care Centers, Group Child Care Homes, and Infant & Toddler Child Care Centers.  Form is completed in conjunction with the Department of Education (DOE) Form 14.
DHS 908A Instructions for DHS 908.
RESOURCES – PROMOTING SOCIAL-EMOTIONAL DEVELOPMENT
RESOURCES – PROMOTING NUTRITION AND PHYSICAL ACTIVITY
RESOURCES FOR CHILD CARE PROVIDERS AND THEIR HEALTH CONSULTANTS

CHILD CARE HEALTH CONSULTATION TRAINING
QUESTIONS?
Please contact:
Keiko Nitta
Children with Special Health Needs Branch
Hawaii State Department of Health
741 Sunset Avenue
Honolulu, HI 96816
E-mail: [email protected]
Phone: (808) 733-4966