Tsunamis
Tsunamis are powerful waves are caused by earthquakes, underwater landslides, volcanic eruptions, and even asteroids. They travel at 20 to 30 miles per hour and can reach 100 feet or more. They are deadly to those in their path, so it is important to take tsunami warnings seriously.
Because of our state's position in the center of the so-called "Ring of Fire," as well as because of our islands' own local volcanic and seismic activity, Hawaii is vulnerable to tsunami. Hilo on the Big Island, for example, was hit by two deadly tsunamis, one in 1946 due to an earthquake in Alaska's Aleutian Islands, and another in 1960 following an earthquake in Chile. In both cases, dozens of people on the Big Island were killed.
Know what to do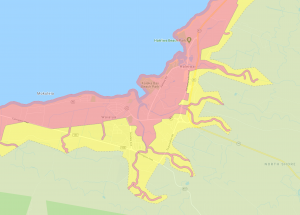 It is important for everyone to know what to do to before, during, and after a tsunami. For starters, check out this link by National Oceanic and Atmospheric Administration (NOAA) that will tell you if your area is at risk during a tsunami.
The Centers for Disease Control & Prevention (CDC) and the Federal Emergency Management Agency (FEMA) also have excellent resources to help you learn what you need to do. For more information, click on the links below.
Make sure your family is prepared
Because a large tsunami can knock out important infrastructure like seaports or airports, leaving people without important resources or utilities, everyone in Hawaii should prepare a family emergency kit that includes at least 14 daysof food, water, medicine, and other essentials. It is also important to have a family emergency plan. You can use the helpful guides below to learn more:
Last reviewed October 2021