My Work
Federal law requires contractors that are hired to perform renovation, repair, or painting projects in homes or child-occupied facilities built before 1978 that disturb painted surfaces be certified and follow specific work practices to prevent lead contamination.
Common renovation activities like sanding, cutting, and demolition can create hazardous lead dust and chips that cause lead poisoning in children and adults. Learn how to use lead-safe work practices to protect the occupants in the buildings where you work and to keep your family safe from take-home lead exposure.

Lead Safe Practices for Contractors and Painters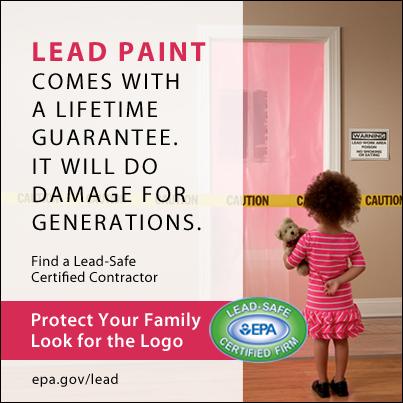 Contain the work area.

The area must be contained using plastic or other impermeable material so that dust and debris do not escape from that area.

Avoid renovation methods that generate large amounts of dust. Use water to mist areas before sanding or scraping.

Prohibited methods include:

Open flame burning or torching
Sanding, grinding, blasting, planning, or needle gunning with power tools not equipped with a HEPA vacuum attachment
Using a heat gun at temperatures > 1100 ◦F
Clean up thoroughly when the work is finished. There should be no dust, paint chips, or debris left in the work area.

Clean up dust and debris on all surfaces by using

HEPA equipped vacuum
Wet wiping and wet mopping with plenty of rinse water

Resources for Contractors
See the Hawaii Lead-based Paint Program for more information on obtaining the correct certifications and for lead-safe practices required under Hawaii rules and regulations.
See the EPA's Renovation, Repair and Painting Program for more information.
What You Need to Know About When Working With Lead-Based Paint