eWIC
eWIC Information and Resources for Participants…
Check back for important eWIC updates
---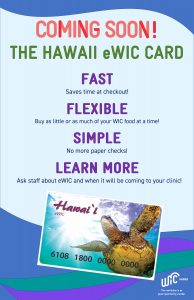 ---
How do I use my eWIC card:
Reading the mid-transaction receipt
eWIC FAQs (click for printable version):
How do I know what benefits I've been issued?
Before going to the store, it's a good idea to see what foods are in your account to purchase (your eWIC balance).
Use the FREE WICShopper App.
Look at the Benefits List you got at WIC.
Check the bottom of your last WIC Receipt from the store.
Ask customer service to print a balance receipt.
Log on to the eWIC web portal at www.ebtedge.com.
Call customer service at 1-888-347-5449.
If I don't use all my benefits, will they roll over to the next month?
No. Benefits are good for a one month period. The expiration date is always listed with your eWIC balance.
How do I contact customer service?
The eWIC customer service number is listed on the back of your eWIC card 1-888-347-5449.
When should I call customer service?
Call customer service in the following situations:
If your card is lost or stolen, call as soon as you notice it's missing.
If someone is using your eWIC card without your approval.
If you want to hear your benefits balance (the foods left in your account for the current benefit period). If you forgot your PIN or would like to change your PIN.
When should I call my WIC clinic?
Call or stop by your WIC clinic in the following situations:
You need to pick up a replacement card.
You have questions about your benefits.
You moved or changed your phone number.
To report your card lost or stolen.
Will benefits be automatically put into my account?
No. WIC is a nutrition education program that provides food benefits. You will need to visit your WIC clinic regularly, usually every 1-3 months, to receive benefits.
What is a PIN?
A PIN (Personal Identification Number) is a 4-digit numeric code that you will use to access your benefits, like with a debit or EBT card. You will enter your PIN each time you use your eWIC card.Be careful! Don't write your PIN on your card or choose a PIN that would be easy for others to guess. Benefits that are purchased without your consent cannot be replaced.
How do I reset my PIN?
If you forget your PIN or just want to change it, call customer service 1-888-347-5449 or visit the eWIC web portal www.ebtedge.com.
Do I get a new eWIC card every month?
No. You will use the same card every month to purchase your WIC foods. The PIN and card stay the same, so be sure to  keep both safe.
What should I do if an item I think is approved doesn't scan as WIC approved?
Double check your food list for brand, flavor, and size requirements.
Then, check your eWIC benefits list or balance to make sure the food is in your food package for the current benefit period.
If the issue is still not resolved, let Hawaii WIC know through the WICShopper App or the form found HERE.
Can I use coupons or my loyalty card when using my eWIC card?
Yes. You are encouraged to take advantage of coupons and loyalty cards on WIC items.
What if my card is lost or stolen?
Call customer service or your WIC clinic to cancel your card as soon as possible. You can get a new card at your WIC clinic. Any unused benefits for the current benefit period will be available on your new card, but any items purchased (even if not by you) cannot be replaced.