Suicide Prevention Basics
[learn_more caption="Why is suicide prevention important?"]
Suicide is an important cause of mortality in Hawaii, in fact the leading cause of injury-related death in the state. Our most recent data shows an average of 190 deaths a year in the state, an additional 910 residents who are treated in hospitals for nonfatal attempts, and a nearly equal number (865) calls to the Hawaii Poison Hotline for suicidal exposures.
Common Questions
Q: Why do people attempt suicide?
A: People usually attempt suicide to block unbearable emotional pain, which is caused by a wide variety of problems. It is often a cry for help. A person attempting suicide is often so distressed that they are unable to see that they have other options. We can help prevent a tragedy by endeavoring to understand how they feel and helping them to look for better choices. Suicidal people often feel terribly isolated. Because of their distress, they may not think of anyone they can turn to, furthering this isolation.
In the vast majority of cases someone who attempts suicide would choose differently if they were not in great distress and were able to evaluate their options objectively. Most suicidal people give warning signs in the hope that they will be rescued because they are intent on stopping their emotional pain, not on dying.
Q: Are people who attempt suicide mentally ill?
A: No. Having suicidal thoughts does not imply that you are mentally ill. People who attempt suicide are often acutely distressed and the majority are depressed to some extent. This depression may be either a reactive depression which is an entirely normal reaction to difficult circumstances or may be depression which is the result of a diagnosable mental illness with other underlying causes. Or it may also be a combination of the two.
The question of mental illness is a difficult one because both these kinds of depression may have similar symptoms and effects. So whether a person who is distressed enough to attempt suicide would be diagnosed as suffering from clinical depression may vary among individuals and cultures.
Q: Doesn't talking about suicide encourage it?
 A: It depends what aspect you talk about. Talking about the feelings surrounding suicide promotes understanding and can greatly reduce the immediate distress of a suicidal person. In particular, it is appropriate to ask someone if they are considering suicide, if you suspect that they are not coping. If they are feeling suicidal, it can come as a great relief to see that someone else has some insight into how they feel.
Q: What sort of things can contribute to someone feeling suicidal?
 A: Depending on a person's individual response, risk factors that may contribute to a person feeling suicidal are
Significant changes in relationships, well-being of self or family member, body image, job, school, university, home, locality, financial situation, world environment
Significant losses, like a death of a loved one, the loss of a valued relationship or of self-esteem or personal expectations, the loss of employment
Perceived abuse – physical, emotional/psychological, sexual, social
Neglect
Q: How would I know if someone I care about is thinking about suicide?
 A: Typical warning signs which are often exhibited by people who are feeling suicidal are:
Withdrawing from friends and family
Depression, broadly speaking; not necessarily a diagnosable mental illness such as clinical depression, but indicated by signs such as
loss of interest in usual activities, showing signs of sadness, hopelessness, irritability
changes in appetite, weight, behavior, level of activity or sleep patterns
loss of energy
making negative comments about self
recurring suicidal thoughts or fantasies
sudden change from extreme depression to being `at peace' . This may indicate that they have decided to attempt suicide.
Talking, writing or hinting about suicide
Previous attempts
Feelings of hopelessness and helplessness
Purposefully putting personal affairs in order – giving away possessions, sudden intense interest in personal wills or life insurance, 'clearing the air' over personal incidents from the past
Q: What can I do if someone I care about is thinking about suicide?
A: There usually are people a suicidal person can turn for help. If you know someone is feeling suicidal, or feel suicidal yourself, seek out people who can help, and keep seeking until you find someone who will listen. Once again, the only way to know if someone is feeling suicidal is if you ask them. Ask the question, "Are you thinking of killing yourself?"
Suicidal people, like all of us, need love, understanding and care. People usually don't ask "are you feeling so bad that you're thinking about suicide?" directly. Locking themselves away increases the isolation they feel and the likelihood that they may attempt suicide. Asking if they are feeling suicidal has the effect of giving them permission to feel the way they do, which reduces their isolation. If they are feeling suicidal, they may see that someone else is beginning to understand how they feel.
Q: How do telephone counseling and suicide hot line services work?
A:  Different services vary in what they offer, but in general you can call and speak anonymously to a counselor or therapist about any sort of problem in a no-pressure context that's less threatening than a face-to-face session. Talking the situation over with a caring, independent person can be of great assistance, whether you're in a crisis yourself, or worried about someone else who is, and they usually have connections with local services to refer you to if further help is required. You don't have to wait until the deepest point of crisis or until you have a life-threatening problem before you seek help.
If you are in crisis or someone you know is, you can call the following phone numbers and talk to someone who can help you:
Crisis Line Hawai'i

Oahu: 832-3100
Neighbor Islands: 1-800-753-6879
Crisis TEXT Line: 741741

National Suicide Prevention Lifeline

1-800-273-TALK (8255)   Military Press 1

Military One Source
Hawai'i Poison Hotline
Common Misconceptions and Myths
Myth: Suicides peak during holidays.
Fact: Most people think the winter holidays are a risky time, but suicides are lowest in December and peak in the spring.
Myth: Depression is always the cause of suicide.
Fact: Two of every three people who commit suicide are depressed at the time they take their life. However, alcoholism plays a role in 1 in 3 completed suicides.
Major depression is the psychiatric diagnosis most commonly associated with suicide, with about 20 times the risk found in the general population.
With more active screening and treatment, depression carries less of a stigma now, but it remains one of the big risk factors for suicide.
Myth: Teens are at greatest risk for suicide.
Fact: Teenage suicides make headlines, but the elderly are more likely to take their own life than any other age group.
At particularly high risk are white men over the age of 85, who have a suicide rate of 49.8 deaths per 100,000, compared with about 14 per 100,000 in people over 65, and 11 per 100,000 in the general population.
Myth: Caucasians attempt suicide more often than other races.
Fact: Suicide is more common among whites in the U.S. than blacks, Asians, or Hispanics.
No one is quite sure why whites are at a higher risk. It might have to do with differences in social support.
The only group at higher risk is American Indian/Alaskan Natives, who have a suicide rate of 14.3 per 100,000 compared to 13.5 per 100,000 for whites and about 5 to 6 per 100,000 for other groups.
Myth: Your family affects risk.

Fact: A family history of depression increases the chances that a child will suffer the same by a factor of 11.  But family members and friends can also play a significant role in preventing suicide. Strong social support is known to lower suicide risk.
Myth: Suicides can trigger 'copy cat' attempts.

Fact: Exposure to others who have committed suicide may reduce some of the barriers to people thinking of taking their own lives
This link has initiated the development of new guidelines for responsible journalistic reporting. For example, journalists now typically refrain from going into detail or sensationalizing death from suicide.
Journalists often end an article with a reference to a hotline so that distressed people reading it will reach out for help rather than being tempted to emulate.
Suicide Prevention Details
Data
Contact
Strategy
Prevent Suicide Hawaii Taskforce to recommend a strategic plan to reduce suicides in Hawaii by 2025
The Prevent Suicide Hawaii Task Force (PSHTF) is a state, public, and private partnership of individuals, organizations, and community groups working in the area of suicide prevention. PSHTF members collaborate to provide leadership, set goals and objectives, develop strategies, coordinate activities, and monitor the progress of suicide prevention efforts in Hawaii.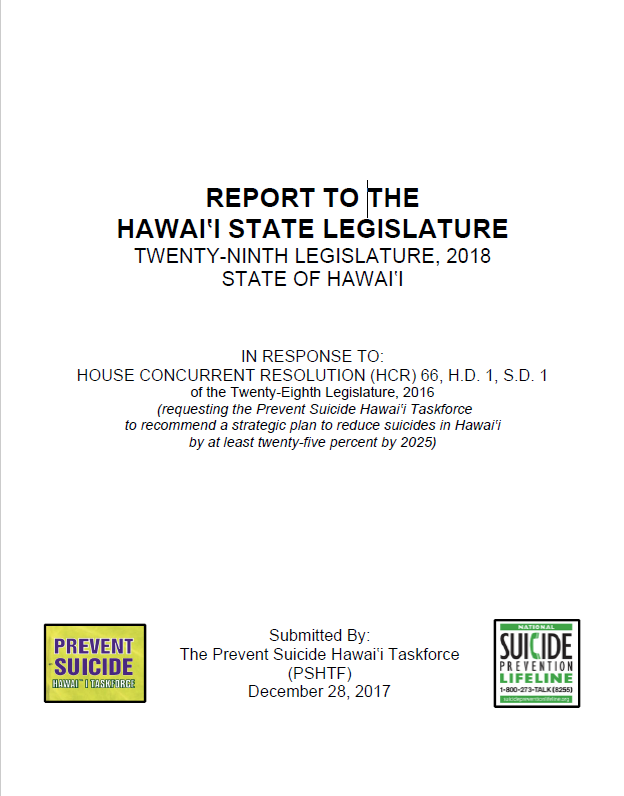 Projects
2019 – The two-day 2019 Prevent Suicide Hawaii Statewide Conference: Hope, Help, Healing was held in April.  The Conference brought together over 400 survivors, advocates, educators, service providers, policymakers, and health professionals around the issue of suicide prevention. Local, and national experts presented on a wide range of topics from increasing awareness of suicide prevention to enhancing skills to respond to those at risk, including those who have survived the loss of a loved one. Dr. Christine Moutier, chief medical officer of the American Foundation for Suicide Prevention was the national keynote speaker.  Contact Alvin C. Bronstein MD. FACEP, Branch Chief, Emergency Medical Services Injury Prevention System Branch at [email protected] for more information.
2018 – September is Suicide Prevention Month in Hawaii. Events were held statewide to raise public awareness about the topic of suicide, the impact of suicides in Hawaii, and to connect survivors with postvention services.  On Oahu, more than 900 participants, including representatives from all branches of the military and students from local schools, took part in the Walk that was held at Ala Moana Beach Park, Magic Island.  Contact Alvin C. Bronstein MD. FACEP, Branch Chief, Emergency Medical Services Injury Prevention System Branch [email protected]  for more information on how you can participate in suicide prevention public awareness events.
2017 – The Prevent Suicide Hawaii Task Force completed a Strategic Plan to Reduce Suicides in Hawaii 25% by 2025. The year and a half planning process committee included representatives from major agencies such as health, public safety, military and Veterans Affairs, the University of Hawaii, the American Foundation for Suicide Prevention Hawaii Chapter, Mental Health America of Hawaii and members of the statewide Youth Leadership Council. Contact Alvin C. Bronstein MD. FACEP, Branch Chief, Emergency Medical Services Injury Prevention System Branch for more information and to access the full report.
2016  – The 2016 Hawai'i Legislature passed a House Concurrent Resolution (HCR0066) that mandated the formation of a Prevent Suicide Hawaii Taskforce (PSHTF) subcommittee to develop a strategic plan to reduce suicides in Hawai'i by 25% by 2025." EMSIPSB in collaboration with PSHTF will submit the completed strategic plan with recommendations to reduce suicide to the legislature in January 2018.  Contact Nancy Deeley, Suicide Prevention Coordinator for more information at [email protected]
2015 – The Youth Suicide Prevention Leadership Council was formed in April of 2015 and has 80 members (50 youth and 30 supportive adults) from across the state. The statewide, youth-led initiative was formed to: provide a youth voice for statewide suicide prevention work; provide leadership development and training for youth on suicide prevention as well as general community leadership skills; provide civic engagement and community service opportunities for youth and; connect council members with adults who will support them as leaders in their home communities. Contact Mara Pike at [email protected] for more information.
2014 – The newly formed American Association of Suicide Prevention, Hawaii, in collaboration with the DOH Injury Prevention Branch, sponsored two major events: "Out of the Darkness" walks on the islands of Oahu, Maui, Kauai, and Hawaii in September and; the first ISOS (International Survivors of Suicide) mini-conferences to bring survivor families together and to provide support.
2013-2014 – In the fall of 2013, IPCS collaborated with KHON TV to produce two Safe Messaging video PSAs targeted to
youth at risk for suicide. The PSAs can be viewed below and are now available to the public. If you would like copies of these PSAs, please contact Nancy Deeley at [email protected]
2012 – 2013: Implementation of ASIST and safeTalk trainings statewide to enhance the proportion of individuals statewide who have the skills to intervene with someone who may be at risk for suicide.
2012 – 2013 :  Implementation of "safe messaging" for at-risk youth in Hawaii.  Messages are being developed for this population based on the results of focus groups held in 2012 with youth at risk and their peers on Oahu.  Dissemination of these recommended messages will occur in 2013, based on recommendations of media to be utilized to distribute messages.
2012 – 2013: The Bullying Task Force – a coalition developed from Senator Suzanne Chun Oakland's Keiki Caucus – is preparing legislation that will be introduced in the 2013 Hawaii state legislature to ensure that all public and private schools statewide develop trainings, policies and procedures to address bullying in their schools. 
Community Collaboration
American Foundation for Suicide Prevention, Hawaii Chapter
Department of Education
Department of Health Adult Mental Health Division, Child & Adolescent Mental Health Division, Maternal & Child Health Branch
Fort Shafter Suicide Prevention Program
Scofield Army Substance Abuse Program
U.S. Navy Military and Family Support Center
U.S. Airforce
U.S. Marine Corp
U.S. Coast Guard
National Alliance of Mental Illness
Honolulu Police Department
Maui Police Department
Kauai Police Department
Mental Health America of Hawaii
Department of Health ACCESS Line
Queen Liliuokalani Children's Center
Queens Medical Center
Schofield Barracks
Tripler Army Medical Center
UH John A. Burns School of Medicine, Department of Psychiatry
U.S. Department of Veterans Affairs
Prevent Suicide Hawaii Task Force
The Prevent Suicide Hawaii Taskforce (PSHTF) is a state, public and private partnership of agencies and community groups working in collaboration to provide leadership, develop strategies, coordinate activities, and monitor progress of suicide prevention efforts in Hawaii. The PSHTF collaborates with the State Department of Health Injury Prevention and Control Section (DOH/IPCS) in planning and implementing these activities.
An important component of the PSHTF are the Island Task Forces that coordinate culturally appropriate activities for each of the neighbor islands/areas: Hawaii Island, Maui, and Kauai. The PSHTF and Island Task Forces provide leadership for suicide prevention activities statewide, including for National Suicide Prevention Week and for the suicide prevention conference. Other PSHTF activities include the statewide Prevent Suicide Hawaii Listserv that provides information to 200 members on a regular basis and the bi-monthly meetings of the PSHTF to address suicide prevention issues statewide.
Prevent Suicide Hawaii Taskforce to recommend a strategic plan to reduce suicides in Hawaii by 2025
Meeting time and location of PSHTF: Queen's Conference Center, Room 203, corner of Punchbowl and Beretania Streets, 3rd Thursday, every other month from 2:00pm – 4:00pm. Confirm date and location of meeting, as times and location may change.
Contact:  Alvin C. Bronstein MD, FACEP at 808-733-9238
Resources and Links
Local
Crisis Line of Hawaii

Oahu: 832-3100
Neighbor Islands: 1-800-753-6879
Hawaiʻi Poison Hotline

1-800-753-6879

American Foundation for Suicide Prevention, Hawaii Chapter
Mental Health America of Hawaii 808-521-1846
Hawaii's Caring Communities Initiative
Hawaii State Dept of Health, EMS Injury Prevention and Control System Branch (EMSIPSB)   808-733-9201
National
National Suicide Prevention Lifeline  800-273-TALK (8255) Military Press 1
– A free 24-hour hotline available to anyone in suicidal crisis or emotional distress
Military One Source 1-800-342-9647
National Crisis Text Line – 741741
Suicide Prevention Resource Center  877-438-7772

Well Aware Youth Suicide Prevention  920-457-4033
SAVE – Suicide Awareness Voices of Education  952-946-7998

American Association of Suicidology  202-237-2280  

American Foundation for Suicide Prevention  888-333-2377
Yellow Ribbon International Suicide Prevention Program®  303-429-3530