HELP US HELP YOU
The Hawaii Department of Health has partnered with Mountain Pacific Quality Health to implement the Centers for Disease Control and Prevention national training collaborative, Project Firstline to our healthcare workers. Every healthcare worker deserves to understand infection control principles and protocols and feel they can confidently apply them to protect themselves, their patients, their family and their community. CDC's training collaborative, is designed to help every healthcare worker gain that knowledge and confidence.
Project Description
There are 2 parts to the project:
PART 1 – Complete a learning needs assessment which takes 10 minutes to complete (click on link or use QR code found on the flyer below). The needs assessment will be open from October 16 to December 31, 2022.
PART 2 – The second part of the project is the training which will commence over a longer period of time, through 2024.  We are developing the training plan and will have more information at a later date.
PART 1: October 16 – December 2022
10-minute (online) questionnaire assessing:
Training
Competency
Future training opportunities
Please distribute the attached flyer to your healthcare teams to help market the Learning Needs Assessment during the next 2 months (Oct 16-Dec 31, 2022). Some additional Project Firstline promotional materials can be found here.
PART 2:
starting after January 2023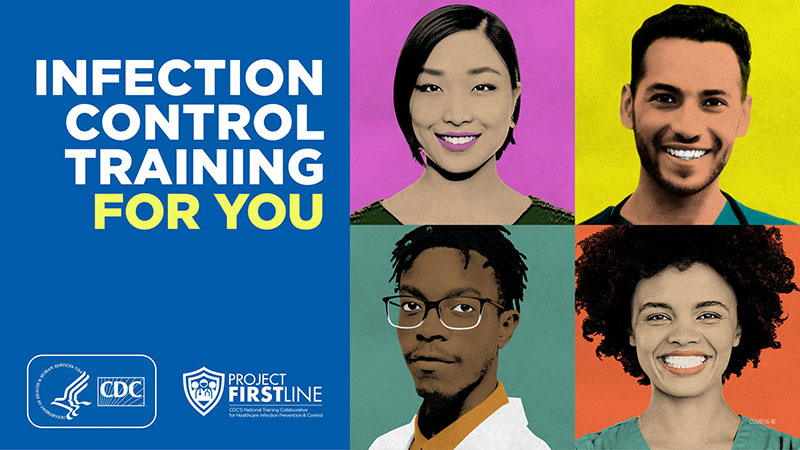 Example Training Module Topics
1. The Concept of Infection Control
2. The Basic Science of Viruses
3. How Respiratory Droplets Spread
4. How Viruses Spread from Surfaces to People
5. How COVID-19 Spreads: A Review
6. Multi-dose Vials
7. Personal Protective Equipment (PPE) Part 1: Eye Protection
8. PPE Part 2: Gloves and Gowns
9. Hand Hygiene