Influenza (Flu)
Influenza, commonly called the "flu," is caused by the influenza virus, which infects the respiratory tract (nose, throat, lungs). Unlike many other viral respiratory infections, such as the common cold, the flu can cause a more severe illness and possibly life-threatening complications. Click here for more information on the flu.
The most common symptoms of influenza include fever, cough, and a sore throat. Other symptoms include runny or stuffy nose, body aches, headache, chills, and fatigue. Children commonly experience diarrhea and vomiting.
Severe illness can arise with influenza complications. If someone is at high risk, (those with HIV infection, asthma, cardiovascular disease, diabetes, people with disabilities, healthcare workers, pregnant women or women 6 weeks post-partum, the elderly, or infants) influenza complications can include hospitalization, pneumonia, bronchitis, sinus infections, ear infections, and sometimes death. Influenza infections can also make present underlying conditions worse.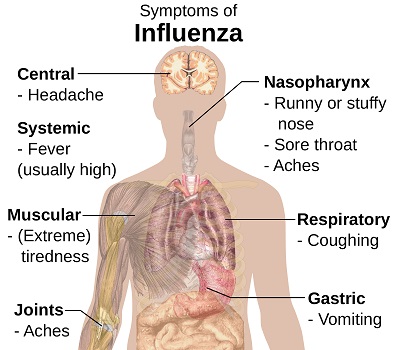 Influenza is spread from person to person through respiratory droplets from an infected person's coughs and sneezes. These respiratory droplets can even be spread while an infected person speaks. When these droplets land in the nose or mouth of an uninfected person, they can become infected. Infected people are contagious beginning 1 day before symptom onset and until 5–7 days after symptom onset.
Healthcare visits for influenza are very common and sometimes require hospitalization. Diagnosis depends on the signs and symptoms of influenza that can vary by age, immune status, and presence of underlying medical conditions. Influenza that has not developed into severe illness could appear as fever, muscle aches, headache, fatigue, cough, sore throat, nasal congestion, and possibly a runny nose. Because these symptoms are not unique to influenza, it can be difficult to diagnosis based solely on signs and symptoms.
Influenza surveillance, which tells the public and clinicians the prevalence of circulating influenza can help clinical judgement and direct diagnostic testing.
Laboratory diagnosis can be done by rapid antigen testing and RT-PCR testing at Hawaii's major clinical laboratories. The State Laboratories Division of Hawaii's Department of Health also perform confirmatory testing on a select number of specimens that meet priority criteria.
Antiviral treatment is available for influenza in cases that are at high risk for complications. Antivirals could also be used as chemoprophylaxis in healthcare setting outbreaks and clusters to prevent further spread.
Each influenza season a new vaccine combination is distributed. A new vaccine is needed each year because circulating influenza viruses change every year. Surveillance of circulating influenza helps to inform vaccine selection for the upcoming year.
The traditional influenza vaccines that are available are usually made up of 3 viruses: an influenza A H1N1 virus, an influenza A H3N2 virus, and an influenza B virus. There are also vaccines that include 4 viruses that would resemble the trivalent vaccines with an extra influenza B virus.
There are shots and nasal spray vaccines available. As of 2016, CDC recommends against the use of nasal sprays because their effectiveness against influenza A H1N1 has decreased throughout the years. Because the nasal sprays are still an FDA approved product, they are still commercially available. Make sure not to receive the nasal spray.
Different vaccines are made for different age groups and those with allergies. Visit Centers for Disease Control and Prevention (CDC) for more information on which vaccine you should be receiving.
Routine surveillance on outpatient care, mortality, and laboratory testing is conducted on influenza in Hawaii. Surveillance data throughout the years has shown that influenza is always circulating in Hawaii, meaning our flu season is year round. Anyone and everyone can get the flu. If you would like to see what viruses are circulating and the burden of influenza in Hawaii, see below for our weekly and seasonal reports.
The best way to prevent influenza is get vaccinated. CDC recommends that everyone be vaccinated by October, but you can still get vaccinated well into the flu season. Others ways to prevent infection are to avoid close contact with sick individuals, proper hand hygiene, and avoid touching your face (especially mouth, nose, and eyes). The best way a sick individual can prevent further spread is to stay home from school or work, cover their nose and mouth when sneezing, coughing, and talking, and proper hand hygiene.
To locate a vaccinating pharmacy or clinic in your neighborhood, visit the DOH Vaccine Finder.
Centers for Disease Control and Prevention (CDC)
Uncomplicated influenza illness is characterized by the abrupt onset of constitutional and respiratory signs and symptoms. Illness usually resolves by 1 week, although cough and malaise can last up to 2 weeks. Complications of influenza that could arise include pneumonia, exacerbation of underlying conditions, ARDS, and sometimes death.
Because influenza is a serious infection, vaccine administration is important to recommend to all patients. If not prevented, antiviral treatment is an option to help prevent severe infection in patients who are at high risk of complications. CDC recommends the use of antivirals before laboratory confirmation when treating people at high risk for complications.
A myriad of testing choices are available for laboratory diagnosis, although RT-PCR testing is the ideal because of the short turnaround time and the increased sensitivity and specificity. Rapid antigen tests are still very popular among outpatient care facilities because they have an even quicker turnaround time, but their sensitivity and specificity are poor in comparison. If using rapid antigen testing is necessary, make sure to use RT-PCR tests as well to detect false negatives.