Vendor Forms
VENDOR COMPLAINT FORM V-001
COMPLAINT AGAINST VENDOR FORM
WIC-Vendor-Order-Form
Check Appeal Form  (PDF printing only)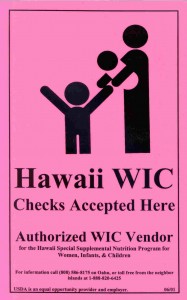 WIC Vendors must post the "Hawaii WIC Checks Accepted Here" sign on or near the store entrance.  The sign must be posted in a location that is visible to WIC customers to assist them in identifying the store as an authorized WIC Vendor.  Additional signs may be obtained from the WIC VMU.  

WIC Shelf Talkers: The WIC Vendor is encouraged to place shelf talkers to identify each WIC allowed food in order to assist WIC customers in presenting the correct foods at checkout.  The use of the shelf talkers have proven to reduce time spent processing transactions at the checkout.

MANDATORY:  Vendors are required to tag specific milk and eggs (as indicated on the WIC Food List) with the red/white "WIC ALLOWED FOOD LEAST EXPENSIVE" shelf markers.