State of Hawai'i launches www.HawaiiCOVID19.com website
Posted on Mar 19, 2020 in Newsroom
The State of Hawaii has launched a new website — www.hawaiicovid19.com — to equip residents and visitors with information and resources to help prevent the spread of COVID-19 in our community. HawaiiCOVID19.com will serve as a hub for Hawai'i's inter-agency coordinated effort to combat the spread of the disease statewide and will be populated with more information to support Hawai'i's communities.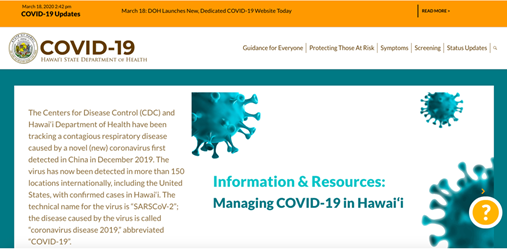 "HawaiiCOVID19.com is part of an extensive inter-agency collaboration to keep our community safe and healthy," said Hawai'i State Governor David Ige. "The website currently provides accurate, easy-to-understand information that will help control the spread of COVID-19 in Hawai'i and we are planning to add more resources to support our community's needs."
The website currently contains easy-to-access information on:
Daily prevention for individuals and families
Guidance and best practices for community spaces
How to protect those most at risk
Symptoms and testing protocols
Daily updates from the Hawai'i State Department of Health
Printable materials for use in homes, businesses and institutions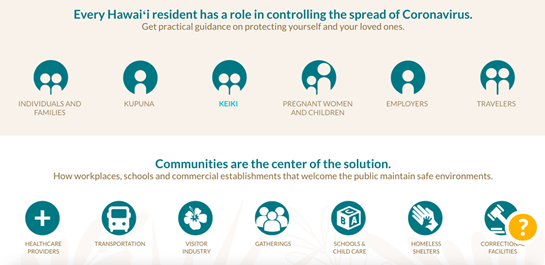 Users can quickly navigate to the information most relevant to their interest using icons on the homepage. The website will be shared across state agency websites and shared broadly as a resource for our statewide community. It will be updated regularly with health information on new guidance on prevention and mitigation.
"Staying informed with reliable, current guidance is a key priority for our community's fight against COVID-19 in Hawai'i," said Bruce Anderson, Ph.D, director of the Hawai'i State Department of Health. "As updated guidance comes out, this website will be a critical source of information."
To get information about controlling the spread of COVID-19 and for the latest updates, please visit www.hawaiicovid19.com.
PDF: State of Hawai'i Launches www.HawaiiCOVID19.com website
# # #