Former EMS Chief now Leader of Hawaii Health Systems Corporation
[facebook]
Dr. Linda Rosen took over as CEO of the Hawaii Health Systems Corp (HHSC), the state's public hospital system, on December 16, 2014. Dr. Rosen is an experienced leader and seasoned physician and public health practitioner who follows an ecological approach that addresses the multiple factors influencing health. While concurrently leading the State Department of Health as the Director, Linda also continued to serve as chief of the Emergency Medical Services and Injury Prevention System Branch.
Injuries in Hawaii are responsible for more deaths of children and young adults from ages one through 40 than all other causes combined. Despite the impact and effective strategies to prevent injuries, many people continue to consider injuries as accidents, unpredictable and not preventable. Dr. Rosen's success in every critical step of developing the trauma system to save lives and prevent injuries, are neither accidents nor unpredictable. Her leadership helped to elevate and coordinate prevention and treatment of injuries. Hawaii has received an "A" grade for Public Health and Injury Prevention in the 2014 American College of Emergency Physicians (ACEP) Report Card for America's Emergency Care Environment. The report card also ranked Hawaii second in the nation for injury prevention.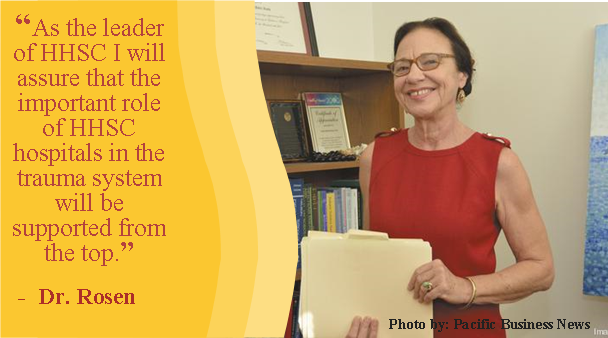 The above report helps confirm, along with so many other successful efforts, that Dr. Rosen's attention to developing multiple levels of infrastructure and the capacity of the trauma system will undoubtedly continue to contribute towards reducing deaths and injuries.
---
Nicholas L. Hines, MPH
Core Violence and Injury Prevention Program Grant Coordinator