Tugboat Aerial Assessment Team
Posted on Feb 4, 2015 in Ola Lokahi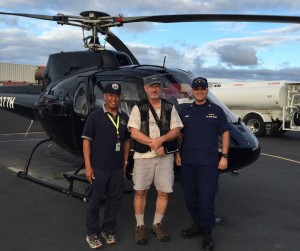 Terry Corpuz, a member of the Department of Health's Hazard Evaluation and Emergency (HEER) Response team, served as a member of the flyover crew to inspect the ocean following the recent tugboat incident 2.5 miles off Barbers Point.
He joined representatives from the U.S. Coast Guard and the responsible party to assess the impact of an estimated 75,000-gallon diesel fuel release when the 95-foot tug sank and required 11 people to be rescued.
For more information on the HEER office, see accompanying "Hawaii's Unsung Heroes" article below.