Ola Lokahi Newsletter – April 2016
Posted on May 20, 2016 in Ola Lokahi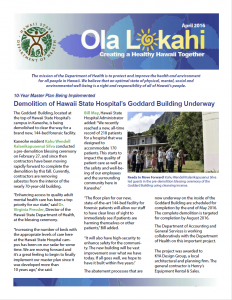 10-Year Master Plan Being Implemented
Demolition of Hawaii State Hospital's Goddard Building Underway
The Goddard Building, located at the top of Hawaii State Hospital's campus in Kaneohe, is being demolished to clear the way for a brand new, 144-bed forensic facility. Kaneohe resident Kahu Wendell Kalanikapuaenui Silva conducted a pre-demolition blessing ceremony on Feb. 27, and since then contractors have been moving rapidly forward to complete the demolition by this fall. Currently, contractors are removing asbestos from the interior of the nearly 70-year-old building. "Enhancing access to quality adult mental health care has been a top priority for our state," said Health Director Dr. Virginia Pressler, at the blessing ceremony. "Increasing the number of beds with the appropriate levels of care here at the Hawaii State Hospital campus has been on our radar for some time. We are moving forward and it's a great feeling to begin to finally implement our master plan since it was developed more than 10 years ago," she said.
Bill May, Hawaii State Hospital Administrator added: "We recently reached a new, all-time record of 218 patients for a hospital that was designed to accommodate 170 patients. This starts to impact the quality of patient care as well as the safety and well-being of our employees and the surrounding community here in Kaneohe."  Open the attached newsletter pdf to read more.
Medical Marijuana Registry Team Cuts Patient Card Wait Time in Half
Patients who receive an OK from their doctor to use medical marijuana are now receiving their registration cards in just 10 business days – half the time it took about year ago — thanks to the hard work of the Hawaii State Department of Health's online patient registry system team. Before the launch of the online registry, patients had to wait four weeks or longer to receive their cards.
Faster Turnaround Time
This means patients who receive their cards can legally start to receive the health benefits derived from medical marijuana sooner. As of March 31, 2016, there are more than 13,600 certified patients, nearly a 20% increase since the only registry program was launched in December 2015.
"Inputting the information from patient application was a huge task, and we are now processing the new, incoming applications as quickly as we can," said Scottina Ruis, Medical Marijuana Registry Program Coordinator. "Although patients can use the convenient online system to register or renew their certification, we still must manually mail out the cards to the certified patients."  Open the attached newsletter pdf to read more.
Seven Billion Containers and Counting…
Over the past 11 years since certified redemption centers began operating statewide, Hawaii residents have recycled more than seven billion beverage containers. This translates into slightly more than 70% of the containers that were sold in Hawaii from the start of the recycling program in January 2005 to present. The Hawaii State Department of Health continually works with companies to make redemption centers more accessible for the public.  Open the attached newsletter pdf to read more.
HI-5 Deposit Beverage Container Program Offers New Search
Tools for Consumer Convenience
The Hawaii State Department of Health has launched two new search tools designed to help make it easier for Hawaii residents to redeem and recycle deposit beverage containers. The tools help consumers statewide locate their nearest certified redemption center with street addresses and current hours of operation.
Consumer Feedback on Search Tools
"These search tools are currently in the beta development stage, but we made them available to the public so that they could test drive them and provide us with feedback as we continue to make them as user-friendly as possible," said Darren Park, Ph.D., who heads the Deposit Beverage Container Program, popularly known as HI-5, for the Hawaii State Department of Health's Office of Solid Waste Management.
A Team Effort
Developing the tools was a team effort. Dennis Kim, GIS Specialist with the Office of Planning in the State Department of Business, Economic Development and Tourism (DBEDT), created the search tool in collaboration with Michael Casey, and John Valera, planners with the Office of Solid Waste Management. They received guidance and support from software company ESRI.  Open the attached newsletter pdf to read more about this team effort.
Starting with Oahu Inspection Data
Online Food Safety Inspection Reports Now Live
The Hawaii State Department of Health has launched a new online portal that lets consumers see how Hawaii restaurants and other food service organizations fare in food
safety inspections, starting first with Oahu inspection data.
Access to data from food safety inspection reports, complete with descriptions of violations, gives consumers a behind-the-scenes glimpse at food safety and sanitation practices — or a lack of them — at the food outlets they frequent.
More Transparency
"We're taking transparency to an entirely new level," said Peter Oshiro, who manages the food safety inspection program. "Information from the inspection reports empowers consumers and informs their choices." The online portal, which has taken nearly a year to develop and refine, is a companion component to the Hawaii State Department of Health's placard program, which was launched in July 2014. Open the attached newsletter pdf to read more.