Ola Lokahi Newsletter – June/July 2018
Posted on Jun 27, 2018 in Ola Lokahi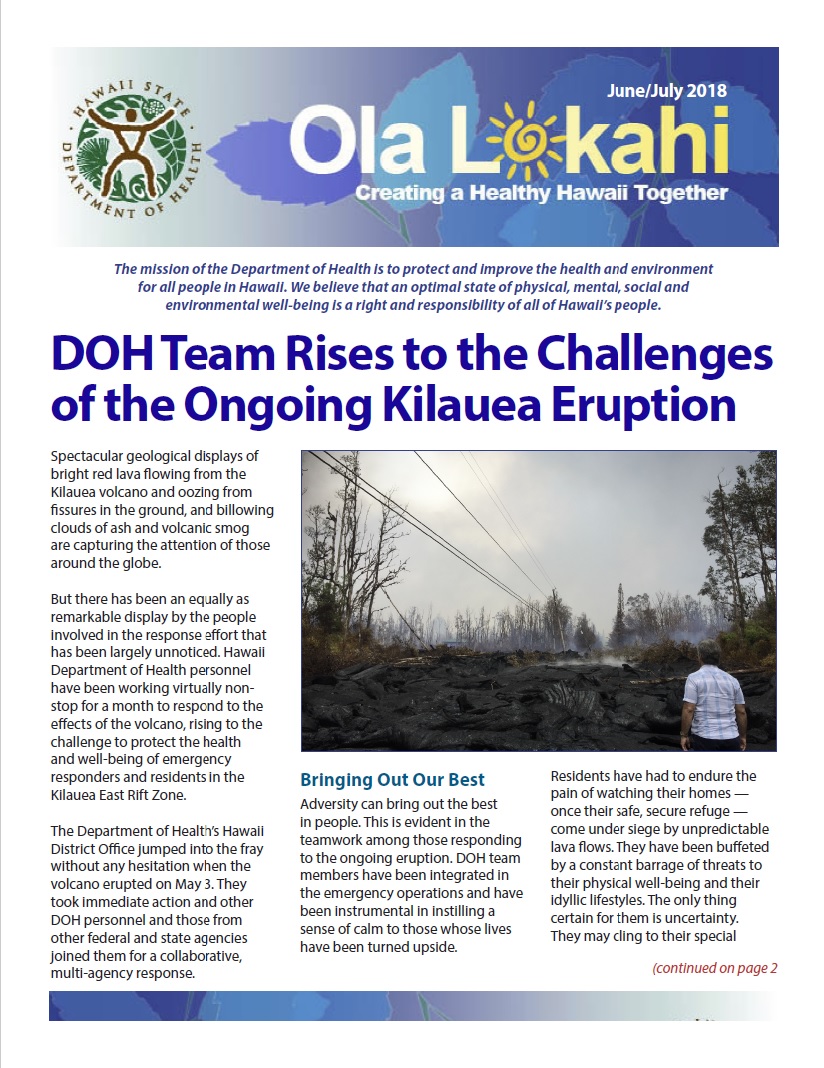 DOH Team Rises to the Challenges of the Ongoing Kilauea Eruption
Spectacular geological displays of bright red lava flowing from the Kilauea volcano and oozing from fissures in the ground, and billowing clouds of ash and volcanic smog are capturing the attention of those around the globe. Open the attached newsletter PDF to read more.
Robust Teamwork to Kilauea Eruption
Mahalo to all for contributing your expertise to help those in need on Hawaii Island. We are glad you are part of the DOH team.
Hawaii District Health Office
Clean Air Branch
Hazard Evaluation and Emergency Response Office
State Laboratories Division
Safe Drinking Water Branch
Emergency Medical Services and Injury Prevention System Branch
Communicable Disease and Public Health Nursing Division
Adult Mental Health Division
Child and Adolescent Mental Health Division
Disease Outbreat Control Division
Administrative Services Office
Office of Public Health Preparedness
Communications Office
Open the attached newsletter PDF to read more.
Two Outstanding Employees from Alcohol and Drug Abuse Division Receive National Accolades
Two Department of Health employees in our Alcohol and Drug Abuse Division made Hawaii proud. Eddie Mersereau, LCSW, CSAC, Administrator of Alcohol and Drug Abuse Division (ADAD), and Jared Yurow, Psy.D., Clinical Psychologist Supervisor in the same division, were recently honored with awards for their outstanding contributions and service to the National Association of State Alcohol and Drug Abuse Directors (NASADAD). Open the attached newsletter PDF to read more.
NASTAD's 2018 Lifetime Achievement Award Goes to Branch Chief Peter Whiticar
Peter Whiticar, Chief of the Hawaii Department of Health's Harm Reduction Services Branch, was recently presented with the 2018 Lifetime Achievement Award from the National Alliance of State and Territorial AIDS Directors (NASTAD). Open the attached newsletter PDF to read more.