Kalaupapa Conserves Significant Museum Objects
Posted on Apr 30, 2015 in Ola Lokahi
By Carrie Mardorf, Chief of Cultural Resources, Kalaupapa National Historical Park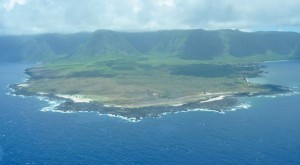 Kalaupapa National Historical Park recently completed a major project to conserve precious, historic artifacts that tell the story about life in Kalaupapa Settlement. The project, funded by Pacific Historic Parks, was the first of its kind at Kalaupapa to mitigate the environmental effects on these objects.
Kalaupapa's museum collection contains more than 364,000 objects and archival documents, primarily representing the late 20th century experiences of residents within the Kalaupapa Settlement.  As with any tropical environment, there are threats to wood, metal, and paper objects because of heat, humidity, salt air, and termites.
Kalaupapa National Historic Park recently invited and hosted two conservators to preserve a number of significant objects within the park's curatorial facility.  During two weeks in March, nine objects associated with Kalaupapa were conserved, including a crib from Bishop Home, an end table, large poi board, three ledger books from the American Japanese Association Hall, an Ed Kato sketch, and birth certificate and passport of a Hansen's disease patient.
One of the most unique pieces to be conserved was the Bishop Home crib dating to the 1920s. Throughout the 20th century, infants born at Kalaupapa were separated from their parents after birth for fear that infants would contract Hansen's disease. Hundreds of babies were born in Kalaupapa only to be removed from the settlement and raised by ohana elsewhere. The Bishop Home crib is the last one in existence and serves as a powerful reminder of this story.
Prior to conservation treatment, the crib was in a highly unstable condition with substantial wood loss from past termite infestations. The legs of the crib resembled straws with an outer wood shell and large interior voids.
Curtis Sullivan, a wood conservator at the National Park Service's Harpers Ferry Center, first cleaned the surface of the crib using special solvents to remove dirt and grime, while protecting the historic paint.  Next, he consolidated fragile wood, allowing epoxy to soak into termite tunnels and harden paper-thin wood.  The legs were also consolidated and restored back to their original height.  Missing crib components were refabricated and installed to add extra strength, and the entire crib was realigned to be square.
While Sullivan worked on the wood objects of the collection, his colleague, Theresa Voellinger, worked on paper documents. Of particular note, she cleaned and stabilized a charcoal sketch of St. Francis Catholic Church drawn by Ed Kato.  Prior to conservation, the sketch had been glued to a sheet of cardboard. Over time the glue and acid from the cardboard migrated and stained the sketch paper.
Voellinger was able to safely remove the drawing from the cardboard backing, eliminate the glue residue with acetone, and reduce some of the staining by soaking the sketch in specialized solution.  Tears along the edges were mended and filled with Japanese paper. Once completed, the sketch was rehoused in an acid-free matte and box.
For additional photos of the project, see Kalaupapa's social media pages (Facebook:  https://www.facebook.com/KALA.NPS Twitter: https://twitter.com/KalaupapaNPS).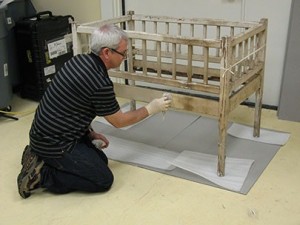 Caption 1: Curtis Sullivan of Harpers Ferry Center cleans the surface of the Bishop Home crib.  NPS photo.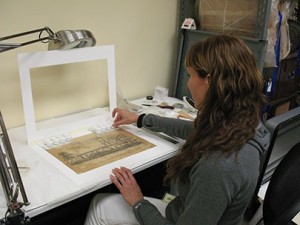 Caption 2: Theresa Voellinger of Harpers Ferry Center fits an acid-free matte to an Ed Kato sketch.  NPS photo.