In Time for the Holidays: Hawaii State Department of Health Completes More than 10,000 Inspections of Food Service Establishments
Posted on Dec 23, 2015 in Ola Lokahi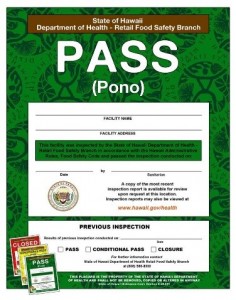 In the Islands, the holiday season is a time for parties and potlucks with family, friends, and colleagues, with lots of food. That means celebrating at restaurants, more catering, and take-out food for holiday gatherings.
The good news is that consumers can have greater peace of mind this holiday season. The Hawaii Department of Health Sanitation Branch, which launched inspections of food establishments with a color-coded placard system in July 2014, recently completed inspections of virtually all of Hawaii's more than 10,000 food establishments statewide to ensure they are in compliance with the rules of the state's food safety code.
This covered about 6,000 such establishments on Oahu, 1,800 on Hawaii Island, 1,700 in Maui County, and 690 on Kauai. The food code requires inspections of restaurants, hotels, caterers, food warehouses, markets, convenience stores, lunch wagons, push carts, and institutional kitchens for healthcare facilities, preschools, elementary schools, adult and child day care centers, and prisons.
A total of 45 Hawaii Department of Health inspectors completed the inspections. On Oahu, there are currently 30 Hawaii Department of Health inspectors in the field; seven on Hawaii Island; four for Maui County; and three on Kauai.
For more information, go to: https://health.hawaii.gov/news/files/2013/05/HAWAII-STATE-DEPARTMENT-OF-HEALTH-COMPLETES-MORE-THAN-10000-INSPECTIONS-OF-FOOD-SERVICE-ESTABLISHMENTS.pdf